Album Review
16th Highly Polished Release By Traditional Folk Leaning Singer-Songwriter-Activist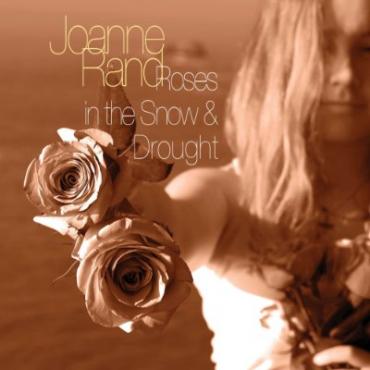 Another CD I'm a little late coming to. Nevertheless, some interesting and worthy material to consider. This is the 16th release by singer-songwriter-activist Joanne Rand who has an excellent folk voice in an older tradition. Going into her fourth decade as a performer Joanne maintains her high-quality mark. On her first track off her new 11-track collection "Roses in the Snow & Drought" – she excels in an early Cris Williamson tone ("Last Sweet Hour"), and in an edgy Ferron posture. Which is all good – because those two ladies are legendary in their circles and are respected as well, and have always released consistently good material.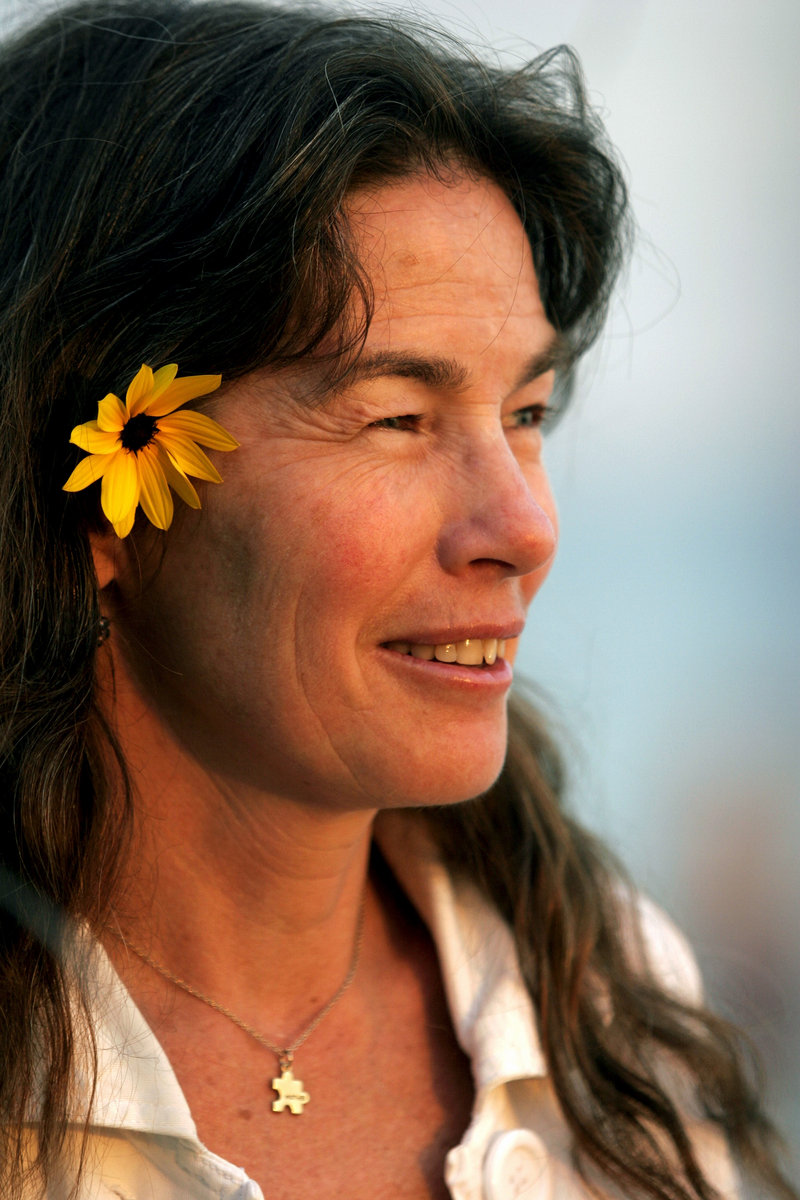 Rand has many worthy influences and her lyrical subject matter fuses a variety of musical styles within their confines: contemporary, dreams, betrayal even a little psychedelic. In regards to other artists -- she only touches upon their approaches because Joanne basically possesses a signature virtuosity of her own. Buffed and sanded from years of performing experience.
With "Little People's War," Joanne has some beautiful Piet Dalmolen lead guitar and offers some intense lyrics (based in response to the 2015 Paris attack) in this song. The only drawback? Lyrics like this should be in a lyric book so listeners can follow along. It is deserving. You can hear some interesting words being sung that should be heard. Rand has a unique singing style too. She pronounces words in a manner that renders her voice an equivalent of a musical instrument. I may have even said this before. No matter. Some jazzy overtones in the folk structure make this even more interesting.
As the song continues and when the lead guitar sweeps across the excellent piano (Tim Randles) the conclusion lends a nice dramatic conclusion. But then, it is a Joanne Rand song, right? Track two "Where the Waters Flow," -- is based on folk traditions and Rand accentuates it with a deep sophisticated tone. This is a personal lyric with chiming acoustic guitars and what is pleasant is Rand's ability to skim the edge of a Procol Harum-type progressive ballad formula. The song has drama, frayed edges and all the instruments construct the melody in a gripping way. Rand's voice is beautiful…from the deep sophistication of her high silky notes, the piano that maintains the Gary Brooker (Procol Harum) intensity. I like the way Joanna Rand sings at times with this hesitant pronunciation style -- somewhat in an early Buffy Saint-Marie mode because it instinctively adds sincerity, originality to the delicacy of her style and just shapes the song into a decisive Rand presentation.
Rand spins her melodies with interesting forays. It goes into the violin, has tricky lyrical phrasing, and her survival of the spirit type vocal and emotional phrasing has wonderful inertia. What exactly do I mean? Well, instead of focusing on the musical instruments all the time a listener can be drawn into the manner in which the singer actually sings. That is, after all, part of the musical showcase and the easiest part for a listener to understand. I sometimes get carried away with focusing on guitars and pianos and if the listener knows nothing about those instruments it can be a minefield or gibberish. This is different and it has validity. It all comes together like a tasty fine cake from a reliable recipe. Rand's voice is interesting enough but it's the way she uses her instrument. The words, their potency, lyrical stutter, flow, the energy in the phrases and how Rand uses high notes and low notes. Then, suddenly encapsulated with the comfort of Piet's lead guitar and Rob Diggins violin. Quite good.
It's not enough that Joanne just sings her songs – she has created a gripping sound with the very way she structures her lyrics. Joni Mitchell had this talent. Ferron as well and she could be wordy. Few do. This is why it is important to include a lyric booklet. Track 4 "When You're Gone," is a vibrant violin-driven ballad. Joanne's voice works well here as well and with the sound of violin strings and the way Piet's lead guitar drifts ghostly with its deep fluid 1950's style runs -- it too has a little Procol Harum tendency to it. If Piet's lead guitar were just a little more aggressive it would qualify. But the playing here is excellent nonetheless. It may not even be difficult guitar playing it just fits the mood of the song's structure.
Old fashion, good fiddle work throughout with retro guitar work follows on "Bees in His Walls," – but it only has its vintage approach to recommend it. The song does suggest that Joanne could do a Broadway musical show – she has the showmanship in her strong vocal delivery.
"Circle at the Heart," is mature with its engaging melody that builds. Joanne Rand's vocal radiates in and around the deep bass line, acoustic guitar, and lead. Jonathan Kipp's brushes across the drums and it all breezes freely with bits and pieces of violin and lead guitar. Actually, the entire little production is jazz with country decorations. Piet's guitar has solid rhythm and is clean and fanciful. As to be expected. Sometimes the secret to a great performance is just how all the musicians just jell together on the performance. Every musician makes a viable contribution. Ms. Rand has at the heart of her new album a great little band. With this song, it has resonance and soul. Quite a pleasant experience.
Track 8 was written by Joanne with Peter Peteet – "Johnny Cash Came Back." Reminds me a little of the mid-west folk singer Carrie Newcomer. She, as well as Joanne, is an expert with using her voice like a musical instrument. I also hear similarities here again with Buffy Saint Marie who is quite evocative. This is just a simple folk-oriented song but in its simplicity, Joanne proves that in 2017 – when the song was recorded – folk songs still have lots of meat on the bones. She sings it with just enough drama, just enough subtlety, and no novelty. 
Need a song with good lyrics. I offer the traditional "The Parting Glass." It leans joyously on the tradition of Buffy Saint-Marie and Melanie Safka ("Lay Down Candles in the Rain"). This has a little brilliance. The violin is jaunty, the piano with its deep notes -- engaging, and of course, Joanne Rand's vocals are impeccable. Very well-written story song.
Nice guitar and violin feature in "Rock Therapy." Especially toward the conclusion. I found the tune wonderful and Joanne Rand's voice has just the right amount of emotion. At the beginning, she starts with a whispery vocal as if she doesn't want many to hear her. This is a long track at 9:18 – and you must listen with a little humor. Rand touches upon subject matter that flirts with 60's sentimentality, hippie-oriented virtuosity. Melanie Safka styles, a little of the late Judee Sill ("Jesus Was a Cross Maker"), Judy Henske, some psychedelic special effects, meandering (which is good) instrumentation reminiscent of Seatrain, Pure Prairie League, Quicksilver Messenger Service and the like. It's almost as if she was following up on Joni Mitchell's "Woodstock," with a clear 2017 vision. Rand's voice never fails her. Her style is on full display. This is actually ponderous to those who don't relate – but, for some, this is an ambitious and likable piece.
I especially like the tone of Piet's guitar throughout the recording. Very ethereal and surreal but not with showboating. It's injected tastefully and lends itself to create the atmosphere Rand is probably attempting to achieve and does. The hippie-oriented tip-off is her repetition of the word "community." But she sings it with such authority and her high notes are fueled by everything but campiness. It can be engaging – especially for those who can and will relate to it. A late entry from hippiedom but the quality is fortunately there.
The closing song that ends the 50+ minute album is "Roses – Reprise" -- a short instrumental in-keeping with the style of Joanne Rand and her step back and I must add -- her step forward into so many of her varied accomplished styles. This entire collection is a well-sanded polished stone of an achievement. You just have to understand where it comes from. If you don't, it would fun trying to navigate that terrain. 
The album art is a four-panel full-color package – no lyrics, unfortunately. However, the lyrics are available at Joanne's website.
Produced by Joanne Rand, Stephen Hart, and Piet Dalmolen. Arrangements by Joanne and the band and recorded in California.
Website: http://joannerandmusic.com/
FaceBook: https://www.facebook.com/JoanneRandMusic/
Bandcamp: https://joannerand.bandcamp.com/album/roses-in-the-snow-drought
ReverbNation: https://www.reverbnation.com/joannerand
Disclaimer: The opinions expressed in this review/commentary are those of the author and do not necessarily reflect the official position of No Depression. All photography is owned by the respective photographers and is their copyrighted image; credited where photographer's name was known & being used here solely as a reference and will be removed on request. YouTube images are standard YouTube license.
John Apice / No Depression / January 2018