Album Review
1980 Japan-Only Releases Reissued With Bonuses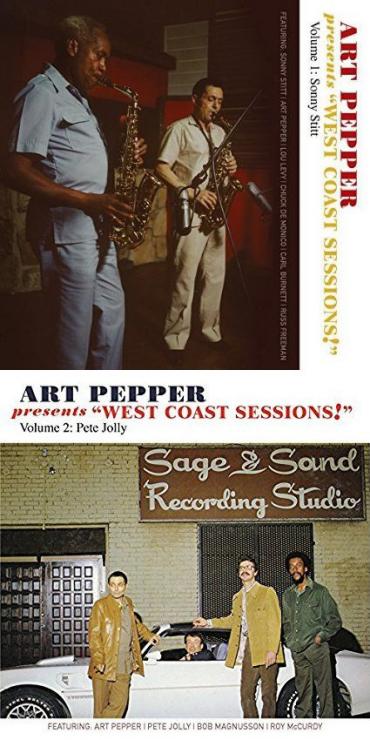 After a gap in the first half of the '70s, alto saxophonist and West Coast Jazz icon Art Pepper returned to recording. By decade's end he was under contract with Galaxy, and when a small Japanese label came calling, he had to get creative. Unable to record for Atlas as a group leader, he picked session leaders and took credit only as a sideman. The albums were issued only in Japan, previously anthologized in the box set Hollywood All-Star Sessions, and are now being reissued by Omnivore with bonus tracks. The first volume, a double-CD headlined by Sonny Stitt, combines two albums, Groovin' High and Atlas Blues: Blow! & Ballade, while the second volume, orginally released as Strike Up the Band, is headlined by pianist Pete Jolly. Both collections include alternate takes and previously unissued tracks mixed from the original multitracks.
Recording in July 1980 at Sage & Sound in Hollywood, Pepper and Stitt were joined by pianist Lou Levy, bassist Chuck DeMonico and drummer Carl Burnette for Groovin' High, and pianist Russ Freeman, bassist John Heard and Burnette for Atlas Blues. The former leans on jazz titles from Charlie Parker, Dizzy Gillespie Bernie Miller and Morgan Lewis, while the latter takes in the standards  "Autumn in New York," "My Funny Valentine" "Lover Man" and "Imagination" alongside Stitt's "Atlas Blues" and Lester Young's "Lester Leaps In." The quintet swings with quotes from "Rhapsody in Blue" and "It Don't Mean a Thing (If It Ain't Got That Swing)," but the first session's rhythm section tends to the frenetic, and Pepper and Stitt sometimes seem to be blowing at each other as much as with each other. There's unison playing to kick things off and pull them back together, but the uptempo pieces can feel like a boxing match of jabs and counterpunches. The ballads cool things down, with the quintet finding a tender groove for "My Funny Valentine" and Freeman offering a lyrical solo to close out the set on "Imagination."  The quintet finds a tender groove for "My Funny Valentine" and Freeman offers a lyrical solo to close out the set on "Imagination."
Recording in the same studio earlier in the year, Pepper and Jolly were joined by bassist Rob Magnusson and drummer Roy McCurdy as they worked through a selection of standards from the '20s, '30s and '40s. Pepper had played all of these tunes in the 1950s, so the value here is what this quartet could do with them on these dates. Pepper and Jolly are melodic and lively as they fly through an up-tempo take on the Gershwins' "Strike Up the Band," and McCurdy is crisp as he pushes with his cymbals and fills with his full kit. Pepper's stretches out on the ballad "You Go to My Head," bridging the lyrical sections with quick runs and giving way for a reflective solo by Jolly. Pepper and Jolly get more conversational on the chestnut "I Surrender Dear," with Magnusson and McCurdy vamping the ending.
The album's lone original is Pepper's "Y.I. Blues" (named after the session's producer) a piece that inspires Pepper and Jolly, and gives the rhythm section an opportunity to groove with snappy fills from McCurdy and a short solo for Magnusson. Cole Porter's "Night and Day" opens with a Latin beat, and though the backing starts out supper-club subdued, Pepper gets more passionate and the rhythm section swings as the song plays out. Each set includes a 12-page booklet of photos, credits, studio diagrams and detailed liner notes from Pepper's widow, Laurie. Laurie Pepper has kept the flame of Pepper's music alive through biography, blog and archival releases, and now with this series of reissues, an important chapter in Pepper's career is revived. [©2017 Hyperbolium]
Art Pepper on Bandcamp and CD Baby