Album Review
Is 2015 the Year of the Duo? Four (More) Outstanding Duo Albums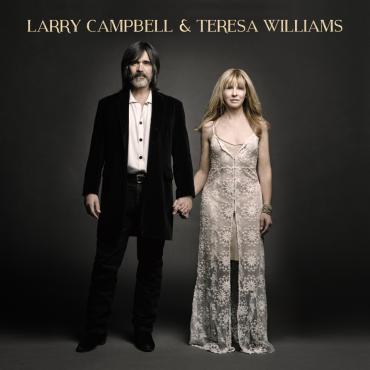 Musical duos are, of course, nothing new. They're frequently seen in bluegrass and country music, as well as in comedy and acting, more popular music -- alwayas with one playing off the other, giving art a resonance that would be impossible for a solo performer to pull off. But this year there seems to be a proliferation of them in the wide, wide world of Americana, with no two exactly alike.
From the early-in-the-year releases of Americana royalty like Emmylou and Rodney to my personal gem of Amy LaVere and Will Sexton, to the well-received sophomore effort by The Milk Carton Kids, to the just announced Americana Music Association's Lifetime Achievement Award that's going to the relatively young Gillian Welch and Dave Rawlings, it would seem to be an opportune time to asses some outstanding releases that may have slipped past some folks.
Larry Campbell & Teresa Williams
Larry Campbell and Teresa Williams need no introduction. The duo has not slipped by anyone who knows Americana, but their album is so good I'll make an exception.
After nearly 30 years together and too-many-to-count live and recorded appearances, this duo has released a joyous record that exemplifies their lives and their importance. Campbell is, perhaps, the most grounded musician I have ever encountered and Williams' vocals have an unequalled fierceness to them. The album's tunes are like water seeking its own level. Standouts include a Louvin Brothers tune, "You're Running Wild," on which Levon Helm played one of his last tunes. Plus, Campbell, a longtime Louvins fan, wooed Williams with a mix tape of that duo's songs. Think about that.
Williams also shows that she can sing mournfully when she tears you apart with Campbell's "Did You Love Me At All," which I defy you to listen to without a tear in your eye. After hearing this pair live-only for years, I can finally stop playing them only on Vimeo and You Tube.
Sugarcane Jane
I came late to Sugarcane Jane, but I am making up for lost time. 
They are perhaps better known as two-fifths of Willie Sugarcapps, but Anthony and Savana Lee Crawford do not take backseat to anyone. When I first heard/saw Savana Lee take Will Kimbrough's "Oh Colorado" and sing it into the stratosphere, I knew she was something special. Add to that Anthony's super fine guitar work on both electric and acoustic, and you have some high-octane music. 
Their new album, Dirt Road's End, comes as a bit of a surprise. Their last album was soft in tone and tenor, but this one is more representative of their shows, upbeat with an electric guitar that serves as a guiding light. The album gets off to a raucous start with a short-story-like song that appears to be autobiographical, about their meeting and subsequent travels, including their two children, whom are aptly named Levon and Loretta.
That alone should tell you a lot about where these two are coming from; but, remember, that is just a starting point. Anthony has worked with a who's who of modern American music, from Neil Young to Vince Gill, and it is readily apparent that his virtuosity and ability to underscore the music of Americana's elite has resulted in a solid base from which Sugarcane Jane operates. 
My favorite songs on the album include "San Andreas Faultline," an ode to a place where, "If God had a home, she'd be living there." Anthony takes the lead vocal on this one and plays a lilting banjo. "Louisiana" begins with a pulsating bass line that takes you straight to those Bayou back roads, with a science fiction movie soundtrack. But the song that may get the most notice is "Not Another Truck Song" about not only letting go of that tired old cliche, but letting go of other artificial signifirers of tenderness as well. 
Zoe & Cloyd
Zoe and Cloyd are Natalya Zoe Weinstein and John Cloyd Miller -- also part of the traditional trio Red June. Their new release, Equinox, features only fiddle and banjo, mandolin, and guitar. They go a step further back in the tradition.
Imagine my surprise when, after listening to the album a couple of dozen times, I finally read the liner notes and discovered about half the songs are originals. With no more than two instruments on any single track, it sounds as though there were no overdubs, It is a fine mixture of waltzes, gospel tunes, love songs, and one tune about a groundhog in the potato patch.
My favorites include "Be Careful Girls" and "Lazy Man Blues" by Flatt & Scruggs' fiddler John Shumate. They remind us that bluegrass music was also about the ability to swing. "We Shall Sleep, But Not Forever" is gospel at its finest, finding great comfort in that primitive Baptist style. But it is not all Appalachian tradition. The album also goes back to Ms. Weinstein's roots by including the Yiddish "Sheyn Vi Di Levone" that was performed by her grandfather, who emigrated from Russia. Her violin playing has never sounded so full and assured.
Finally, the playful "Swing and Turn Jubilee" is one I remember from my own childhood. 
Jesse Milnes & Emily Miller
Speaking of traditional music, Jesse Milnes and Emily Miller have played together for some time in the band The Sweetback Sisters. While having made several other records solo and with others, the just-released Deep End Sessions, Vol. II is their first album by just the two of them.
Milnes's fondness of playing the tunes he grew up with in West Virginia and Miller's love of 1950s country music results in a special mix. Milnes leaned to play from some of the state's great fiddlers -- Melvin Wine, Ernie Carpenter, and his own father, Gerry. Miller, meanwhile brings the global experience of growing up as the daughter of world traveling journalists.
Both are also well-versed in old timey music. They pay special tribute on the album to Samantha Bumgarner from North Carolina who, as part of a duo, in 1924, became the first women to record country music. Their collaboration pre-dated the Bristol Sessions by three years. The song Milnes and Miller recorded is "Roving Gambler," the original of which marked the first time anyone had played the banjo clawhammer style.
Miller's "Better Years" is as good as anything sung or written by the wonderful Kelly Willis. Her "I Got Lucky with You," written for Milnes, swings gently in the best of Nashville's tradition.
Milnes and Miller now live in West Virginia, still tour both with the Sisters and as a duo, and teach at Davis & Elkins College. The album's seventeen tunes come together where the whole is greater than the sum of its parts. Along with Zoe and Cloyd, it's one of the essential traditional albums of the year.