Album Review
A 21st Century Schizoid Progressive Blues Experiment.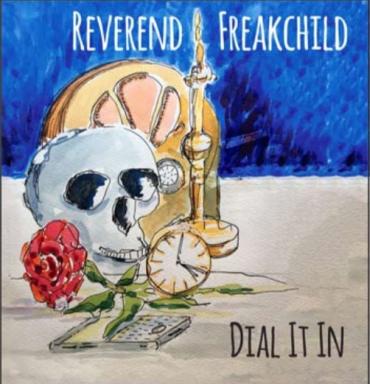 Many moons ago I reviewed the Reverend's Hillbilly Zen-Punk Blues album and if memory serves me correctly….I bloody adored!
That memory is as good a place as any to start here, although opening track Opus Earth is a lot more left of centre than I remembered. Moody, atmospheric and almost instrumental save for the Reverend croaking poetically two minutes in as his slide guitar makes the hair on the back of your neck absolutely tingle.
I had actually heard the next song a few weeks ago and to say it whetted my appetite for a whole album would be a gross understatement.
Many of you will know Personal Jesus from the wheezy Johnny Cash version; but I have danced to the original Depeche Mode single many, many times back 'in the day' and who knew someone could turn both those versions inside out and make it into a sleazy Blues song that even I can still dance to? Probably only Reverend Freakchild and it ticks every box I have for a great radio hit…..if I only had a radio show.
While many musicians are involved with each track here; the Reverend is very much a One Man Band, seamlessly corralling a beautiful West Coast influenced love song Skyflower alongside a footstompin' Psychedelic Delta Blues like Hippie Bluesman Blues and detuning Dylan's It's Alright Ma into Johnny Winter style Rag and weirdly, everything sits comfortably together.
The title track Dial It In is as fresh a Blues tune as you'll hear this year with traces of Urban Hip-Hop in Hazel Miller's backing vocals but Garrett Dutton's harmonica is straight from a 1950's Chicago Jive Joint and coupled to the Reverend's singing and guitar playing you end up with 3 minutes of exhilarating music.
With 11 songs as disparate as these ones choosing a favourite is never going to be easy as each individual track could take the title on a different day; with the Uber-Cool Damaged Souls being perfect for a heart broken sunny Saturday night and the bottle-neck National Steel and Freakchild's drawl on the reinterpretation of the classic Soul of a Man is well worthy of being on the top table but tonight I'm going for……the Honky-Tonking 15 Going On 50 which is as danceable as the story is deep, conjuring up images of steamy nights in bars on the wrong side of town where the beer is cold and the women red hot.
I love this album and it will certainly appeal to music fans who like their music a bit 'different' and slightly experimental and I emphasise 'slightly'……if I want to hear Muddy, BB or Johnny Winter or their ilk I will go to their albums, not a looky-likey act pretending to be 'modern' but when I want something fresh, progressive, experimental yet still full of the Blues I will reach out for Reverend Freakchild and friends.
http://www.www-reverendfreakchild.org/
#First appeared on https://rockingmagpie.wordpress.com/