Album Review
5 Distinctive Well-Arranged Songs In a Contemporary-Traditional Style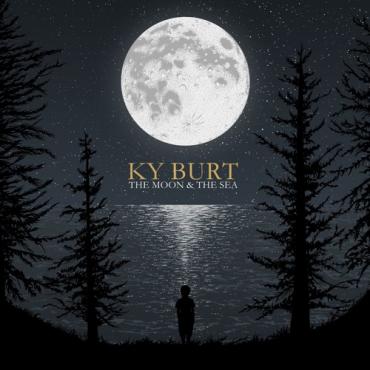 I am often puzzled how full 10-12 cut albums will usually surrender three or four pristine, excellently written and performed songs. Then, when I get an extended play (EP) collection of just five or fewer songs -- all are exceptional. My guess is simple: not all artists have enough to say on a full album and should test market first by producing an EP. More people might take a chance on something like that. The pressure to produce a full album -- well, not everyone is prolific. They believe they are, but they're not. It isn't easy to hold the attention of an audience consistently over ten to twelve songs. 
Alternative-folk singer KY Burt features five distinctive well-arranged songs on his short five song EP – "The Moon & The Sea." Apparently, Mr. Burt knew what he wanted to convey and he got in and out without a scratch. Nothing is extravagant and nothing is over done. It's all economical and this is the magic that KY distinguishes early on every tune.
Subtle banjo notes pluck out the introduction of "Deep Dark Woods," and KY reminds me of the early approach of James Taylor. No, KY doesn't sound vocally like Taylor, he just has that same warmth and storytelling richness that Taylor always displays. KY plays the banjo and Matt Takiff plays the fiddle. There is a vintage strain that runs through the song but it doesn't date the sound. It's filled with enough modern conveniences to be a memorable song that can be appreciated by contemporary listeners. I guess this is what you get if you cross a folk singer like James Taylor and maybe the creative country-rock of a Gram Parsons. There is nothing hokey here or filled with sawdust and novelty. It has depth, it's earthy and it resonates. KY left out the tradition that makes this kind of song stuffy and retro.
A slow melodic well-constructed tune follows with gently placed percussion and acoustics. KY is supported by a non-obtrusive fiddle that is the glue to the instrumentation, and Melanie Jean's backup vocal is like a gentle breeze. "Gloria May," is the jewel among these five songs.
It's a sophisticated little song that isn't powerful as much as it is a beautifully rendered lyric with a tender, memorable melody. That's what makes a good song ideal. The Band in its heyday could have covered this song brilliantly as well. Yeah, The Band…I sincerely feel this would have been a great song for them because that's how well KY Burt wrote it. This could have been sung by Rick Danko, or Levon Helm but, if pianist Richard Manuel sang it there wouldn't be a dry eye in the house. This is inspiring music. Very impressive. 
"Lady in the Moon," starts with banjo again and KY Burt sings with clarity and confidence. His voice is more upfront and while it's not a showcase song it has value in its cautious approach. Nice heavy acoustic bass by Robert Castillo, a swoosh of cymbals and at times gentle taps on them by drummer Barra Brown. It frames the song until at 2:37 when the song starts to wake up even more with striking banjo notes, and more dramatic vocals. Everything is simple but the effect is subdued dynamics. Another exceptionally performed song.
Acoustic guitars introduce "Drifting Heart," and the sound of a sarod by Brandon McIntosh adds to the heavier musical temper. Melanie Jean's harmony vocal is solid. KY Burt sings with authority and the entire tune is somewhat different than anything you could hope to hear on a similar album. It has a progressive rock edge to it, yet it retains all the necessary traditional threads. Burt's vocal is ever sincere and he knows how and when to let loose – as he does on this song. His very colorful vocal adds to the little dramas of this Portland, Oregon native's collection.
The final track is the most memorable. Though it's a sad song. "Oregon Snow," is very accessible even to those ears not attuned to gentle folk songs that provide little in soaring lead guitars and drum solos. This is a page gently taken from the song books of John Denver, John Stewart, Mike Nesmith and even Mickey Newbury.
A beautifully played fiddle and acoustics drive this tune until the hammer of Barra Brown's snare comes in. If he were still alive I would have recommended this song to Harry Nilsson because it had that edge the way a John Prine song does. KY Burt is mining a great song vein here – there's nothing dour, drunk or angry in the songs of KY Burt. Not yet anyway. These are finely stitched mini-stories of broken relationships, a career went wrong, loneliness, beautiful mornings and just starting over. And who can say those emotions and hardships didn't at one time affect us all?
So, we will leave Tom Waits to tell us about the saloons, whores and carnival folk. Let John Prine nail toy railroad tracks to his kitchen table at Christmas, sing about his Mexican home while Randy Newman swabs us with political satire, short people, and money that he loves. Now we have KY Burt to bring us to places where we might want to live – where there are wildflowers, rain, and we can take new journeys. Yes, there is a viable musical place for KY Burt.
Paul Peresa plays piano on track 1,3 and 5. All songs were written by Ky & the EP was produced by Ky Burt with Matt Takiff. The album artwork was designed by Neal Williams – a four-panel with a big white moon on a dark lake with big tall trees and a solitary figure. Looks like Oregon.
Recorded in Portland, Oregon. I am told KY Burt is at work on a new full-length album – judging from this 5-song EP. It should be interesting.
Website: http://www.kyburt.com/
Facebook: https://www.facebook.com/KyBurtMusic/
Bandcamp: https://kyburt.bandcamp.com/
Disclaimer: The opinions expressed in this review/commentary are those of the author and do not necessarily reflect the official position of No Depression. All photography is owned by the respective photographers and is their copyrighted image; credited where photographer's name was known & being used here solely as a reference and will be removed on request. YouTube images are standard YouTube license.
John Apice / No Depression / July 2017