Album Review
Aaron Burdett's "Tinderbox" Full of Honesty and Emotion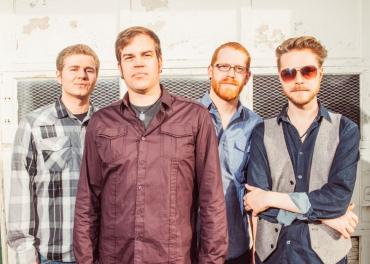 A lot of great male voices have come from North Carolina including Eric Church, James Taylor, Randy Travis and Don Williams. With the release of "Tinderbox," Aaron Burdett has proven this his name needs to added to that list. "Tinderbox was released on June 16. It is Burdett's sixth release and his second on Organic Records.
This CD contains 11 songs. Burdett's voice and the songs are the stars of this stripped-down project. This CD sounds like something you might hear sitting around a campfire or on a back porch. To his credit, Burdett has released a CD to the masses while finding a way to make every track feel like an intimate experience between the artist and listener. Likewise, it feels like every song on this project is personal and acts as a window to Burdett's heart. Although I have never met him nor seen him perform live in concert, I felt like I understood Burdett and felt like we had shared some of the same emotions, feelings and life experiences.
"Old Oak Table" is the first track on the CD and it provides the listener a nice introduction of what is to come – honesty and raw emotion. I really like the combination of lyrics and melody in this song, which tells the story of an oak table that was built by hand from oak, and all the memories that were made around that table – some positive and others negative. I think it would be very easy for listeners to relate to this song. Every listener might not have an old oak table, but everyone probably has an object that carries a lot of memories. A simple object can change the emotion of a person because of the memories that are connected with it. Sometimes, the memories are so strong that it might make a person decide to get rid of, destroy, or even burn something like an old oak table.
One of my favorite songs on this CD is "Tinderbox Heart." It's rare to find a love song that is done in an original way.  He is telling the listener of his tendency to fall in love quickly by comparing a tinderbox to his heart. For those that are not aware, a tinderbox is an object that contains items that will help a fire burn. This comparison is clear from the opening lines: "I've got a tinderbox heart/ One look can set it afire/ It roars out of control from just a spark/ Yeah, I've got a tinderbox heart."
The originality of the comparison aside, the song's vulnerability and honesty makes it special. Burdett sings, "So I'll ask out of pity or kindness/Please walk away unless you could find us/ Together in a sense I don't dare to imagine."  Later, he makes this confession: "It's too hard on me to hope/I'm better off lonely than hurt."
If "Tinderbox Heart" were the only good song on this CD, I would say that it was still well worth the cost. Fortunately for lovers of great music, that is not the case. There isn't really a bad song in the collection.
The same honesty found in "Tinderbox Heart" can be in other songs such as "Stark Raving Sober," a well-written song with a catchy lyric. Like in the previous two songs mentioned, "Stark Raving Sober" has very relatable lyrics. Burdett sings, "Things don't make any sense to me/Why do I want you so bad/ If  you're so bad for me?/Baby if I could find you/ Try you just once more/ It would work out like I want it to/ Like it never done before."
"Write What You Know" gives listeners insight into the mind and the heart of a songwriter. Burdett sings, "They say write what you know/ What I know is lonely/ What I know is I'm missing you tonight/ I know that lonely is the only word that feels right."  Burdett has quite a talent for capturing the emotion of a song. Whether he is talking about falling in love easily or feeling lonely, Burdett's vocal performance is virtually flawless.
Burdett's delivery is impressive of "Weather Any Storm," which is one of the best ballads on the CD. Although the song is written in such a way that it could be interpreted in more than one way, I view it as a realistic love song with a positive theme. It could also apply to the relationships of families and their ability to make it through rough times by sticking together.
Don't be surprised if you find yourself wishing another song followed "Daydream," the final track on the CD.