Album Review
Achilles Wheel - Stones to Sand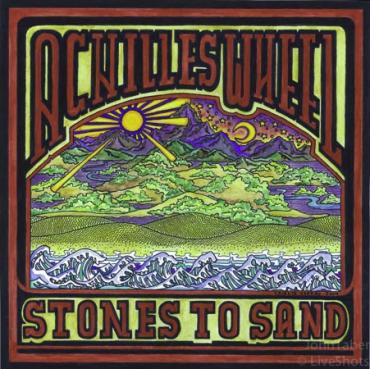 Recently, a friend casually asked what I was listening to. When I said I was putting together a review for Achilles Wheel's new album, Stones to Sand, his response was an immediate "Awesome! Those guys can play!" Since the friend in question is a pretty damned good guitarist himself, that felt like high praise. Of course, the praise is deserved. He was right: these guys can play.
Achilles Wheel, a five-piece combo from Northern California, planted themselves firmly in the Bay Area local awareness with their 2012 appearance at the Kate Wolf Festival. Stones to Sand, their second album, features a broad range of influences, and they wear their influences on their musical sleeve. "From the Fire" has echoes of Carlos Santana, "Heal My Soul" somehow evokes the Doobie Brothers in their "China Grove" period, seasoned with a touch of Beale Street gospel. There are touches of Poco and the Flying Burrito Brothers, floating across the underside of the song list like soft water. "She'll Wait" had me grinning -- for a few bars of the structure on this one, Paul Simon wanders in and out. It's wonderful stuff.
There's also the sense that both guitarists listened to a lot of Grateful Dead in their formative years -- not a bad thing, since Bob Weir was certainly one of the most interesting rhythm players out there. Garcia was, well, Garcia, and there was only one of him. I'll confess that my attention wanders when things get too close to Garcia's style. Luckily, there's very little of that here: Jonny "Mojo" Flores not only knows his way around an electric guitar neck, he knows how to put his stamp on whatever the original influence was, and make it entirely his own. Paul Kamm is rock-solid on rhythm.
The vocals, across the board, are wonderful. These guys sing with heart, something that's always going to bring their listeners back to the yard for more. And, they're serious songwriters, as well. From the opening cooker, "The Truth Is What You Know" through the chilling and edgy "We Dreamed of Flying Cars," all the way through the beautiful closer "Hallelujah One More Time."
The influences may change, but the band is original and their own for every line, every note, every sweet harmony. A big tip of the hat to the rhythm section, a three-headed monster consisting of bassist Shelby Snow, drummer Gary Campus, and killer percussionist Mark McCartney, is due here. Nothing ever overpowers anything else; the blend is seamless and compulsively listenable.
Stones to Sand works, on every level. My friend was right: These guys can play.