Album Review
Al Green's Gospel on Film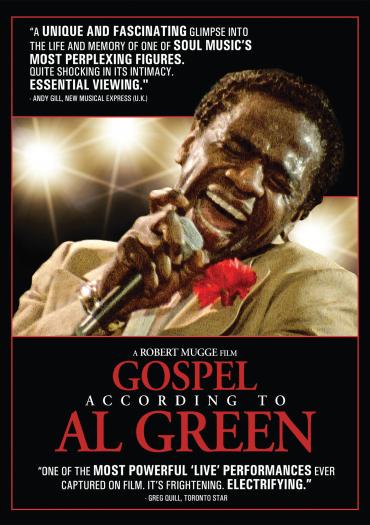 Al Green is a man possessed. That should come as no surprise to anyone who has ever witnessed Green live. The spirits dwelling in that shelter come pouring out when Green opens his mouth. You can see and hear them fighting for dominance, tumbling over one another in their rush to get the word out. Seems like the former Reverend, now Bishop Green can't quite cross over all the way. His gospel songs break down into secular soulful funk, and his secular tunes end up being brushed with a celestial grace.
In December 1983, filmmaker Robert Mugge shot the Seventh Anniversary Celebration of Green's Full Gospel Tabernacle in Memphis, the first and only church service from Green ever put on film. He also interviewed legendary Hi Records producer Willie Mitchell, who gave Green his first shot at stardom and produced and co-wrote Green's '70s hits. There's a lengthy interview with Green as well as a Green studio rehearsal. Mugge also filmed Green and his band at a '84 concert at the Noncommissioned Officers Club of Bolling Air Force Base in Washington, D.C. The DVD also includes a harrowing account of his attack by a woman who doused him with a cauldron of boiling grits when he told her he wasn't ready to get married to her. "I'm in total pain and shock. I'm in so much pain and I reach back and I got two fingers full of skin. I jumped in the shower cause I ached all over, called this girl from next door to help me cause I got these big boils on my skin. All of a sudden I hear a pfft, pfft, hear something hit the floor—boom! And that was the end of that. She said, 'What's that noise, sounds like gunshots.' I said, 'Can't be that, come on, this thing is going crazy.' I go over there, here this lady is lying on the floor, here's this pistol lying in her hand."
Green tells the interviewer he still has trouble dealing with it. "I wanna ask you today if it actually happened, and I'm not joking. I'm asking you a question. Was that really true?" As a montage of newspaper coverage of the '74 incident scrolls by revealing her identity, Mary Woodson, and a picture of her is superimposed on the screen, Green says, "I'm not playing for the movie, I'll sneak off and ask the chief of police, a good friend of mine, did this actually happen, or was she faking,was she joking? That's unbelievable," he says, shaking his head. "I have trouble believing it happened."
The film opens with Green singing "I Love You With All My Heart," accompanying himself on electric guitar. Green's soft spoken gospel soul rendition sounds like Sam Cooke. It's impossible to tell who Green's worshiping, God or a lover, or taking turns with both – like watching two people sharing the same body.
Later, Green tells of meeting Mitchell for the first time when he got up to sing in a club where Mitchell's band was playing in Midland, Texas. Mitchell, who was sitting with his back to Green, called him over and told him he had a beautiful voice. "Come back to Memphis with me," Mitchell told him, "and if we work real hard we can cut some hit records." Green asked him how long it would take, and when Mitchell told him two years, Green said "I don't have the time," and walked away. But Mitchell wasn't willing to let him go, and got him to Memphis in '69.
Green recorded two albums without much success, but on his third, '71's Al Green Gets Next To You, he had a couple of songs he thought should be hits. He slowed down the Temptations "I Can't Get Next To You" to what he describes as a "real funky thang," but his obsession was a song that he had been playing at home so relentlessly that his girlfriend begged him to quit because it was driving her nuts. Five months went by after the song was released, Green called a meeting of the head of London Records to demand that they get him some press for it, and two months later, "Tired Of Being Alone" was a worldwide hit.
But two years later, Green ran into some divine interference. After doing two grueling shows in one day, including a midnight concert at Disneyland, Green told his girlfriend he was beat and went to sleep alone. "I woke up about 4:30, praising and rejoicing, had this input like a charge of electricity to create a new person, ran to the bathroom, shouting 'Thank you Jesus, praise God.'" Green says his girlfriend was banging on the door demanding to know what was going on, and even though he slapped his hand over his mouth, he couldn't stop the praises.
"I gotta figger out what to do," Green says. " I got a million dollar career going here and I'm telling folks they need to be born again. This is trippin' me out – I'm telling you, I never experienced anything like that in my life."
The interview is interrupted by footage of him performing "Amazing Grace" at the Air Force base show, segueing into "Nearer My God To Thee," totally taken over by the holy spirit, working the room like a soul man but testifying like a born-again ambassador for his higher power. Cut back to the interview, Green saying that his rebirth was bugging him so bad that he found a church in Memphis and wrote a check for it on the spot: "I went home, slept like a baby, preached my first sermon two weeks later."
Green's Full Gospel Tabernacle church celebrated its 40th anniversary this year. "I don't whether I've been saved or not," Green says at the end of the film, "but I know somebody touched me." Thank God, he passed it on.