Album Review
An Album of Beautifully Done American Music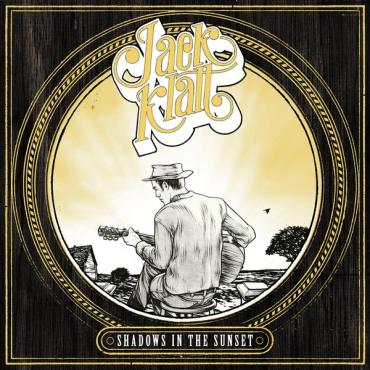 Jack Klatt says he was hooked on music and performing from when he first stepped on stage. He dropped out of college in 2006 and spent the next half a dozen years on the road both in the US and Europe with "nothing to my name but a backpack and a Martin guitar." Learning at least one song a day, Klatt taught himself finger style guitar to the tunes of Eddie Cochrane, Woody Guthrie, and Hank Williams. Soon, he began writing his own songs, and recently released his sophomore album Shadows In The Sunset. Produced by Tom Herbers (Trampled by Turtles, The Jayhawks) the ten track collection "holds in its grooves ten thousand miles of asphalt, about eight pairs of good shoes, and the generosity of a thousand strangers." It's a collection of straight-forward, well-told stories of travel, love, saying goodbye and new beginnings.

Shadows In The Sunset's ragtime opener "Sweet as Honey" instantly recalls Paul Burch's Jimmie Rodgers inspired album, Meridian Rising. "So I will hold out my hands and pray for some rain/Life is sweet is honey, all I've lost I have gained." That 1920's feel continues in "Behind the Eight Ball" which finds him in that familiar place feeling low, yet also slightly optimistic. Pedal steel conveys lost love on "Logwalls and Chainsaws" a similar sentiment which can be found on the jaunty "Forever is Over Today" and the melancholy "The Closer I Get." Platt's vocals, earthy and believable pull you into every song, but are especially touching on "Anywhere I Go" a gentle and incredibly stirring tune where he sings, "It don't matter much when my body turns to dust just let my words echo on."

The album is rounded out with "Roadrunner" which finds him leaving a lover, but assuring her that "You don't need me anyway/Love was never meant to be our game….But if you find someone to hold don't you trade it for silver/No don't you trade it for gold," the alcohol inspired "Booze Song" and the bluesy closer "Jacks Blues" an ode to the highway that place that is his "lost and found."

It's a word that often gets thrown around, but there's something truly genuine here. Klatt, influenced by his years of travel, delivers his narratives without pretense, making Shadows In The Sunset a beautifully done album of classic American music.
Review originally appeared in The Daily Country.