Album Review
An Album of Inspired Covers From Former John Prine Lead Guitarist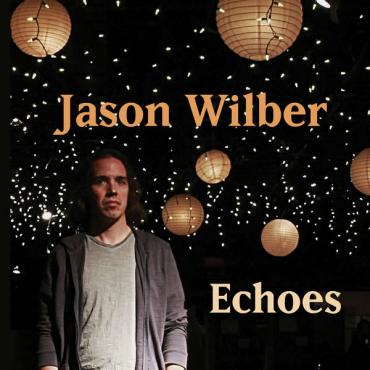 I am usually apprehensive when I open an independent artist's album and there is a cover of a famous song. But, this time, finding a collection with virtually every track a cover didn't make me cringe – it made me curious. The artist is either completely insane, not creative, or is an artist who is challenging our senses and has some....cajones. 
I opt for the last option. I think Jason Wilber is a throwback to the days when singers didn't write their own material – they interpreted the songs of others, and they had hits with them. Nevertheless, he was John Prine's lead guitarist so this man is no greenhorn. With credentials like that, with a teacher like that, with influence like that – Wilber is going to be an interesting prospect.
Jason starts off with the classic "A Song for You," written and recorded originally by singer-songwriter and producer Leon Russell. It starts with pensive acoustic guitars. Good choice. The voice comes in with splendid angst and diction. It possesses the Russell rasp, but it's a far more trained voice. It's not sung in a pleading fashion, but a reflective one. It doesn't sound like he is singing the song to the person being addressed, but being sung as an afterthought, alone and wishing that this special person could hear him. But it's a private recollection – and it's heartfelt. Despite the countless covers, and many done very well, Wilber offers up yet another interpretation and it's a powerful ballad, and respective of the legend of the song. The finale is stirring with strumming guitar and an even more exemplary vocal. Reminds a little of the late balladeer and singer-songwriter Kenny Rankin.
The album is simply called "Echoes," and it's a good title considering what Jason Wilber is doing here.
His second challenge is "The Game," – written by Echo & the Bunnymen: Will Sergeant, Ian McCulloch, Les Pattinson and Pete de Freitas. Jason's band on this recording is a three piece and on this track they are quite masterful with a full sound. There's a sitar sound on this track, but I could not find who may have been playing it. The three piece is Jason Wilber on vocals, guitars and bass; Paul Mahern on percussion and Devon Ashley on drums, percussion on "The Game," and "Annie You Save Me."
Believe it or not, Jason tackles the classic Rolling Stones chestnut "As Tears Go By," and his Nick Drake approach is compelling, his Jeff Buckley vocal-style is a little whiney, but in the context of the song – it works effectively. Over his marvelously clean acoustic guitar Jeff tracks the sound of children playing in a very Harry Nilsson manner. The song starts to develop a sad, but wonderful personality. While not entirely convincing me that he is an old man reminiscing about the past, Wilber still has a well-mannered style that gives the song the impression that he is a young man who believes this is what he will be singing when he is, in fact, elderly.
Angel Snow is a Georgia singer-songwriter and writer of "Coals and Water," and it's another tightly constructed well-sung and performed ballad. Wilber sings with lots of color in his voice. Excellent acoustic guitar passages and Jason sings with far more vigor than the other tunes.
David Bowie isn't ignored as Jason covers his "Oh, You Pretty Things," and the song unravels with little age. Amazing how with just a little tweaking, a different voice and arrangement, an old song can be pumped back to life. Good backup vocals add some haunting tones. So far, the manner in which Jason sings and interprets he virtually makes many of these songs his own by reinventing their strengths and showing a new side, with new possibilities to the songs. 
Very few people tackle a cover of a Pink Floyd song but, Jason starts again with his trusty acoustic on Pink Floyd's marvelous "Echoes."  A Roger Waters, Rick Wright, David Gilmour and Nick Mason composition. Jason is using a very Nick Drake approach with his vocal and though Jason's vocal is not as warm and "possessed" as Nick's – Jason does possess the appealing posture and applies it proficiently. The song is not rendered as a progressive rock tune. It exemplifies how a great progressive rock song can be stripped down to its essentials and reap a wondrous, graceful performance.
Sometimes an artist may choose a cover not suited to his style or voice. But, Jason must have labored a little over his selections because thus far each song is perfectly suited to his style and vocals. I am pleasantly surprised by this effort.
"Annie You Save Me," is next – a James Needle and Tommy D song. This song includes some pleasant percussive sounds as the guitars are tuned high in reverb of some kind. Like early-Pink Floyd. The song is littered with some great little lines. I'm not familiar with these writers' but they are certainly appealing in their structure and melody. Then we have Joni Mitchell's "Edith and the Kingpin." Lots of words, odd tempos and changes in key – as Joni has been known to do with her unorthodox approach. In her hands, it usually works very well and she employs some musicians who understand her crazy creativity.
Jason keeps it basic, his vocal has all the right jazzy inflections and he maintains a jazz-tinted mode throughout. Maybe a little sublime at times, but the song is not an easy one to perform. I know many musicians who find this kind of song laborious. As mentioned, lots of words, and they must be sung in a special way that they flow from the lips without tongue tying the vocalist. Syllables are rampant, but Joni's songs, unlike many others, are always compelling and intriguing. Jason's interpretation is fashionably astute and lucid. Applause is deserved.
Stevie Wonder is the next musical ball to catch: the song is heavier than some of the others. Jason sings with enthusiasm and like Joni's songs, some of Stevie's can be a challenge. "Overjoyed," is sung, again in a somewhat Jeff Buckley style. While Jason's vocals are good, the song overall is a bit thin -- compared to what came before. What saves it is the fine arrangement and its radiating acoustics. Maybe the song doesn't have enough melody, or needs more instruments. It does need a shot of vitamins. Female backup vocals wouldn't be bad either. But, Jason's voice here is just not dramatic enough. He doesn't possess the power of say Elvis Presley, or the soul-funkiness of Stevie himself. Is the song bad? Not at all. It just needs a little reworking…a little adding of some other musical sounds to flesh it out. Potential? Absolutely. 
John Prine's "Paradise," is next. It already sounds like Jason Wilber is back in his element. This is world's away from "Overjoyed." Though the entire song is spare, Jason's voice is like honey, his acoustic guitar is like a high-intensity light bulb. This is delightful. Amazing how certain singers must be in their comfort zone to bring out their magic. This song is up there with the best of Townes Van Zandt and the like. I sincerely believe Jason's future as a vocalist and song interpreter is with Townes, Steve Goodman, Steve Young, some Arlo Guthrie, and the late English balladeer David McWilliams ("Days of Pearly Spencer," "Marlena"). Eventually, Jason can graduate to a heavier style like John Martyn and Richard Thompson – the possibilities are there. 
A curiosity is the next tune : It's Big Star's "I Am the Cosmos," written by Chris Bell and Alex Chilton (Chilton, also former lead singer of the great Box Tops in the 60's -- "The Letter" before Joe Cocker's). Big Star was always under-rated. Many of their tunes were melodic and I think the drawback for some is that Alex during this tenure didn't sound like the Alex Chilton of the Box Tops. But, aside from Elvis Presley, Alex Chilton was one of the big stars of Memphis – no pun intended. Usually, anything by Big Star was a well-written song. However, to be accurate, this obscure song is from the era of Big Star's Chris Bell -- and his posthumous solo album. A good choice for Jason.  
And that concludes it.
An album of covers and I must admit, very well done and I am looking forward to another set of surprises.
The CD was produced by percussionist Paul Mahern and recorded in Indiana. As for the cover art – not bad, but nothing special. Five Chinese lanterns hanging around what might be stars and Jason in a t-shirt. A little more imagination next time – packaging is almost as important as the music itself. For instance, a boxful of old tapes of these old songs, Jason dressed up like an old man with a guitar peering into a mirror where the "young" Jason looks back. It would have at least drawn attention to the effort he's made to revitalize oldies – which he has.
Website: http://jasonwilber.com/
FaceBook: https://www.facebook.com/jasonwilbermusic
Bandcamp: https://jasonwilber.bandcamp.com/
Disclaimer: The opinions expressed in this review / commentary are those of the author and do not necessarily reflect the official position of No Depression. All photography is owned by the respective photographers and is their copyrighted image; credited where photographer's name was known & being used here solely as reference and will be removed on request. YouTube images are standard YouTube license.
John Apice / No Depression / Written in September 2016