Album Review
Kris Gruen - Duos and Trios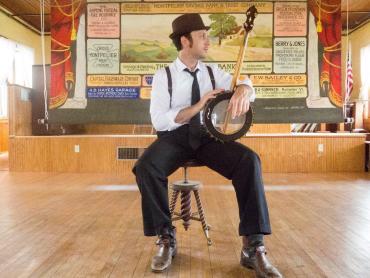 Tranquility and peace are definitely two words that immediately come into mind as you listen to the creative serenity of Kris Gruen's inviting sound for the first time on Duos and Trios. Presenting an inviting traditional folk rock delivery that is reminiscent to the likes of Ryan Adams and The Avett Brothers, Duos and Trios is Gruen's first follow-up the release of 2013's studio effort, New Comics From The Wooded World.

Fueled with a nostalgic entity that revives longing feelings of an old fling, the EP's opener, "2008" will instantly take you back to a time where love was a thriving light that gave your life meaning. What also makes Duos and Trios a unique release is the exciting spontaneity that comes to life from guest collaborations of Gruen's fellow collogues, The Bones of J.R. Jones and Pepinna in other standalone numbers like "Halfway Down" and "Young Hearts." There is no question that each artist brings to the table a brief taste of their talents to provide Gruen with a complimentary backdrop that walks hand and hand with his musicianship.

From start to finish, Duos and Trios is a delightful EP that offers a colorful arrangement to entice our sudden desires to hold onto the past, all while cheerfully embracing the simplest of joys that life has to offer. For the ecstatic wanderlust who spends their late-summer afternoons existentially soaking in a beautifully lit sunset, Duos and Trios is the soundtrack to help you cherish each newly crafted memory.

Kris Gruen is currently touring the UK and in Europe, supporting the release of Duos and Trios with Jesse Mailn. If you are in the area and you want to see Gruen exclusively premiere his new material off of the EP, I highly recommend checking him out.
Check out his remaing tour dates below:

MAY 23 @ 7PM
Zoom - Frankfurt, DE
MAY 24 @ 7PM
Comet - Berlin, DE
MAY 26 @ 7PM
Nalen / Staken - Stockholm, SE
MAY 27 @ 7PM
Cross Roads - Oslo, NO
MAY 28 @ 8PM
Voxhall - Aarhus, DK
MAY 29 @ 7:30PM
Paradiso (Upstairs) - Amsterdam, NL

krisgruen.com.