Album Review
Album Reviews: Lisa LeBlanc, Steph Cameron, The Sweet Lowdown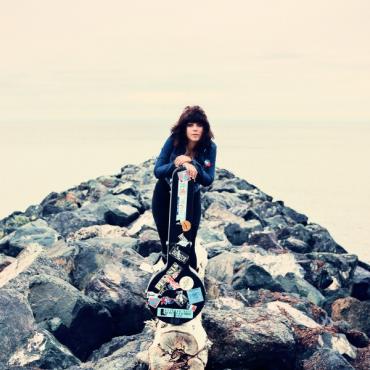 Lisa LeBlanc - Heartaches and Time Well Wasted
Scan
Lisa LeBlanc's bio quickly
and she's easy to pigeon hole: Acadian, Banjo, East Coast. Yup, it'd be easy to think, another vaguely celtic folk artist from Canada's East Coast.   On her new EP 
Heartaches and Time Well Wasted
 LeBlanc wastes no time kicking down those easy assumptions out the door, down the steps and right off the rocky coast of her home province. While the first few bars are quiet but the first drumbeats toss that out the window and the song moves quickly into a hard rollicking rhythm that sees LeBlanc's banjo finger picking and growly voice put to good use. It's the kind of album opener that says "pay attention and hold on now, because this one's going to be a wild ride."   It's a good one too. The six tracks here—five originals and a cover of the traditional 
Katie Cruel—
are a solid unit. The album's title track provides a pause and a bit of a breather from the relentless pace of the rest of it while still fitting in nicely. If I had to pick a highlight it would probably be Gold Diggin' Hoedown, a just over two minute long barn burner that's sure to kick off my next road trip. With six songs clocking in at just over eighteen minutes in total though why bother? Pop this in the next time you need an energy boost and a bit of a break from the pedal steel.Y "
You and I both know gyspy's heart can't settle down
" LeBlanc sings in 
You Look Like Trouble (But I Guess I Do Too) 
and it's pretty clear that that's the case here: LeBlanc's been roaming America with stintts in Nashville, Vega and along the west coast. I had to miss her Vancouver show with a conflict but I'd advise you against making the same mistake: this album promises a great live show. Make sure to play it loud.
You can buy Heartaches and Time Well Wasted on Lisa's Bandcamp page. Her tour is pausing for a short Christmas break and picks up again in the spring. The EP is also available on vinyl.
Steph Cameron - Sad Eyed Lonesome Lady
Sad Eyed Lonesome Lady is the debut album from Steph Cameron, a British Columbia based singer songwriter who—as these things happen—wound up recording in Toronto. It's an album that took three days to record. Keep that in mind when you listen to it for the first time because it'll make you shake your head in amazement.   Cameron's work has a bit of an old school feel to it: quiet and introspective, the record is dominated by solo acoustic guitar layered underneath her beautiful voice. Sad Eyes Lonesome Lady is the kind of album that's makes it easy to imagine tempting you into a club on a rainy night as you hear its rhythm's wafting out onto the street.   Cameron's guitar playing is distinguished by her finger picking here as well: tracks like
Five Dollars 
and 
Many Miles to Go
 showcase these nicely. This isn't just an album of poetic lyrics sung over chords being strummed—it's more reminiscent of Bruce Cockburn than it is on Dylan in that respect. It makes for a varied, refreshing listening experience.  
"Maybe you'll go out guns a-blazing / and tear this whole damn world apart"
Cameron sings on 
Glory
one of the album's standout tracks. The song's quiet and understated tone is a nice offset to the sentiment of the lyric and it seems a lot like Cameron herself: this is a stunning debut from an artist who concentrates on honing both her songwriting and guitar playing. That's a good thing for all of us too because if this is a debut I can't wait to see what comes next. Remember: this was recorded in three days. Don't miss it.
You can buy Steph Cameron's Sad Eyed Lonesome Lady from iTunes and keep up with her tour dates on Facebook--unless you're me, because I don't do Facebook.
The Sweet Lowdown - Chasing the Sun
I had the pleasure of encountering the Sweet Lowdown at last summer's Mission Folk Festival held about an hour east of Vancouver. The fiddle, guitar and banjo picking trio did nice job that glorious, sunny weekend of keeping the crowd entertained with their beautiful harmonies.   Chasing the Sun is the trio's third album and continues in the tradition of past releases: nicely written beautifully arranged songs in a fairly classic bluegrass and folk tradition. The trio touches on current issues with songs like 
Fallout
, a memorial of Japan's Fukushima reactor meltdown that still sees lost items washing up on the coastline of the Victoria, BC band's island home. 
River Winding Down
tells the story of massive floods that devastated and virtually shut down one of Canada's major cities for a few days last year.  
Chasing the Sun 
is a collection of well written, modern songs sung by a trio that blends traditional styles into a refreshing sound that's very much their own. It's about as far from Lisa LeBlanc's album (see above) as you can imagine but it's perfect for a quiet night at home—or a warm weekend at a festival. if you've liked the Wailin' Jenny's, the Be Good Tanyas or the Good Lovelies 
Chasing the Sun
should be on your Christmas list.  
The Sweet Lowdown's Chasing the Sun can be bought from iTunes (as can the band's earlier releases.)  The band is touring in support of the album in the new year, including a jaunt through North Carolina and Virginia. Tour details are available on their web site.