Album Review
All I Wanna Do is Stomp and Holler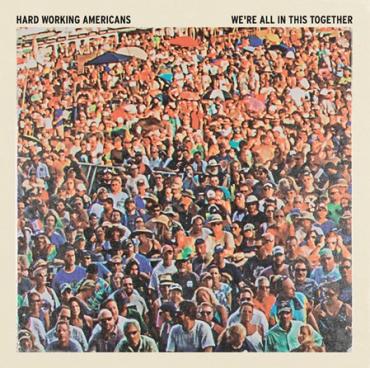 Throw in a dash of the Grateful Dead, a pinch of the Allman Brothers, a dollop of Wet Willie, a cup of Johnny Otis, a teaspoon of the Doors, and whole heaping helping of psychedelic funk and you get the wriggle on the ground, dance across the floor, hop around the hall good-time music of Hard Working Americans. As soon as Todd Snider slips off his shoes at an HWA show, the funked up fun begins, and by the end of the evening there's not a dry body in the place. The band's manic energy grows out of its love and attention to its music; these guys get so lost in their riffs, their rolls, their vocals that they noodle and jam, building layer upon layer of a music that washes over crowds. There are a few bands whose studio albums don't capture their energy or do the music justice: the Grateful Dead, the Allman Brothers, and Hard Working Americans. Now, with We're All in This Together, Hard Working Americans delivers an album that captures their nonstop journey into the music.
Todd Snider plays ringmaster, calling out to us to witness every spectacle in the band's rock and roll circus. Like a good carnival barker, he welcomes us to this show that will never end: "My fellow Americans, welcome aboard our Hard Working Americans cavalcade of chaos and campaign to reinstate the most natural laws of absurdity to their original upright and locked positions." During "We're All in This Together," Snider leads a raucous sing-along in which the crowd and Snider dance around in a boisterous call-and-response; like every other song on the album, the snaky funk of the band creates a fusion of audience and band that drives a palpable togetherness.
Most of the album's 13 tracks were recorded at a show at Iron City in Birmingham, Alabama, by monitor engineer Colin Cargile, during the band's 2016 Rest In Chaos tour. Bassist Dave Schools produced the album, and John Keane, who also mixed the band's first record, mixed it. The rest of the songs were recorded at other stops on the tour, including the El Rey Theater in LA ("Ascending into Madness"), The Buckhead Theater in Atlanta ("Something Else"), and the Lockn' Music Festival in Arrington, Virginia ("School Days"). Hard Working Americans are Snider on vocals, Schools on bass, Neal Casal on guitar, Jesse Aycock on guitar, Chad Staehly on keyboards, and Duane Trucks on drums.
On some albums, the band's collective spirit reaches out and touches you, and this is one of those albums; you can feel the joy, the out-of-our-minds fixation on the music, the fervor that fuels every song. The album's opener, "Mission Accomplished," choogles along with a funk vibe straight out of Otis' "Hand Jive" and a ragged jump jive that marches straight out of the Doors' "L.A. Woman." This song gets us up and dancing, ready to "rest in chaos" with Hard Working Americans. Every song on the album pulls us deeper and deeper into a musical unity with the band. The extended guitar solos on "Something Else" wind and weave a path that lifts us so high, we never want to be dropped back down. The Stones-like "Ascending into Madness" recalls the haunting dreaminess of "Moonlight Mile" and the self-deprecating humor of "Far Away Eyes"; it's a slow burn of a tune that carries straight into the fire of the many and various psychic miasmas into which our physical desires lead us: "I've come down here one last time/A few times/A few times after that/but that was just for old time's sake/and I know that I've come here a few times/for no good reason at all but this time I swear/I'm just down here by mistake." Snider shouts out "who do you love?" to open the band's signature song, "Stomp & Holler," which drives home the "I've-been-working-hard-for-a-living-and-I'm-here-for-a-good-time" theme forcefully; as Snider announces at the end of the song, over tinkling barroom piano rolls, "thank y'all for giving us a chance this evening; we're going to work hard for you." Hard Working Americans turn in a jumping version of Chuck Berry's "School Days" as a fitting close to the album; in a day that's too often punctuated by the order of artificial time (a school bell), it's time to let it rip: when 3 o'clock comes you can lay your burden down and head off to put some coins in the jukebox to dance.
And that's just what this album will do for you: it'll help you throw off your burdens for a while and get you dancing across the floor while you're hailing rock and roll. And there's nobody better to lead you in that dance than Hard Working Americans.