Album Review
Alpha Rhythm Kings feast on boogie-woogie and swing influences on debut EP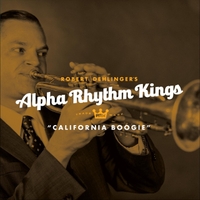 All hail the new kings of swing.
The Alpha Rhythm Kings arrive two decades after the short-lived swing revival of the late '90s. Like the pioneering bands of that resurrection, the Kings are diving into musical genres that are not commercially fashionable - at least not yet. It could be just a matter of time before a zoot suit riot invades the mainstream. Until then, on their debut EP California Boogie, the Kings feast on their boogie-woogie and jive influences with unyielding gusto.
Trumpeter/vocalist Rob Dehlinger commands the group with charm and addictive joy. Summer has arrived early with danceable, sun-drenched grooves. From cha-cha ("Something for Sellers") to 1940s R&B (the title track), the Kings reveal their versatility effortlessly. These gentlemen have tremendous chemistry, as if they've been jamming for years.
There have been many young groups that have attempted digging up these vintage styles but too often the results feel cheesy or overly imbued with punk. The Kings have the badge of authenticity. This is a band that lives and breathes its inspirations and is faithful to them. They are wonderful.
Website: