Album Review
Alt-Country-Blues Singer-Songwriter Flexes Her Boston Confidence On Ten New Performances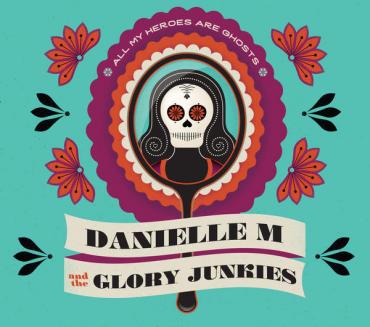 Danielle M is actually Boston's Danielle Miraglia –  who as a solo artist has two full albums to her credit and one previous album with The Glory Junkies. I don't usually read a lot of press releases about artists at the beginning of a review. Even if I had previously reviewed their earlier work, gone back to cross-reference whatever I said before. I prefer to start fresh and see if any progress has been made and if any additional nuances were added -- or simply, matured.
With this ten-track album "All My Heroes Are Ghosts," I found enlightening progress. Not that anything prior had issues -- it just sounds like something progressed. Maybe -- more confidence. I also found some reason to offer some low-calorie criticism. But I will admit – Danielle is still sharp as ever, maintains the quality of her work and is always a worthwhile listen. Ok – with that said, let's go into the arena -- no helmets required.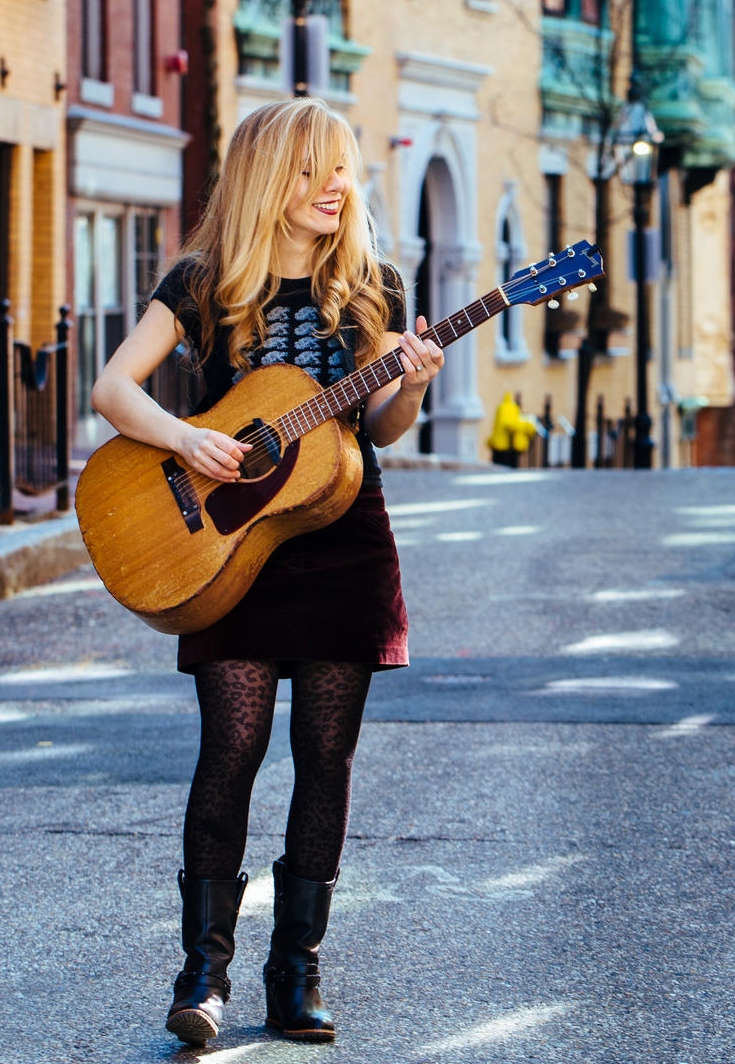 The album starts with bright production on the title track "All My Heroes Are Ghosts," which features some warm viola work and nice deep bass. Danielle is always a reliable vocalist. She varies styles but maintains her own signature style in her approach. If you like Bonnie Raitt, Rory Block, Karen Lawrence (Blue by Nature), Holly Cole or Sue Foley – you will find Danielle a delightful discovery or rediscovery. While she is not a blues-folky singer with raspy vocals with the growl of Bessie Smith – Danielle does have control over her showcase and for the most part her repertoire.
However, this is where it gets a little challenging.
While the song "All on Fire," is a pleasant enough track it steers completely away from the previous tracks' gutsier absorbing music and lyric. This song, catchy and fine, leans more toward a hook-filled, rhyme heavy, predictable formula. This is where an aficionado would, or could lose interest. It's possible that Danielle is going for a possible chart success so she's stretching her commercial chops. If so, no problem. Personally, I would've tagged this one onto the end of the album. Why? It seems to have interrupted the dynamic of that first song that was far more rough-hewn. The performance itself on "All on Fire," is still commendable. But, if the first track was Chardonnay, this track is Boone's Farm Apple wine. (But I am confident Danielle will ferment longer as she goes on…).
Danielle will rise but not on track three.
"Monster," continues in a shift away from tight-fisted and exhilarating music. Now, this may not be so much a song issue as a placement on the album issue. The guitars plod along in a typical style. Danielle's vocals, as always, are excellent. The production is superb. Maybe because Danielle started off with such a strong song at the beginning the momentum is more obviously lost. These last two songs are not poor. Not by any means. But they are basically formula in approach. I only say this because I have heard so many songs over the years and I have heard Danielle's also.
But I have not lost faith. Not if it's Danielle Miraglia. It's like being in a boxing ring and the fighter is just finding her legs, her pace and is testing her opponent. Yeah…that's it.
Track four is roast beef, mushroom gravy, and Chardonnay again. But for how long? 
"Everybody's Wrong," is a knockout. The steady thunder of Chris Anzalone's drums keeps your ears plastered to the speakers. Danielle's vocals are solid, slithery, glorious in the presentation. The guitars (Danielle with Erik White) are spiked with notes that hook the ears like the best bait can attract fish. This is excellent. This is corked wine and not screw top. I'll have seconds. This was the song that landed the first telling punches. Danielle is circling and she has found her strategy. But there are more rounds to go.
"Don't Pray for Me," is gritty. This is good in that Bessie Smith manner. Yes, the engine purs now. Danielle is moving in this musical ring and she feints, jabs and uses combinations now. This is fiery, fun and Miraglia flexes her confidence muscles now. This song has soul, spiritual blues and sparkles. All the musicians are on sure-footing. This is why it is always wise to wait and see when listening to an album. My suspicions are right. It may have only been a miscalculation in the pacing of the tunes (their sequence) on the album.
After all this, placement of a slower song with moody viola and a waltz type beat in "Guilt Trip," is wise. Danielle shows her ability to go from gritty to delicate -- yet she maintains a very generous dignified balladry in a well-crafted tune. But...
Danielle is on the ropes – uh oh – with a customary funk-oriented country song with cliché lyrics. "Rock Star," unfortunately for me, is a misstep. It's a misstep because I'm comfortable with that image and style that is Danielle Miraglia. This isn't.
Her singing is, as always, wonderful. The musicians are capable in their instrumentation. But this is like Elvis Presley going from "Heartbreak Hotel" to "Do the Clam." What am I saying? Danielle is better than this. That's what. It has no place in this collection and does sound like it was misappropriated. If they had to record this it should have been a B-side on a single and not something on an album that is supposed to be setting up a cohesive presentation of not only music but a style. 
Track eight – "Aim Low" -- returns us to what Danielle is polished at. Danielle at least recovers quickly.
An old-fashioned arrangement with good vocals but suffers from mannerisms obscured by a style that is too vintage. Almost similar to what Maria Muldaur used to do in the 70's. And for a change of pace, I would accept this. Danielle may not hit the bullseye all the time but she does hit the target board.
It doesn't take Danielle long to find her path again and when she does she owns the road.
Here, she covers an old Janis Joplin song "What Good Can Drinkin' Do?" and she succeeds. More engrossing vocals in a Tracy Nelson tradition and Danielle is in her arena. The entire song is just filled with everything that makes Ms. Miraglia a stable, wonderfully intriguing singer. She never loses her presence and whatever devilry sneaks in. This is what Danielle should be doing most of the time and leave the "Rock Star," for filler elsewhere.
These two songs are light years from each other. My concern is that a song like "Rock Star," could diminish interest for purists and slowly Danielle will metamorphosis the way the legendary Grace Slick (of The Jefferson Airplane & Starship) went from "White Rabbit," which was legendary to "We Built This City on Rock and Roll," which was drek.
Hopefully, with a little care, and a professional producer -- Danielle won't fall into that trap. She is too good to be tempted to go from bluesy perfection, country-rock instincts, Americana eloquence and dabble in the cold comfort of clichés, standard melodies, and commercial saccharine. Please don't do this. Be selective. Be very selective.
It takes years to build a career and one song that becomes a hit will define you forever. From that point on – creativity and originality are trimmed away like fat off a T-bone steak. And everybody knows fat is what gives the steak its flavor.
The concluding track is a ghostly "What Do Ghosts Do."  Fortunately, I may add, there isn't any schlock on the album. General listeners will find the majority of the ten songs appealing. It's my job to weed out the blemishes -- but, blemishes heal. On this last song, the vocals are blues-inflected but require, at times, more vinegar. Danielle has power but sometimes the voice is too polished, too studied and professional for this material.
It's the reason Barbra Streisand, a great powerful singer, will never be a Janis Joplin or even a Laura Nyro singing these types of songs. Some tunes need to be blusier, to reach down and dig up the roots. Bessie took the roots and all the mud that went with it. Some blues singers wrench the blues from their soul and others tear loose. In some spots – tear loose. Go for broke. But mind you...not everyone has this pedigree. Danielle? Yes, I think she does and she has proven it already. 
Technically – Danielle's ability is impressive -- it's always been so. But it does need to find its soul at times. She needs to be careful about song selection. A tinge of sophisticated rage is required. Janis Joplin sang the blues primarily. When she did sing a ballad or a slow song she never lost her angst and her personality. She never turned in a song that was "You Light Up My Life." Not because she couldn't do it -- it wasn't her. 
Tracy Nelson sang "I Need Your Love So Bad," (as an example) and especially at the conclusion of the old Mother Earth (Tracy's old band) version from "Make a Joyful Noise" that's the sophisticated rage. Otis Redding's Live in Europe version of "I Can't Turn You Loose."  Karen Lawrence with her band 1994 on "Once Again," and "Bring It Home" (on YouTube) – especially at the finale. This is sophisticated rage. These artists were possessed by the song. They were in control and the performances were riveting. Danielle Miraglia has the map, she has the compass. She has to be aware and beware of the detours that take her astray from her path. 
I know Danielle is proficient and she is not intimidated. One doesn't want to be overly dramatic. But hell, we know a trapeze without a net is dangerous. But performers do it. Don't they? All songs were written by Danielle expect "What Good Can Drinkin' Do," (Janis Joplin). The album was recorded in MA and produced by Danielle Miraglia & the Glory Junkies: the proficient musicians were: Laurence Scudder (Viola-Vocals), Erik White (Guitar & Vocals), Jim Larkin (Bass) and Chris Anzalone (Drums).
The CD package is a beautiful full color - four-panel die-cut. No lyric sheet enclosed. 
Website:  https://daniellem.com/music
FaceBook: https://www.facebook.com/daniellemiragliamusic
Disclaimer: The opinions expressed in this review/commentary are those of the author and do not necessarily reflect the official position of No Depression. All photography is owned by the respective photographers and is their copyrighted image; credited where photographer's name was known & being used here solely as a reference and will be removed on request. YouTube images are standard YouTube license.
John Apice / No Depression / March 2018