Album Review
American Desert Music That Twists, Turns, Shifts and Satisfies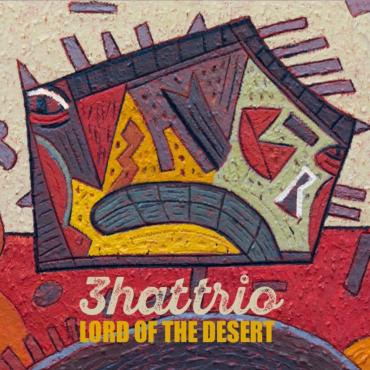 I am familiar with this group of musicians – 3hattrio (three hat trio) -- and they are – out there. I love and respect their work. Why? Because after listening to countless proficient musicians, good showcases, competent playing and well-written songs this is one of the bands who are implicitly original. They have a penetrating and resourceful style of maneuvering their creativity around. To wade through each song makes for interesting listening.
Now I am guilty again of having had their previous album slip through the musical cracks but the CD was never forgotten. I just never caught up. So, while this review is for their new LP "Lord of the Desert," I will smuggle "Solitaire" in for a brief review as well. I admit up front though that this new CD is stronger than "Solitaire." The new collection has 13 songs and I flagged eight with a thumbs up. "Solitaire" only got four out of ten. Which isn't too bad but I will explain…
3hattrio is a band that's managed to encapsulate the Southwest American desert into an atmospheric noir sound that is uncanny yet, listenable and melodic. It certainly makes for a great angle to their musical palette. Tom Waits has the underbelly of LA, John Mellencamp is Midwest farmers and heartland, Bruce Springsteen is primarily factory workers and Jersey, Randy Newman is satire, politics, and obnoxiousness. To be successful an artist has to find an area of expertise. 3hattrio has done this. Maybe by accident, I don't know, they tapped into a style that I haven't heard many bands explore. It's not Los Lobos' desert. Do they sound like other artists? Yes, at times. Everyone does. But they don't copy other artists.
Tom Waits voice is an "original" but he too has little threads in his makeup of Howlin' Wolf, Chuck E. Weiss, Charles Bukowski, Louis Armstrong – all ingeniously woven into his dark and beautiful repertoire. 3hattrio does the same -- there is tradition, some spaced out explorations, maniacal doodling, poetic lyrics, whacked out showcasing and here's the meat of it: it all works.
If Frank Zappa played Americana – 3hattrio would be his band. So be it.
The opening track on "Lord of the Desert" is a Los Lobos inspired painting: "Dust Devil."  The band gets right to work and their haunting banjo open is met by a very Los Lobos type vocal. Singing alone or together the voices are ear candy. They are relaxed, not forced -- and the tradition of Ralph Stanley hovers over it all. There's a vocal at one point that is effective and it's recorded as if the singer were in another room. You don't always need special effects to get a special effect. There's singing where someone drives everyone on in the background by shouting and making references as the musicians push forward with energy. The over-all musical journey is also reminiscent of The Nitty Gritty Dirt Band.
The singing has personality – that same singing with mud and stone that ZZ Top had in their hit-making days. "Pilgrim," has this magic. The side-singing is still evident here and it still has a resounding effect -- a signature to 3hattrio's showcase. Nice electric guitars with a fuzzy sound buzz around from the speakers as the bass and musicians plod along as affecting instruments. It's a beautiful thing to be able to retain the traditional sound and spike it with haunting, ghostly and noir-inspired ambiance.
"Night Sky," has some watery notes followed by creepy-beautiful violin. It's an instrumental and those types of songs have to stand on their own – this does. It conjures images if you close your eyes. The sound effects are not Pink Floyd – they are something you would have to understand if you are standing alone in the middle of a desert at night. After listening acutely -- you hear certain noises, sounds – "what was that?" It's that creepy beautiful. Maybe it was just the wind or a snake slithering into a hole over gravel. Hal Cannon provides guitar, banjo, mandolin, and vocals; Eli Wrankle is all violin and Greg Istock is responsible for the double bass, acoustic bass, foot percussion, and vocals. All toll, there is no big band explosion because this is all atmospheric and mood.
"War," is just plain weird. Lots of spooky other-worldly violin that borders on psychedelia. There's depth in this though – the way it was recorded. There are moments I think I'm listening to early Hawkwind  – yeah, Hawkwind. That space-progressive rock conglomeration that has existed since the late 60's and is still alive and well. That band on its first album did a song called "Hurry on Sundown," and that was the first time I heard a cosmic folk song. It started with this amazing acoustic guitar intro and then a deep bass followed by a cosmic harmonica. Vocals similar to what 3hattrio is doing now on another level. "War," is chant-like as simulated sitars wind in and around the entire arrangement. On this one, some of the special effects do sound a little like early Pink Floyd-Hawkwind. But 3hattrio never pours on the cosmic side too heavily. Wise choice. They are walking on a tightrope but they are sure-footed.
With the tune "I Am," they start with this ZZ Top type voice talking in tongues? Maybe. The banjo is progressive in style. No Pete Seeger here. Vocally I am reaching a little but – I hear a little Dr. John and Captain Beefheart. It borders on that kind of eccentric complexity but never gets caught in any traps. I don't know why I get chills listening to this. It just has this aura around the way they play. It's intriguing at best. You have to have an open mind to appreciate this type of chance taking. If you want Taylor Swift or Garth Brooks -- forget this. If you want something challenging and enhanced – this could hold your attention – especially on a set of good headphones. In some cases, the repetitiveness of the basic melody is hypnotic. It's like what Phillip Glass did with his classic "Einstein on the Beach." You think it's monotonous but then later you want to go back and listen some more. So much for the human psyche.
Ralph Stanley type vocals return to the melancholy but strong melody of "Wastelands of Yesterday." Lines like "…in the riptides of memories" is ingenious for music like this. This is classic bound. It's sung in a voice that could be an old man on a back porch singing to the children as he realizes he is going into his final days. Or, it could just be the voice of God.
3hattrio uses their strings and acoustics for sound effects. In some places, it's minimalism is in a deep groove. The music is meant to carry you away to where you can use your imagination. At times the use of autotune is applied but never to wound the musical art here. The deep notes on the banjo in "Skeleton Tree," is affecting. This music would be so gorgeous in some David Lynch film. It has fog, mist, cold that creeps into your bones and takes up residence in your skin. These little interludes are tasteful despite their downtempo.
Upbeat? That would be track ten – "Motel," where the singer once again utters some nonsense in a somewhat inebriated manner as the banjos build like little boleros. Is it weird? Yes. But it's nice weird. It has moments that invigorates. All of this takes talent and patience. This could all very easily collapse into some pretentious forms. It doesn't. There's balance. This song sounds like a bastardized song that the old Joe Walsh band The James Gang may have tackled. Or the southern rock band Blackfoot with the Medlock boys. But there is a sinister penetrating yet effective style at work here that is all 3hattrio. It takes traditional forms and not updating it into an electrical musical genre. They shape old forms without losing any of the original credibility and they use a technique that is understated emotion. It generates enough evocative images and feelings to make it remarkable.
The final track: "Lord of the Desert" starts with a Kris Kristofferson type voice narrating. It has a disciplined Frank Zappa type style to it. However, the song is designed as such that by the time it ends you'll have to take your shoes off and empty out the sand. This also has that vocal haunt that Jim Morrison used on his American Prayer album when he narrated the story of the desert highway accident he witnessed as a boy and he felt one of the dead Native Americans souls had jumped into his body and possessed him. That's the mood this track embodies. It is powerful stuff. The album runs 50 minutes and it's an experience.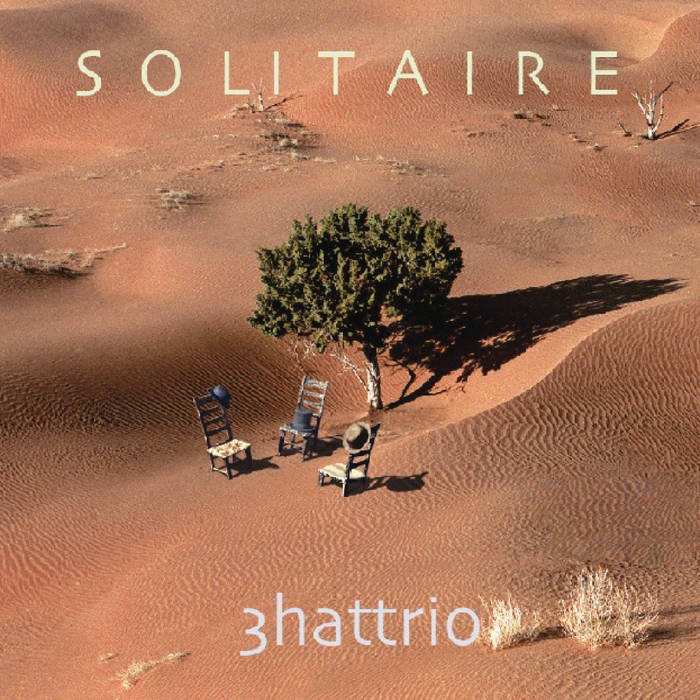 This is why "Solitaire" – their third album -- comes up a little short. Last year's album was atmospheric and well played. No doubt. Gravelly vocals are more dominant on "Texas Time Traveler" – a good opening cut. The material on this album – as indicated on the PR -- have a good inspiration in Edward Abbey's seminal 1968 book "Desert Solitaire." And 3hattrio do it justice. The song has more vocal gymnastics. Highbrow doo-wop with lots of syllables and scatting. Very good scatting. Sometimes this type of singing is more meaningful than a mouthful of serious words. The vocals continue to follow along with eerie prairie sounds. And it's effective like no one but 3hattrio can do. 
"Rose," is a slow pretty and mysterious tune that moves like traffic at rush hour. Slow…but moving. It has a spirituality about it that a group like The Fairfield Four voices would have covered respectfully with their percussive, plodding yet powerful performance grip. A surprise comes with track four – a cover of reggae masters Bob Marley and Peter Tosh's "Get Up Stand Up." I didn't think it would work but it was satisfying. That's the magic of a good arrangement, talented musicians, and music itself. A reggae song with banjos and with a desert feel instead of an island feel. Incredible.
Proceeding -- I am reminded this time of the old "Alley Oop" song as performed by the group Dante & the Evergreens in the early 60's – because it seems the vocals on "Mojave," and "Should I" pronounce the lyrics in the same tonal style Dante was known for way back in the early 60's. At that time, he had a lock on a slurring, lazy vocal style that made that song a classic. It's a style seldom used today. Very likable. Energetic. This is one of the best vocals on the album and it doesn't come in until after almost two full minutes of instrumental introduction. The banjo sparkles too.
"Blood River," is for more selective tastes. Vocally, it's closer to the vocals of Smashing Pumpkins' Billy Corgan (to my ears). Interesting in light of the banjo – violin sparring. A little more ethereal and a good finale is "Eddy Mesa." Almost World music and not Americana. Good, but strange Zappa-type vocals with music in a very Paul Winter Consort inspired mode. It's the kind of experimenting that is to be admired though. It sounds like many and nobody.
The 35-minute set on this CD ends with a traditional and poignant "Bury Me Not." Quite good, vocals are strong and rendered well for a sendoff. But the overall attraction here was not the same or as memorable as the whole of "Lord of the Desert." Lord just happens to have more attractive, stronger submissions that are more cohesive.
"Lord of the Desert" is a handsome 4 panel CD with a cover painting by Greg Istock. Edward J. Bateman created the inside cover art. The album was produced by Greg Istock who arranged all the music as well. Recorded in Utah. "Solitaire" is a 4 panel die-cut CD package produced & recorded by Greg Istock. The CD art & cover was also created by Edward J Bateman.
Website:  http://www.3hattrio.com/
FaceBook: https://www.facebook.com/3hattrio/
Bandcamp: https://3hattrio.bandcamp.com/
Disclaimer: The opinions expressed in this review/commentary are those of the author and do not necessarily reflect the official position of No Depression. All photography is owned by the respective photographers and is their copyrighted image; credited where photographer's name was known & being used here solely as a reference and will be removed on request. YouTube images are standard YouTube license.
John Apice / No Depression / March 2018