Album Review
American History From a Band from Yorkshire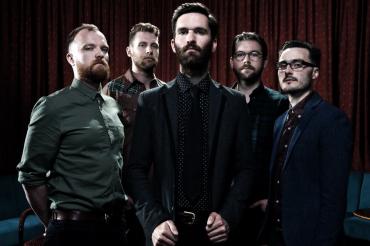 It would be fair to say that the city of Sheffield, famed for its steelworks, straight-talking Yorkshire folk and strangely named football team (Sheffield Wednesday), is not exactly steeped in Americana. And while it boasts an impressive musical pedigree, stretching from Joe Cocker and Def Leppard through Cabaret Voltaire, ABC and The Human League to Pulp and Arctic Monkeys, none of them is renowned for country/folk tendencies. But that may be about to change.
The Payroll Union do not merely pay homage to the sounds of the American South, they are steeped in its history. Suited, booted and bearded, Pete David (vocals, guitar), Tom Baxendale (guitar), Paul Heath (bass), Ben Fuller (drums) and Shane Surgey (keyboards) draw their inspiration from the old South: visually, aurally and thematically. Their first two EPs and debut album The Mule & The Elephant  (2013) took listeners on a journey through the darker corners of US history and now second album Paris Of America continues their fascination with the gory transatlantic conflicts of the mid-Nineteenth Century.
Its eight thematically linked songs resemble a musical adaptation of Martin Scorsese's 'Gangs Of New York' with the action transferred to antebellum Philadelphia – in particular the so-called "riot era" of the 1830s and 1840s. The album is the result of a collaborative project between the band and the Arts Enterprise project at the University of Sheffield (which co-funded the album), songwriter Pete David working with historian Dr Andrew Heath to explore violence and religion in 19th century Philadelphia, investigating the very nature of history and, along the way, examine the idea of storytelling.
The pair also worked with local film-makers, illustrators and artists to bring to life a series of complex, interweaving narratives linked by time and place. Dan Potter's black-and-white etching adorns the cover: a town hall on fire, a protestor's placard reading 'Blood or Bread', a bar sign for 'Sodom' and gangs vying for control of the city. Many of the colourful characters in these songs are real people researched in detail: prostitutes, preachers and politicians of dubious morals and ethics; radical writers and sectarian thugs. Like Scorsese's epic, it's nothing less than the story – warts and all - of how America was built and a monument to the blood it was built upon.
The band, who formed in 2009, list among their influences Nick Cave and Arthur Miller, which explains their facility not only for drama but also their predilection for macabre subject matter. Songs of murder and treachery are shot through with religious imprecations, broken hearts and far too many unpleasant methods of death to detail here. The music, dramatic and emotional, matches the cover picture of a city in turmoil: drums echo and clatter, guitars chug, chime and twang, pianos tinkle eerily, and through it all Peter's strident baritone describes the horror in graphic detail. "We'll light the sky", he warns in "The Ballad Of George Shiffler" ("A gentleman American who fought the Papist claim"), cataloguing the violence between Irish-American Catholics and anti-immigrant Nativists, of whom 18-year-old Shiffler was the first to fall, following the use of the Protestant Bible in Philly's schools.
"The Winter Of '41" is inspired by James Fenimore Cooper's account of a bitterly cold winter when freezing temperatures and failed banks brought the city to a standstill, while "Blood Or Bread" takes listeners on a tour of the city's factory districts while alluding to the widening division between worker and boss. Other songs celebrate and/or vilify historical characters such as William McMullen, ("Bull"), a politician who was revered by his Irish constituents but who used deadly force against Protestants and blacks alike; John Campbell ("White Slave Of The North"), an Irish-born weaver and Chartist who emigrated from Manchester and published a socialist manifesto calling for the abolition of slavery – only to do a U-turn three years later, demanding Pennsylvania purge itself of blacks; and "Will You Still Remember Me?", relating the tale of a struggling handloom weaver who gave up the bottle for the Bible.
It's a remarkable achievement, the scale of its musical ambition matched by the forensic attention to detail in its lyrics and, in particular, its heavily-annotated sleeve notes and lyric booklet. It's not often that you come away from listening to an album not only invigorated and inspired but wiser than when you began; in this case it's true.