Album Review
An American Original Releases An Exceptional Collection of Life Songs - First In 4 Decades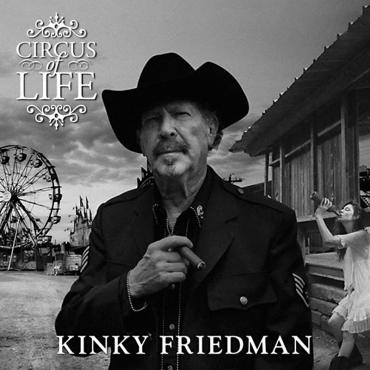 If you're a fan of Bob Dylan, Ramblin' Jack Elliott, Townes Van Zandt, Chip Taylor, Kris Kristofferson, Lee Hazelwood and Buddy Miller you must already be familiar with the voice and exceptional varied facility of Kinky Friedman. A singer-songwriter, author, politician, and satirist who has been around the barn more than once. He releases this first album of all-new material in four decades July 3rd.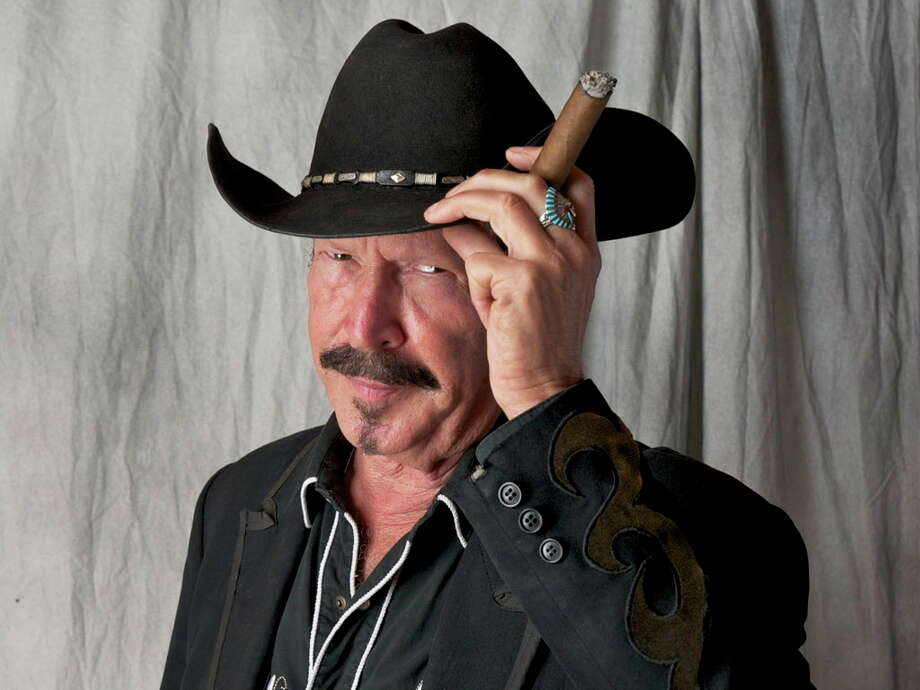 Starting his new 12-song set Circus of Life – a fire-up that was lit originally by Willie Nelson to motivate Kinky – Kinky began to scribble and he put together quite an imaginative set beginning with "A Dog Named Freedom." The Chicago-born Kinky Friedman employs the sad strains of Mickey Raphael's harmonica in a moving ballad with lyrics as resounding and pertinent as they may have been in the 60's. Kinky even references two classic songs in this original. It is Kinky's style to sing with a little gruff and grit but that only infuses the melody and lyrics with authenticity. Bruce Springsteen at times tries to sound like this and does – but, there's something more homegrown and down to the earth the way Kinky manages to navigate that dusty road.
Maybe because he's closer to the earth than the New Jersey rocker.
"Copper Love," is fairly standard Kinky with some fancy multiple guitar runs and Kinky stays on his mark with his tried and true vocal and storytelling technique that may not be Robert Goulet but hell, I believe every word Kinky sings – Goulet? Not so sure. This is what always makes Kinky worth the listen. He is unrivaled in this type of songwriting genre. He doesn't waste a moment with pontificating. He tells the story, he keeps it simple, and he injects everything with his unique originality. He doesn't want to start a fire – but, he does want you to savor the potency of the aroma of his smoke.
You can't even level any criticism of Kinky for being a wannabe cowboy (he's from Chicago after all) -- but, a sincere folk singer from Texas who injects Jewish references. Isn't Bob Dylan Jewish? And Bob is quite the success and Bob has been quoted that (he) " …understands Kinky Friedman." If Bob Dylan understands you, you're someone. And Kinky is a survivor who was always richly intuitive. I can't name many singer-songwriters who write these types of songs. Oh, there is an occasional Jerry Jeff Walker, a Kris Kristofferson, Chip Taylor, and Billy Joe Shaver. But Kinky Friedman? He's been an American original for decades. Wherever those guys have been there's a cigar ash that's been there longer because Kinky's been there.
Some songs continue to be bare-knuckle melodies. They inspire, they're cohesive and welded together with milk and whiskey. No showboating. The nuances are there, there is gritty pathos, amusement, and gin and juicy moments.
I have also read Kinky's books that are equally compelling – "Greenwich Killing Time," (1986) and recently "Ten Little New Yorkers," (2005) so it isn't like Kinky sits around and does nothing in Texas. Kinky always knew how to carry that creative tray without spilling a drop of the liquor.
"Jesus in Pajamas," is Kinky tightening a sense of humor around a serious lyric. Something memorable -- in a Kris Kristofferson manner. Kinky has a dynamic way of walking the wire of parody and novelty but he never topples. He knows how to sew these tales together and just when you think he's being funny, you have a tear running down your cheek because you just realized what Kinky is really singing about. This song is a bit of a follow up on Joan Osborne's "If God Was One of Us." Poignancy light if it were put in cans. A nice little tune about homelessness without being too preachy.
The title track "Circus of Life," is another slow, emotive track with a churchy organ and acoustic guitar that gently holds all the pieces together. Maybe a little awkward for people who expect shorter words in their lyrics instead of challenging ones. Once Joe Cirotti's mandolin enters Kinky goes to another level. Then the heavenly curtain of accordion (Augie Meyers -- former Sir Douglas Quintet, Texas Tornados & Doug Sahm) threads gentle notes through the lyrics. This is a song you need to shut your eyes and listen to. It's constructed with beauty. I don't even think this kind of song would have been conceived by Bob Dylan. This could have been from the pen of Van Zandt maybe, Hazelwood possibly or Kristofferson. Hey, Willie Nelson…here's your next top ten in the country charts.
Kinky is among several veteran artists who have recorded and released some absolutely wonderful solo albums in the last five years. Garland Jeffrey's ("The King of In-Between"), Dion DiMucci ("New York Is My Home" with one song performed with Paul Simon), and Gary U.S. Bonds ("Let Them Talk") and Kris Kristofferson himself.
A little more upbeat is "Autographs in the Rain (Song to Willie)," with a deep bass line and Kinky's sincere lyric sung with sentimentality. A song like this is closer to John Steinbeck and William Faulkner than Woody Guthrie. It's what makes songs by Kinky Friedman original in the truest sense. Much of what he sings is probably from a deep well of truth. Are there many singer-songwriters like Kinky around today? Probably. Probably ignored if they are of the new breed. The reason their regard is not held very high is because they write wonderful songs but they didn't live it – like Willie, Cash, Friedman. They didn't taste the dirt, walk the deep mud, inhale the gasoline, shiver in the cold, and wonder where the next greenback was coming from. Some songs can only be sung if they are lived first. Woody Guthrie did. To a degree, so did Dylan, though some of his misadventures are questionable. But at least he had the balls to suggest them. That's a troubadour. Dave Van Ronk would have picked up on some of these Kinky gems. He was involved with many traditional songs but these songs by Kinky are composed in the same spirit. They sound like they could have had a history.
"Back to Grace," is extremely slow, with a mournful harmonica and sad acoustic guitar. But, again, this is a song from the heart, from a deep well of reminiscing, from a profound sadness. Some songs sustain their value simply by saying something listeners can relate to in their own lives.
In fine voice on "Sister Sarah," Kinky pours the words out with restrained sincerity. He isn't going for a tearjerker. It's nothing special as a song, but Kinky – having grown older and wiser – showcases this fine melody with his professionalism. He is today's surviving troubadour. Dylan is doing fine, but he's at that level where the intimate singer-songwriter has been lost. Augie Meyers' continues to lay down beautiful accordion, and Jim Beal's bass is low and thick. The mandolin makes the sadness more delightful than melancholy. And that's what makes an average song a magical one.
I seldom tire listening to Mr. Friedman's voice – maybe it's the authenticity that remains after all these years in his tone. "Song About You," is strong. The mandolin coupled with the harmonica is rich and amber. Again, some awkward syllables in the lyric but musically Kinky gets them out where a songwriter may challenge a lyricist and say how can I get notes on all those words? But, Kinky does it and he succeeds.
This next track is the most ear-catching right from the start. "Spitfire,"  the melody, the lyric -- it all has precision. Cat lovers will enjoy this for sure. It has a nice sentimental melody and Kinky sings the song – or should I say he narrates it – with radiance. Is it sad? Sure it is, but that's why we depend on songwriters of Kinky Friedman's caliber. These are the songs that I depend on when I listen to Kinky Friedman. Once again, it's not something Bob Dylan would do. Maybe Don MacLean – maybe Gordon Lightfoot – but they didn't. Kinky did.
More slow songs follow and Kinky always succeeds with those types of songs. He's not looking for the blistering guitar solo and the funky drum solo. Like wine still in a wooden barrel, Kinky has aged well. His songs are not retro, not novelty-oriented in this batch, and not insensitive. "Me and My Guitar," is a strong showing and many singer-songwriters would give their right arm to write one as simple and as good.
Maybe what I have looked forward to would be one country-rocker going through all the Texas gears. But I'm still waiting for that on a latter day Kinky Friedman record. One of my favorite singers who is still basically obscure in the east is J.D. Blackfoot ("The Ultimate Prophecy" & "The Legend of Crazy Horse") – he often reminded me of Kinky with too much caffeine. Blackfoot has quite the dramatic voice. Yet, these two fellows would have been a good match on stage, or as writing partners. None of that California drek in their pen. They are of the dust storms. Well, I can dream, can't I?
The closing tune "Sayin' Goodbye," is free of what's ordinary. It's not a heavy-duty song but it shows why Kinky is Kinky Friedman and no one else is.
He has that richness that is possessed only by people like John Prine and the late Steve Goodman.  It's almost as if, Mr. Friedman saved the best for last. The little tune is memorable, it's composed in a breezy rain of acoustics. This is not a confection, this is something that has musical nutrients that confirm the value of having a Kinky Friedman to listen to and look forward to.
The CD is 36 minutes long with no bombastic or pretentious songs in residence. 12-songs – no piss and vinegar because quite simply it didn't need any of it. Produced with the charm of a snake wrangler by Brian Molnar with Tattoo Dan Gailey, Marcie Friedman, Terry Murphy and Dan Schulse. These are people follow no maps and just go by instinct, intuition, and inspiration. Maybe I've read too much into this but that's what I heard...what I felt coming through my speakers. That's it.
Retired radio legend Don Imus helped (I met Don back in the 70's or early 80's at an entertainment award show in NYC. Later I worked in the early 2000's for his associate and friend David Jurist who was in the graphics business and co-owned a NYC restaurant with Don. The word legend is bandied about but no doubt – Don Imus is a radio legend and has been in Kinky's corner and has endorsed him every step of the way).
The CD package is a beautiful black & white exterior shot of Kinky with his trademark cigar (I'd like to have a cigar with him one day) and a nice subtle color spread in the interior. Sadly, no lyric booklet. The design was by Russell Toynes with photography on the CD by Hans Bauer, Garry Little and Eva Luna with Kevint3141.
Among the musicians, I did not mention in the copy is "Little Jewford" Shelby on piano and Clay Meyers on percussion. All performed admirably.
Website: https://www.kinkyfriedman.com/
Facebook: https://www.facebook.com/kinkyfriedmanofficial/
Disclaimer: The opinions expressed in this review/commentary are those of the author and do not necessarily reflect the official position of No Depression. All photography is owned by the respective photographers and is their copyrighted image; credited where photographer's name was known & being used here solely as a reference and will be removed on request. YouTube images are standard YouTube license.
John Apice / No Depression / June 2018