Album Review
Americana-Rock Evident In Well-Fueled Nashville Unit: Sticky & Smooth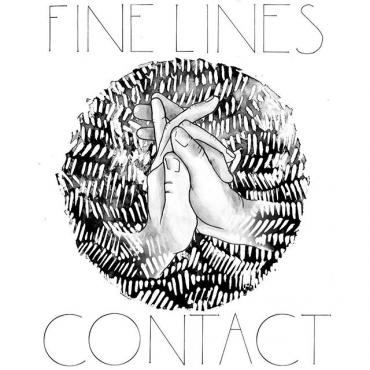 My first issue with Fine Lines is that despite being from Nashville this music is not country, folk, alternative folk or any kind of roots music. At first, I was going to pass.
It's a shame because every now and then there is indeed a hint of the possibility that these fine musicians could produce something closer to their geographical musical heritage. Instead, the grinding lead guitars at the onset are straight out of garage rock's heavier arsenal – Adrian and Paul Gurvtiz band GUN from the late sixties comes to mind because they could grind guitars with the best and also produce some wonderfully melodic songs. But I have to try and be fair so…
The vocals are fine for rock, but there's no mistaking its lack of roots' origins, blues, or country-rock from this ensemble. It's a basic run-through of rock styles used thousands of times since the 60's. But that's not entirely a bad habit to have. It's a style that is still exciting when done correctly. The lyrics are a bit pedestrian, the guitars can produce some nice wall of chords but there is no Adrian Gurvitz or Eric Clapton guitar fire. Gurvitz by the way for those unfamiliar, also played with Ginger Baker. But, as I said, let's explore…
Fine Lines' vocals do exhibit power, but they're in that high register of bygone day rock bands like Journey, Styx, Kansas, and Stories. But Fine Lines doesn't sound like a hair-band. At least early on, but I will give them the benefit of the doubt.
The vocals (Chris Probasco – also guitar) are not poor – they are just not in that tradition of Americana. Just because it's from Nashville, this is not going to be Nashville sounding or traditional. Yes, I know Nashville now produces some rock acts and well, this is just one of them: The first track "Floating," has a good deal of energy that's promising but little else. The subsequent tracks follow the same recipe. 
It's not rock music based on Beatles melodic and inventive styles, not progressive like Pink Floyd, folk-rock oriented like John Prine or exciting like Dave Matthews. But it follows a straight line of elementary rock, simple and credible in a garage rock band spirit. Many bands in the past have found success with this: The Standells ("Dirty Water"), The Outsiders ("Time Won't Let Me") come to mind. But I haven't heard anything so far that has that hook and instantaneous appeal. There are moments of creativity mixed in but there is nothing here that hasn't been done before decades ago and much better by bands like Status Quo ("Pictures of Matchstick Men") who still perform and record. Problematic -- is that Chris, while singing proficiently, and he does, lacks a distinctive rock vocal. There is no Kenny Shields power (Streetheart), no Robert Plant or Axel Rose nuclear presentation, Roger Daltry theatrics, Mick Jagger swagger, Rod Stewart personality, Joe Cocker growl or Robert Palmer / Bryan Ferry suaveness. But, I could be wrong since those artists did develop over time and Fine Lines is just starting out. 
Chris to his credit does sound closer to the 70's pop-rocker Nick Gilder (who was good in his day) but Gilder had style along with John Waite (The Babys). At his best, no one sounded quite like Gilder ("Hot Child in the City," "Hold on Me Tonight") or Waite ("Isn't It Time," "White Heat," "Euroshima"). All I hear in Chris is potential that hasn't been fulfilled....yet. There is something in his showcase that shows promise. I'm not sure they, as a band, have found their niche. Together, they do play well. 
Yet, track two "Need to Know," has ambitious moments – if the great songwriter Jules Shear of Jules and the Polar Bears (wrote many hits for other artists) were in attendance the tune would have had more surge and circuitry. But I can't slight Fine Lines, track 3 is a big improvement already – more acoustic guitars and nice lead, good lyrics and it seems to be arranged better.
"Morning Sun," is the best track so far and maybe things are beginning to turn around. Even wine needs to ferment. The melody is catchy, and this could be a plug side to a potential single. Nothing heavy, but the tune has relevance. Maybe this band can write some good stuff, so let's keep going.
Now, the PR doesn't try to hide the fact that this band is a little heavier than most Americana-roots groups. They come from a hard rock scene, a bar band pedigree, and admit they wanted to be more aggressive. "Bride," starts off good for a heavy song though it's in the neighborhood of the early 70's band Sir Lord Baltimore. Yes, I know you never heard of them but in heavy rock circles, their 1970 album Kingdom Come is classic. After a weighty intro, Chris sings with poignancy, a better voice for him. Again, the musicians are proficient in their style – they are not hacks or wannabes. They have lift, some soul and maybe that would be their redeeming quality.
What is peculiar is that even their PR admits as well -- that it's not a vocal or guitar band – though that seems to be their thrust. There is no lead pianist like Jerry Lee Lewis, Billy Joel or Elton John. No orchestration like the Electric Light Orchestra. No genius songwriting like The Beatles.
Their first single release is "Stranger," and that's a good choice. It has the basic rock delivery and Chris is in fine voice in this well-defined style. There's a nice Television guitar tone (Tom Verlaine & Richard Lloyd) and this is what is becoming attractive. The sounds they generate are powerful, commercial and radio-friendly but it will only appeal to ears who enjoy or appreciate that old style of guitar-rock from the late 60's early 70's right up to the guitars of the early years of punk/new wave. Many did at one time. This is a song that would get patrons moving in their chairs or swivel stools. It's a good jukebox tune too (do they still have jukeboxes?). A good 3:30 rocker. Short and sweet. 
A slower paced song follows in "It's Not Over," and Chris walks the slippery slopes of balladry. His voice here is sincere but thin but maybe that's what they were aiming for. It has that Rolling Stones' "Miss You," "Moonlight Mile" and "Memory Motel" pace. Unfortunately, Chris doesn't have that distinctive Mick Jagger vocal. But their tune tries, and I will give them credit for that. The song has mediocrity however with key changes, falsetto voicings, it does have a nice laid-back funk beat by James Thompson and looping retro guitar by Chris until he starts to really strum fast toward the end. So, the song redeems itself to a degree. It is listenable and worthy.
"Come See Me," has a little more retro Rolling Stones in its intro and Chris sings this closer to the Jagger edge. This has a nice Muscle Shoals guitar lick that sweetens it and then keeps its distance from a Rolling Stones influence. Smart. It seems this band has a little more life when they slow down and allow their feelings to penetrate the performance. This is another credible track. Soulful, melodic and Chris sings exceptionally well. This is his groove. This is where he excels – at least to my ears. The momentum is now his and though the song is almost five minutes long, it never gets laborious. The guitar maintains its near-Steve Cropper melancholy. I know there are black bands with growling black soul singers who will love to cover a piece like this. But Chris certainly loves to strum that guitar fast toward the end of his tunes unless it's BL Reed – the second guitarist. Must break a lot of strings. It's a good effect but it shouldn't be overdone.
So, as the album has progressed Fine Lines has asserted itself nicely. Still, not an Americana-roots band but they have a good sound.
"Centennial," provides acoustic guitars and some hollow guitar going on to nice effect. Chris sings in a higher register (very well) with nice backup vocals – this is a good original attempt at establishing a Fine Lines sound. Good lyrics again – and here they don't sound like The Rolling Stones or any of those other artists I mentioned earlier. They sound like Fine Lines now. They may need to fill out their sound – maybe mix the bass up a notch and more piano notes would dramatize the conclusion even better. I hear some piano but it's too low in the mix. Good finale. I knew if I was patient this band might be worth a few optimistic words.
The nine-track, 36-minute album Contact concludes with "Lighthouse," another slow burner. Vocals at the end are quite good and Chris really lays down some of his finest rock vocals here. Too bad he waited this long to provide a polished track like this. Far better than the earlier tunes. Nice way to draw things to a close. Fine Line is faithful to their music and this may be why they showed the progression they did. They do need to be better judges of what to put first on their album, the pacing is important. Many of the best tracks came mid-way and to the end. 
BL Reed is the second guitarist, and Dustyn Roth (bass). The CD art is a simple line drawing black & white. Four-panel fold out with no lyric insert. Chris wrote all the songs and the album was produced by the band and Don Bates in Nashville, TN. The CD artwork was developed by Linsdy Davis (that's how it's spelled on the CD).
Website: https://finelinesband.com/
Facebook: https://www.facebook.com/finelinesrocks/
Disclaimer: The opinions expressed in this review/commentary are those of the author and do not necessarily reflect the official position of No Depression. All photography is owned by the respective photographers and is their copyrighted image; credited where photographer's name was known & being used here solely as a reference and will be removed on request. YouTube images are standard YouTube license.
John Apice / No Depression / Written in September 2018