Album Review
Amy Black - The Muscle Shoals Sessions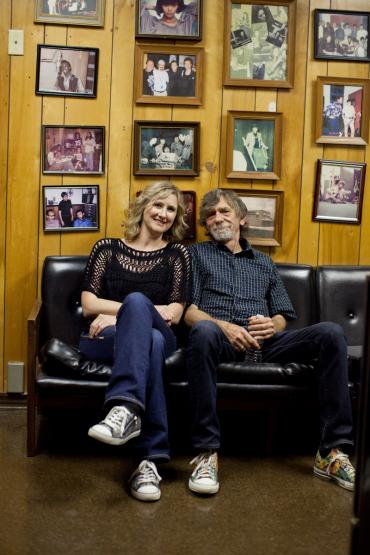 There's a critter down there in Alabama that's so bad that once it gets it teeth into you, you'll never be the same. Once bitten by the Muscle Shoals Fame Studio bug, the infection quickly spreads throughout the body, affecting the hands, feet, heart, and soul. There's no cure- you just have to live with it.
Amy Black found that out the hard way when she visited the Fame studios for the first time two years ago. A session with legendary Swamper Spooner Oldham for an EP spread the infection so thoroughly that she returned recently to do a full length studio album paying homage to a collection of tunes recorded in that studio.
Although she says she didn't choose obvious selections, the ones she's taken on are well known to anyone else chomped on by the Muscle Shoals bug. She gets down and dirty with Sam Cooke's "Bring It On Home To Me," horns squirting brassily, bass throbbing with funk and a couple of McCrary sisters providing gospel back up.
Although "You Gotta Move" has been recorded by a bevy of secular and gospel singers including Sister Rosetta Tharpe in 1950, The Five Blind Boys of Alabama in '53, Sam Cooke in '64, and Mississippi Fred McDowell in '65, it was the Rolling Stones' version recorded at that same studio in 1969 that turned on a new generation to deep roots, gospel-tinged blues. Black's version is slinky and swampy, Will Kimbrough's guitar as nasty as Keith Richards', Ann and Regina McCrary laying down soulful moans Mavis Stapes style behind her.
But Black has some originals that are as interesting and as funky as the covers. "Please Don't Give Up On Me" sounds like it might have been penned by Swamper composer legend Dan Penn imbued by Black's country soul vocals.
"Get To Me" is a country answer to Aretha's "Do Right Man," with a spoken word chorus encouraging women to assert themselves and find a man who loves women for who and what what they are.
The only missteps here are tackling "You Left The Water Running" and "You Better Move On."
Once Otis has touched it, you'll never get those finger and voice prints off it. Sam and Dave did a version of "Water" with the kick drum going off like artillery fire that's hard to shake, and then Otis nailed it to the floor with so much raw funk you couldn't pry it loose with a backhoe. And as for "You Better Move On," Arthur Alexander owns it with his version- there just ain't no away to top it.
Aside from that, Black has a nice timepiece here, a smooth blend of past and present that keeps the Swamper legacy alive and kickin'.
grant britt