Album Review
Amy Rigby's Nostalgia Manifesto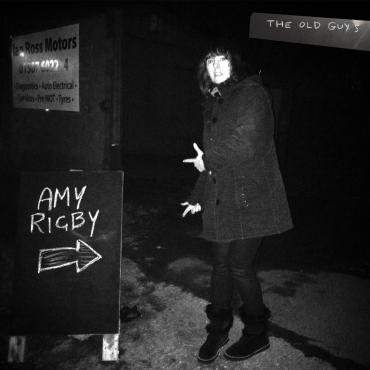 Amy Rigby is an icon. For those of us who have been hip to her music for the last few decades, this is obvious, and for those who will hear her for the first time when they pick up her new solo record, The Old Guys (her first in a dozen years), it will be evident right away. On the album's masterpiece title track, Rigby sings of the "old guys" who've "made a past for the young ones to learn from". And though she's referring to a generation of artists that came before her, there must be a slew of young rockers and songwriters out there who count Rigby as an influence, too. Her smart, thoughtful songwriting has been knocking the wind out of listeners since she first came on the scene as a solo artist with her 1996 debut Diary of a Mod Housewife. And though she may be more than 20 years wiser now, that same cheeky, humorous world view we came to know and love still permeates her words.
From the rollicking rock and roll opener "From philiproth@gmail to rzimmerman@aol.com" in which Rigby cleverly sings from the perspective of Philip Roth writing an email to Bob Dylan after his Nobel Prize win, to the haunting and heartbreaking dreamscape "Robert Altman," Rigby has created a wildly imaginative pop culture time capsule. Inside this capsule live many long lost treasures, like cassette tapes ("Are We Still There Yet?") and egg creams ("Bob"). But the way Rigby pays tribute makes them feel fresh and new again. 
A master of pop rock, Rigby crafts some of her strongest hooks on The Old Guys. "One Off" is a driving, guitar-heavy ode to a one-of-a-kind person. "Bob" is a song about those "happy sad" pop songs that make you smile so hard you feel a pain in your chest and cry, (and it is, conveniently, one of those songs itself). Rigby is as enchanting and delicate with her vocals as her guitar melody on "Back From Amarillo," a song about all the things we plan to do in life, but never get to. And on the swaggering "Playing Pittsburgh," Rigby mines her "hometown blues" alongside a guitar riff that will be impossible to forget.
There is so much looking back on The Old Guys – all the things that have helped shape Amy Rigby – but she never sounds jaded or regretful. She's been in the game a long time, as part of bands (Last Roundup and the Shams), as a solo artist, and most recently with husband Wreckless Eric [Goulden]. The Old Guys serves as a reflection on a past filled with memories of "the old days," and Rigby's singular voice as a writer offers us a sweetly nostalgic snapshot of all of them. Listening to the record often feels like flipping through frayed photo albums, recalling people we've lost, good times we've had, experiences that escaped us, and places that changed us. But it also brilliantly captures what it feels like to age – the funny parts ("Hold it all in/Send up a prayer for my skin/That we can make it through life intact"), and the tough ones ("There are places that you hear of all your life/But never make a plan to get to/And I been runnin' out of time to do the things I want").
Amidst it it all is Rigby's refusal to be left behind, and instead to "keep laying tracks" and writing flawless pop rock gems that will ultimately outlive her. It is what makes her (and this fabulous record) positively electric.