Album Review
Amy Speace - That Kind Of Girl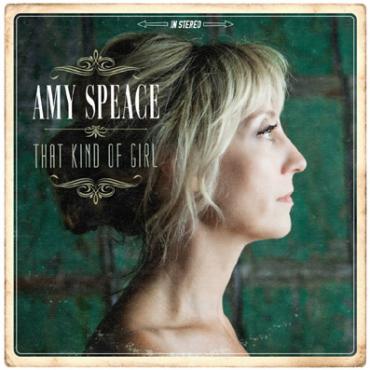 From initial desire to loss, desperation, bitter heartache and resolution, That Kind Of Girl traces the arc of a highly charged love affair.
The twelve-song That Kind Of Girl, three days in the making, is Baltimore, Maryland-bred, Nashville-based Amy Speace's third consecutive collaboration with producer Neilson Hubbard (drums, percussion, vocals). As with its predecessors, it's a marriage of self-penned originals and co-writes. Aiding the pair in Mr. Lemons Studio were time-served contributors, Danny Mitchell (piano, keyboards, vocals) and Eamon McLoughlin (strings, mandolin), plus new boys Will Kimbrough (guitar, vocals), My Morning Jacket alumni Carl Broemel (guitar, pedal steel) and Dean Marold (upright bass). John Moreland, Garrison Starr, Tim Easton and Rod Picott supply background vocals, as do Girl co-writers, Ben Glover and the duo Wild Ponies - Doug & Telisha Williams.
According to Shore Fire Media's press release, "The album is an intimate, heart-wrenching exploration of a love affair and its aftermath, the dangerous addictive dance of love and alcohol, and the sobering journey out of it." On Amy's seventh full album, there are (single) co-writes with Wild Ponies, Texas Panhandle raised Ryan Culwell and hit songwriter (and so much more) Beth Nielson Chapman, while County Antrim bred Glover, Hubbard, and 2010 Kerrville New Folk songwriting contest winner Kate Klim (each) collaborate on a pair of cuts.
That Kind Of Girl is bookend by a trio of self-penned songs. A deal of admission is embraced in the lyrically soulful opener "Nothing Good Can Come From This," yet, knowingly, the narrator journeys into the maelstrom and helplessly tumbles. Aided vocally by Morland the ensuing gently-paced Hubbard collaboration, "Come Pick Me Up," recalls a tempestuous time, while the rhythmically urgent "Better Than This," is a Klim co-write. Therein, the narrator delivers her statement of intent – "I don't want to waste another moment feeling like an afterthought, I don't be another woman grieving for the years she lost" while 'the hook' resolutely surfaces in the repeated "I can do better than a half-kiss, I can do better than a near miss." The lyric to the sonically dense "Three Days" overflows with Biblical references, while the album title song, penned with Culwell, finds the heartbroken, (now) reclusive narrator numb heartache and sorrow with copious volumes of spirits.      
"One Man's Love," a collaboration with mega-talented Chapman, is launched by the 'straight to the point' revelation "She and I shared a lie, Even though we never met, Both deceived we both believed." As with the Glover co-write "Three Days," their "Hymn For The Crossing" is a lyrically spiritual affair on which Amy is joined by Ben and Garrison. The Hubbard co-penned "In Chicago" is a rhythmically energetic hoedown, while Wild Ponies shared in the creation of the country flavored ballad "Trouble Looks Good On You." At the outset of the second Klim co-write, "Raincoat," there's mention of a (somewhat uneasy) flight from Memphis to Austin, and of "thunder," "lightning" and Fall "tornadoes." Undoubtedly the gem in this abundantly overflowing treasure chest, the narrator subsequently reflects upon that heart-wrenching instant when "love kicks up a storm and is gone." In the penultimate "Strange Medicine," having found sanctuary in a familiar (family owned) dwelling, the narrator grieves, reflects…..and initiates recovery. "Epilogue (I Don't Know How To Stop Loving You)," the closing selection, is similarly self-penned. Therein, from a safe distance, Speace's lyric captures raw emotions, muddled thoughts, and a yearning (counter to now better judgment) that occasionally still flickers.
http://www.amyspeace.com/ and https://myspace.com/msmhomelessartist50051586/music/songs
From the desk of the Folk Villager.