Album Review
Andrew Duhon's Soulful Folk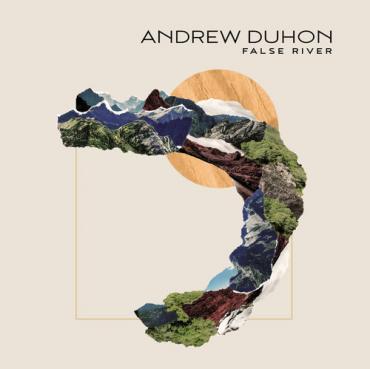 You can call Andrew Duhon a folkie if you want. But that description really doesn't get the job done. He's a soul man, a bit more subtle than most. Duhon doesn't have to sweat and grunt and moan constantly to deliver his message. He just lets things simmer 'til the bubbles break the surface, popping like blood blisters. He's a soulmate of Van Morrison, lyrically and vocally, creating vivid dreamscapes out of everyday life.
Duhon says that his latest offering, False River, is a break-up album, the split of his own doing for reasons he can't fully explain. His efforts to understand why he's doing this to himself and his ex-to-be make great voyeuristic fodder, buoyed by Duhon's lush arrangements. There's only a quartet at work here, Duhon on guitar and vocals, Myles Weeks on bass, and Maxwell Zamanovic on drums with Wood Brothers' Jano Rix contributing keys. But it sounds like an orchestra, enveloping you in a mellow wall of sound like a gauzy cocoon.
Duhon's lyrics are gut punches to any aspiring songwriter, line after line of I-wish-I'd-said-that observations in plainspeak that manage to be profound without being pretentious. "Your heart is miles and miles of placid ocean/Mine is a rowboat that I drag through landlocked towns," he tells his soon-to-be ex-beloved on "No Man's Land." "In my mind, I'm out there picking them tomatoes," he continues, "but the rest of me just keeps rambling 'round."
He continues his journey to anywhere but here in this relationship on "Heart Of a Man," fueled by cigarettes and cocaine, "burning off his freedom at a speed he can't sustain ... the heart of a man is a runaway train," channeling Van Morrison as he ponders the reason for leaving his lover behind time after time on a quest for something he can't name.
Its not all about affairs of the heart. "Street Fair" pays homage to his native New Orleans, an upbeat second line ode to why residents of that city find excuses to party, celebrating their resilience and sense of community for surviving Katrina as well as because it always seems like a pretty good way to pass the time.
"I'm Still Holding On" is an interesting blend of the Wood Brothers and Van Morrison, a bittersweet look back at a relationship that has moved on, or has it? Duhon is torn between acknowledging the breakup: "I know we had to ride on," yet asking if "You still believe in your hand in mine." But then if they should get back together, after he's been out "gathering the seeds of a sweet song to sing to you in the backyard, sing away the day that's weighing heavy on you," he wonders, "what if I don't get better, what if I'm only good at writing you letters and never the shoulder you can cry on?"
Duhon has provided a buffet you can chew on all day long and still discover a tasty morsel every time you belly up to his table.