Album Review
Andy T / Nick Nixon's Final Recording Together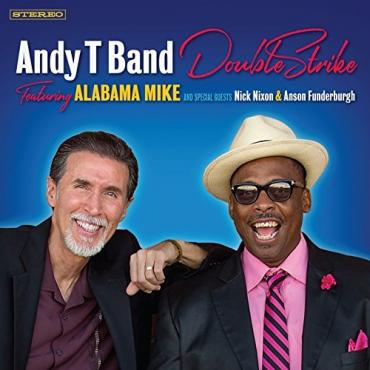 Guitarist Andy T (Talamantez) and vocalist Nick Nixon had one of the great partnerships in blues. Although it only lasted 6 years, the union yielded three great albums:2013's Drink Drank Drunk and 2014's Livin' It Up on Delta Groove, and 2015's Numbers Man for Blind Pig, all produced by Anson Funderburgh.
Nixon's gravely vocals had the soulful,gospel feel of the Holmes Brothers' drummer/vocalist Popsy Dixon and Talamantez' guitar, honed during five years with Guitar Shorty, supported himwith licks culled from Johnny Guitar Watson to Jimmy Vaughan to T-Bone Walker and Albert Collins.Funderburgh also dropped in throughout the records for some tasty Texas-toasted guitar.
But the news ain't all bad. Nixon is too ill to perform any longer, but he's still represented here on 6 cuts on lead and an additional one on background. Funderburgh is back as producer and performs on 4 cuts.
The new guy is Alabama Mike (Benjamin,) a former gospel singer who's high-pitched soul vocals have the frenetic tone and energy of Little Richard. Backed by Anson's smoky basting, he comes out wailing like Richard with his hair on fire on the opener, "I Want You Bad."
Alabama drops down a notch for "Somebody Like You." Its deep dish soul, but of the sanctified persuasion.
With Greg Izor's harp wailing mournfully alongside, Nixon steps up for the Jimmy Reed- influenced Andy T composition "Deep Inside," featuring a phlegmy gospel vocal as righteously soulful as his choruses on his cover of Delbert McClinton's "Livin' It Down" from '14's Livin' It Up release.
The topic is secular, but with Nixon's tonsils wrapped around it, "Sweet Thing" is a churchy ode to his beloved, honked out of the sanctuary by Kaz Kazanoff's tenorsax luring the celebrants back to a smoky cabaret in the wee hours.
Chuck Willis' "Feel So Bad" is Nixon at his soulful, preachy best, Andy T weaving around him with twangy Jimmy Vaughn guitar figures. The band dredges up another Willis classic"Juanita," Nixon splashing swamp pop all over his flock as Andy T swoops in baptizing the sermon with more Texas guitar juice.
"Drunk Or Sober" features Andy backing Nixon with some snaky samba wrapped with barbed wire, Kazanoff honking along behind like an enraged goose.
"I Was Gonna Leave You" is Nixon's final contribution, and its a fitting closer. Kaz serves as a honky pallbearer for this soulful dirge, Anson dropping a funky solo in the collection plate that'd make any deacon throw down the offering, get down, and give up an offering of his own. Nixon's gospel soul is a hard act to follow-its mellow, but cuts right through any sanctimonious foolishness to get right to the heart and soul of the matter.
Alabama Mike has some big shoes to fill. It's a good match-up, but there's still a big shadow hanging over him. With the soulful gospel chops he displays here, he'll soon have the spotlight tipped his way, but with Nixon's spirit a constant companion.