Album Review
Angel Olsen's New Frontier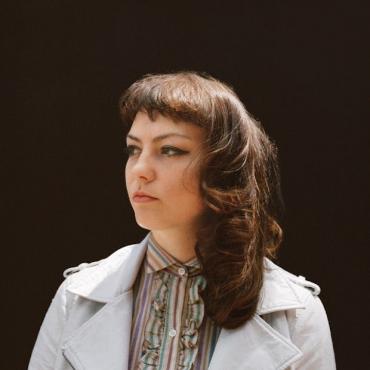 The shimmering synth in the opening of the highly anticipated new Angel Olsen record My Woman will have you doing a double take. Is this the same quiet, introspective, dark Olsen we've come to know and love? The answer is "yes, but…"
Following 2014's folky and moody Burn Your Fire for No Witness, Olsen has taken a turn for a more retro, garage pop sound, with plenty of shimmying and pizazz. Olsen embraces sixties girl group doo-wop; grungy, surf guitar, and that aforementioned synth, throwing any and all inhibitions to the wind. You can practically hear her stepping out of her shell and into the spotlight. And you won't be able to take your eyes off her. My Woman is solid rock and roll, with catchy pop choruses and a much louder, more confident Olsen at the helm. (Think more "Hi Five" and less "Windows", both off Witness).
Even her songwriting seems to have gone through a transformation. The lyrics of My Woman are all urgency and unrequited attention. "Give it Up" finds Olsen singing about an obsessive kind of love, and "Shut Up Kiss Me" follows suit. Olsen writes about the conflicted nature of being in love, and more importantly, in lust, capturing the desperation that comes with it, but also the fun and adrenaline. Gone is the soft, introverted identity of her previous work. Olsen has reinvented herself, and from the sound of it, she feels pretty damn good.
Even when the sparks settle for a toned down tune like "Heart Shaped Face", Olsen brings a sultry harmony that is so unlike her former sound. She still registers those breathy, high notes, but this time, they're more "sexy" and less sad. Produced by Justin Raisen (Charli XCX and other pop goddesses), the pop influence is clear, but it never feels like a put-on. Instead, it feels like Olsen has tapped into a new and exciting piece of herself.
My Woman is a fearless self-discovery record. From the sun-drenched, seventies rock of the stunning, pastoral "Sister", to the stylish, spaced-out Bowie-esque "Woman", Olsen is not shying away from anything this time around. And it's thrilling to hear her exploration, and even more thrilling that, as a female artist, she is not allowing anyone to box her in or label her. She's doing what she feels like doing, instead of might be expected. And if you don't get on board, you're missing out.