Album Review
ASV - Goin' To the Dance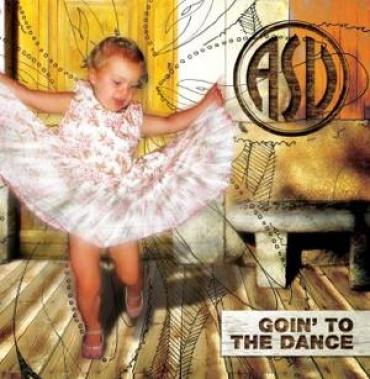 Ladies and Gentlemen, I would present ASV to you, but I could not do it half as well as the opening track on Goin' To the Dance. Drenched in everything which is supposedly Americana (I still haven't quite figured out what it is), "Waking Anew By You" grabs you from the first bar and in the process of dragging you to the end gives you something very, very special. Instrument-wise, it has it all—seriously fine banjo, solid bass and drums, magnificent resophonic guitar, haunting fiddle, and a voice which, like the instruments, create a whole. This is what is meant by the whole being more than the sum of its parts. It must be.
Like on the next track. Sometimes even critics hear songs which strike a note and attribute them to the performers. It will shock you how many tunes you are sure were written by someone are actually hijacked (with love, of course). Well, "Walls of Wood and Stone" should have been written by Scott and Alice Vestal (ASV, get it?) but wasn't. One Leah Lemberg contributed it to the world. Scott and Alice are just the ones classy enough to pick it up. The lyrics and melody have a Joan Baez feel yet fit ASV to a 'T'.
Scott Vestal plays banjo and plays it damn well. "Goin' To the Dance" gives him ample chance and he comes through. The only instrumental on the album, Scott lays out the theme and allows all to jump on board. You want pickin', here it is.
When the band picks up the instruments to "Swing Her Easy," one can't help but think of Adrienne Young and Little Sadie. Young lives for such tunes, steeped in tradition yet updated and ready for steppin'. This is the kind of song that if Adrienne wasn't playing it, she'd be dancing to it.
The band steps outside genre on an amazing treatment of Romberg & Hammerstein's 1928 tune, "Softly As In a Morning Sunrise." It's laughably good, the standard swing instruments—guitar and violin—handled beautifully; Alice's vocals right on the money; Scott's banjo a perfect opposite and complement to the superb and soaring lap pedal of one of the most solid steel and resophonic guitar players in the business, Randy Kohrs. This is ensemble swing at its best.
A quick step waltz ("Jinx It") gives Alice a chance to vocalize while Scott (banjo), Steve Thomas (fiddle) and Kohrs (resophonic guitar) battle it out from beginning to end. Just jazzy enough, it gives plenty of room for each to show their stuff (and they show plenty).
The singer/songwriter of Alice Vestal breaks out on "Many Blessings." A flashback to the early '70s, one can feel the complex simplicities of the modern mid-folk era when Judy Collins, Sandy Denny and Joni Mitchell reigned. A beautiful song made more-so by Alice's fine voice and phrasing.
"Blossoms On the Almond Tree" reeks of the early '80s folk boom in cities like Seattle and Chicago, solid folk backed with flowing rhythm supplied by the exceptional lineup.
ASV reaches way back to the much overlooked Kenny Rankin for the jazzed-up "In the Name of Love." Rankin has a following for good reason and fans have scratched bald patches on their heads trying to understand why he lies by the side of the road whilst less talented singer/songwriters are lionized. One listen to this and the scratching becomes deafening. The band gives it a great workup, each musician stepping it up and cranking it out.
If you ever wanted a marriage of Americana and psych played by the most unlikely musicians imaginable, welcome to "God Watches Over." Drenched in the era of music on the loose, it begs for The Fillmore and a light show—instruments flailing and screeching, voice drenched at times in pools of reverb, rhythm solid but free. An original by Scott and Alice, it would stand out like an orange on a peach tree but for, once again, the exceptional playing. There is some serious picking going on here, my friends, and if you might think, hey, this is way different (in a negative way), you don't deserve music this good.
Back to the norm, which is way better than the norm, actually. "Safe and Sound" is steeped in standard country/bluegrass instrumentation until the bridge when tasty rock guitar leads and organ chime in to take it to a whole 'nother level. It is reminiscent of something the old Seldom Scene might have done on one of their more rock outings. Okay, not exactly, but close.
On to lounge, for Pete's sake. The album ends with wire brushes and reverb guitar beneath vamping female vocal, bass runs driving jazzy chorus and giving bedrock for excellent jazz chords. This isn't Americana. It's not even close. But, damn, who cares?
Nashville considers musicians who do way less than what ASV does here superstars, which says more about Nashville than ASV. The lineup here is as solid as it gets, Scott and Alice bringing in the best available. Chris Brown may just be a percussionist, but he is a percussionist of worth. It is an art, blending in and Brown has it down. Jeff Autry plays guitar on only two tracks, "Goin' To the Dance" and "Beauty Will Save the World," but what he does on each is magic. Byron House is rock solid on the bass and steps up a notch on three or four tracks, making those that much better. Steve Thomas' fiddle is right on, as is that of Casey Driessen on "Waking Anew By You" and "In the Name of Love." And we can't forget Bobby Newman's contribution on the psych (soon-to-be) classic "God Watches Over." And what can possibly be said about Randy Kohrs that hasn't already been said? He is a monster player and right up there with Pat Wictor in terms of mastery on resophonic guitar and lap steel. Mark his name. He is a legend at work.
The real key here, though, is the Vestal duo. They found each other in a studio. They have many things in common, not the least of which is music (and, of course, a child). Judging by this, they have a very bright future. It would serve you well to watch for them. In the meantime, run this down. It will be worth whatever trouble you have finding it. Way worth it.