Album Review
Award-Winning Guitarist & Riveting Vocalist Form a Dynamic Musical Duo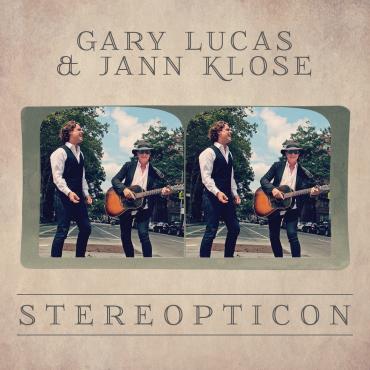 From the traditions of fine duos such as Lowen & Navarro, Vigrass & Osborne, Brewer & Shipley and other wonderful songwriting / singing partnerships another exciting collaboration rises on the horizon with the impeccable Gary Lucas and Jann Klose. Their harmonies, vocal interaction and clear, precise guitars provide a listener with some enchanting listening.
The album Stereopticon kicks off with "Fair Weather" – and the snap of fingers (quite cool), the strum of acoustics and vocals that are magnetic lasso your ears as both Gary and Jann inject their potent melodic styles. This song mines a musical genre that is reminiscent of the best acoustic duos and groups. With the death of Lowen Navarro in 2012 there was a bit of a void in this type of showcase. This new duo is creative enough and their originality is worthy of stepping up into that spotlight. Whether they have a track as powerful as Lowen and Navarro's "Cry" remains to be seen. But the vocals are definitely there, the potential is absolutely possible. The guitars resound, and possess a musical-instinct that is ear-candy.
Judging from their live performances on YouTube, the duo is capable of reproducing their full sound expertly. Their new eleven track album is illuminating at best. The collaboration absorbing and the songs, as I navigate through, have a resonance and power that makes the entire collection interesting. Crosby, Stills and Nash didn't have this kind of circuitry in their original lineup. Not, at least, until Neil Young joined.
"Secret Wings," opens with the infectious guitar playing of Gary Lucas and the lyrics as applied are not syrupy. Tricky stuff for a duo that performs solely with a strong, effective voice and primarily with just an acoustic guitar, and some saxophone. The vocals have an expertise not many singers possess, and are reminiscent of the super-powerful vocals of Canada's master Alfie Zappacosta – who after years of bombastic but brilliant tracks ("Runaround"), issued several albums that were more acoustic, laid back and always showcased Alfie's amazing pipes. One other observance, there are times that Jann's vocals even remind me of the great R&B singer Jackie Wilson -- "Higher and Higher," comes to mind. With all his excellent octaves at work. Yes...think a folk-inspired Jackie Wilson and Jann would fit the bill. 
There are amazing pipes here as well – even more so than a great singer like Darryl Hall. It's all stripped down to bare essentials but when you have a vocalist like Jann Klose -- bare essentials are not a draw back. The last time a popular vocalist displayed such variety was the late Tim Buckley – "Sally Go 'Round the Roses," who covered this track with a mesmerizing performance. Lucas and Klose provide a little operatic brandy and a little sandpaper at just the right moments to maintain their rock credentials.
In this song, Jann has been quoted saying: "It's about the city beating you down and making it through the noise and craziness, especially New York City!"
"Let No One Come Between Us," is guitar picking heaven, and Jann unwinds his vocals around an exuberant lyric sung with quite a bit of emotional phrasing. Again, just a guitar and voice and it's an amazing wall of musical potency. Jann's voice is an instrument – equal to any instrument. Despite his acrobatics with his voice, there is no showboating, posturing or campiness. This one is driven, with spunk, maturity and vitality. When their voices join in the fast and furious break it dazzles. The secret to their success will be that no song over stays it's welcome. They get in, and get out and all a listener can do is look forward to the next song. "Walking and Talking," follows and Jann sings with continued enthusiasm as Gary's guitar is just a menagerie of notes just as gripping as any electrified lead guitar in a rock band. Everything is infused with melody with equal amounts of piss and vinegar. At this junction…I am still waiting for a song like Lowen and Navarro's "Cry," but I am not worried. Eventually, I know it will come. It has to. It's inevitable.
With "Well of Loneliness," the duo moves closer to an Orleans-inspired melodic – more commercially viable area. However, with the addition of the Jason Candler tenor sax it doesn't seep into the dregs of sappy top 40 music. It has meat on it, yet it's sweet enough for those ears that are not deep music aficionados – just lovers of catchy tunes that attract their body – not soul. "Take Your Medicine," is a little jauntier, bluesy, and is sung with a dirtier terse style. All the more to the credit of Jann Klose who can "get down" if he has to. Diversification is a definite in this duo's showcase.
Deeper vocal and with a little attitude, the duo is scraping the edges of bands like Was (Not Was), Martini Ranch and Danny Elfman's incredible Oingo Boingo. With the addition of some humorous lyrics, rambunctious vocal and Jason Candler's soprano sax the group succeeds with their more eccentric tune "Nobody's Talking." 
Leaving the funny stuff behind the duo segues into "Jewel Julia," and it's GOT that quality and drive of Lowen & Navarro's "Cry," that I knew would come. This is great stuff…. it's a sophisticated, gripping tale and it's filled with guitar excitement as the strings sing, ring, sting and has inertia. Jann's vocals grip, and he hits high notes with ease and confidence. This is the potency I look forward to. Not stopping there "Mary Magdalene," continues with expressive singing and beautiful lyrics. The entire album reeks of inspired material. The vocalizing is a little more forceful, the guitar picking: expert. This kind of music is more in the tradition of folk-rock from countries like Australia, New Zealand and Canada. It's just my opinion that it doesn't sound American to me. But that's alright. The spirit is there. For some reason in those countries, they push the envelope of subject-matter, originality and these musicians are never lost in the headlights. Sometimes American musicians believe they must remain firm in a tradition -- but that's not always true. Gary Lucas and Jann Klose have stumbled upon quite a good presentation whatever their muse may be. I have not read their PR so I am not aware of their true influences etc…and I don't want to be. I want to be honest, and see if I can pull out influences I can hear -- and that they themselves may not be aware of.
"Overture," starts with riveting guitar ala Leo Kottke-style and Jann maintains his power once the domain of rocker Steve Perry. This may not even be the most interesting track on the album, but even with that, the quality of the piece is powerful. It may veer a little off course at times with the vocal acrobatics and wild guitar but its genuine in spirit and is an evocative closer to a finely sculptured album. Yes, indeed, they follow respectfully in the footsteps of Lowen & Navarro and all those great duos.
I mentioned Vigrass & Osborne and some may not be familiar with them – but Gary Osborne was the lyricist who replaced Bernie Taupin briefly with Elton John. Gary penned the hit "Little Jeannie," and many songs on the "A Single Man," LP with Elton John back in the early 80's. So, he is no hack and Gary Lucas and Jann Klose are in good company here.
At some point, Lucas and Klose should piece together a tight unit, even for one album, and really let loose with a full tilt band. I'd like to hear more sax, crisp drums and creative percussion. They have some great material and they are on an invigorating track. I am just an admirer of Lowen and Navarro and when I heard their songs with a full band I got chills. Lucas and Klose have that magic, that necessary voodoo that can effectively hold an audience. There is nothing here that is dated, weak, or retro. It's a treat to hear a really good powerful vocalist with a wizard on guitar.
Jann is currently collaborating with former Renaissance (second incarnation) lead vocalist Annie Haslam who is an incredible vocalist as well. John Oates (Hall & Oates), and Jim McCarty (of the original Renaissance & Yardbirds).
Award-winning guitarist Gary is collaborating with Steve Kilby (The Church) and both Gary and Jann are involved with a multi-artist tribute to Tim and Jeff Buckley. More info about that is on their respective websites. They both have impressive career resumes.
The album was produced by Dr. Tre: Gary Lucas, Jann Klose and co-writer Dan Beck (Dion DiMucci, Felix Cavaliere, Iron City Houserockers). All three contributed to the writing of the songs and the LP was recorded at The Maid's Room – NYC.
I did not have a hard CD so, I cannot comment on the CD package. I am sure this band has some wonderful art and photography on their album.
Website:  http://lucasklose.com/
Gary Lucas: http://garylucas.com/www/fleischerei/fleischerei.shtml
Jann Klose: http://jannklose.com/shows/
FaceBook:  https://www.facebook.com/jann.klose/
https://www.facebook.com/gary.lucas.5836
Disclaimer: The opinions expressed in this review / commentary are those of the author and do not necessarily reflect the official position of No Depression. All photography is owned by the respective photographers and is their copyrighted image; credited where photographer's name was known & being used here solely as reference and will be removed on request.
John Apice / No Depression / April 2016