Album Review
Barbed Wire: A Gem of Country Songcraft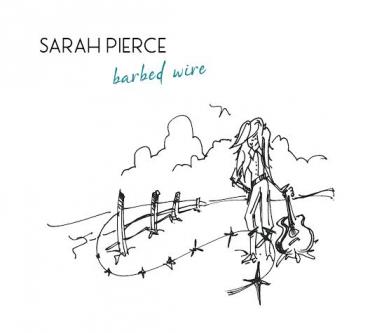 Barbed Wire, opens with a drumbeat like the pure sure-fired rhythm of a strong passionate heartbeat. Then, singer-songwriter, Sarah Pierce launches into a familiar tag line for the Americana musical landscape: "I grew up living in a small town," she sings a refrain the way John Mellencamp did a few decades back. But as ruggedly patronizing as Mellecamp's opus , Sarah Pierce's approach  is authentic and lived-in. It's a song which, like this entire album, is chalk full of gems of country song craft.   She's living in a small town and loving it. It's a strong opening track for an album that, according to Pierce, was inspired by her discovery of an antique piece of barbwire found on her land north of Austin, Texas.  Accordingly, her find became an epiphany for the twists, turns, aches and heartbreak life takes us through during years of living and creating music on your own terms.
"I'm weathered, I'm twisted and I'm dangerous as hell," she snarls amusingly.
The title song connects the songwriter's life experience to a strong spirit that survives and thrives through the hardships of life with a kind of love that has weathered the heartbreaks and stands ready to fight for love with clear-eyed ageless passion. The beauty and core insight of the song its dual nature because while, like barbed wire, she may be 'dangerous as hell,' she can also protect those she loves, as she says referring to the truest of country bloodlines, 'girls like me, our mama's raised us to be tough as barbed wire.'
Each of the remaining eleven songs play like a multi-colored prism, shedding light on a different side of the songwriter's life experience. "Saddle Up," sings to the virtues of true friends and includes some fine mandolin solo interludes. "I'm Sorry" is rendered in a beautiful heartbreak duet with Restless Kelly's Willie Braun.
"See You in the Morning," gives one of two memories of her family. This song portrays her father's faith life where his church consisted of an open prairie in the morning where 'he talked to God like they were old friends' and 'he'd end each prayer with I'll die trying and if I make it through I'll see you in the morning.'  As the song concludes Pierce acknowledges her own mortality and that familiar place where she knows she can once again meet her father.
By contrast, "I'm the Daughter of a Cowboy's Wife," tells her mother's own story, abandoned by her husband, the fortitude and perseverance is fully portrayed in clear-eyed detail. "I'm the daughter of a cowboy's wife, you can bet you'll never see me cry," she sings from the deepest felt heart-place that brings unsentimental honor to her mother's trials. The song is a natural sequel to the Ian Tyson classic, "Someday Soon," and perhaps another perspective on the John Prine standard, "Angel from Montgomery."
"Light it Up," could be a bro-country hit if it were sung by one of today's male country superstars. But, as delivered by Pierce with a pure country band and a beautifully realized fiddle solo, it's far more inviting for the rest of us.
The key to this collection is the straightforward and unpretentious feel found in the integrity and honesty of these solid country songs, down to earth, authentic and as American as wild horses running free on a prairie.
The production by her husband/drummer, Merel Bregante (The Dirt Band), is dynamic, upfront and clear, a match for the skilled song writing and performance of Sarah Pierce.  While this is not a high profile album, Pierce & Bregante have created a recording that is soulful, insightful and worthy of any country music coming out of Nashville and Austin today.