Album Review
Bear Medicine Creates the Perfect Antidote For Troubled Times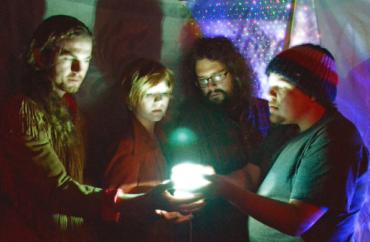 Bear Medicine makes music that appears to reside on an astral plane -- shimmering, alluring, and filled with a kind of hushed ambiance. It comes across like a form of ancient meditative Celtic folk music wrapped in the glow of heady Americana.
The Kentucky-based band -- Joshua Wright (Guitar/Vocals), Seth Murphy (Cello/Bass), Severn Edmonson (Drums/Vocals) and Kim Smith (Flute/Keys/Vocals) -- recently released a debut album that finds its sentiment is effectively summed up in its title: The Moon Has Been All My Life (self-released Oct. 14, 2014).
This disc is as hypnotic and embracing as any debut in recent memory, and on songs such as "Infestation," "Rigor Mortis Dear," and "My Myriad Daydreams," that heavenly glow is all too apparent. Consider these folk songs with chamber music accompaniment, lush vocals, and a heavenly sway.
While the title to the aforementioned "My Myriad Daydreams" hints at an actual atmospheric embrace, the closing track, "All You Celestials," affirms what's already been made clear: Bear Medicine's hypnotic sweep is so iridescent it's practically irresistible.
It will be interesting to see what they come up with next. Consider Bear Medicine a perfect antidote for troubled times.