Album Review
A Beautifully Cut Debut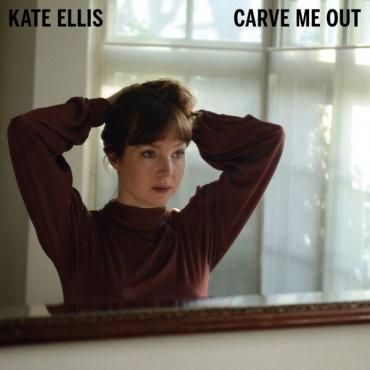 Already this is turning out to be a good year for new records from female singer/songwriters, not just in number but in the quality of these new releases. With so much great music around it must be harder than ever for new artists to get noticed. With her debut album, Carve Me Out, Kate Ellis is definitely worthy of recognition. This is an album that sensitively weaves strands of country and folk throughout its ballads and higher tempo numbers in a velvety smooth voice. After my first listen it was, "interesting, play again", second was "pay more attention", and the third was '"repeat".
Kate Ellis was born in Louisiana, grew up in New York and now lives in London. She credits her father for her love of both country and folk. And who wouldn't with a dad who once played guitar with Hank Williams on the famous Louisiana Hayride, an early stop for both Johnny Cash and Elvis? That alone might have been enough to decide a career, but Kate qualified and worked as a lawyer before setting out on the musical path.
Influences such as Mary Chapin Carpenter, Gram Parsons, Gillian Welch and Nanci Griffith don't lie too far beneath the surface but all these self-penned songs (some written with Andy Hobsbawm) are definitely Kate Ellis communicating directly with her listener. Neither purely country nor folk each is a subtle blend of both that allow full range to the versatility of her voice.
Selecting a single must have been hard but Kate's debut is the haunting 'Ones You Love The Most', a song full of emotion and sadness. Being connected is a priority for Kate, an aim she certainly achieves. On the album this song follows a brisk, almost jaunty opener (and second single), 'Don't Lie To Me', that points towards Kate's country roots. Whether it's getting into the record but the vocals on the third track, 'I Believe' come across particularly strongly, perhaps it is the superb mixing of voice and musicians but there's a lot going on in this one yet it never feels crowded.
The pace drops completely in 'Night Before Dawn', a beautiful ballad laden with sorrow. 'Paper Scissors Rock' gives the several excellent backing band another opportunity to shine but never dominate. The slow fast sequence comes again with 'Inside' followed by 'Holding the Whole Thing'. This balance of tempo is a feature of the record which gives it completeness. It isn't long, but there's a lot here, it's just very well-expressed. For my money the best comes last with the title track, 'Carve Me Out', rounding off an album of great warmth and feeling that just makes you press "repeat".