Album Review
Ben Trickey - Alabama 7", Premieres Kristofferson cover "Shipwrecked in the 80's"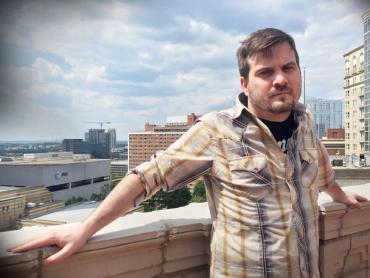 This week brings us the fourth and penultimate offering of 7" releases from Atlanta based singer/songwriter, Ben Trickey. Initially dreamt up as a creative cure for a case of writer's block, Trickey brought some choice covers and few of the stark, yet poignant original numbers he's made his trademark with.  "Alabama" is just that, another notch on the bow of Trickey's archery set of sad songs, each arrowhead meticulously sharpened to wound your very heart and soul with sheer precision. Recorded at home in his typical minimalist fashion, save for Will Raines on squeezebox and piano with Jonathan Griffin on fiddle, "Alabama" paints the bleakness of coming of age -- "the breath that we're breathing is haunted by life;  we're in this together and together we're dreaming."
Drunk on heavy doses of Jason Molina, Jay Farrar, and John Prine, Trickey chose the meat between these two buttery biscuits to be Kris Kristofferson's, "Shipwrecked in the 80's". A premiere we're eternally grateful for. For those not familiar, it's one of the saddest of Kristofferson songs. Naturally a perfect selection for Trickey, the sad still stains through the beauteous background vocals of Tiffany Leigh Blalock. The forethought of this project was to have a matchless cover song sandwiched between two originals for each of the four 7'' releases, ultimately becoming a handmade boxed set entitled, The Long Box.  The beauty of it all being within that effort of putting together these releases to defeat his writer's block, he penned his 2013 gem, Rising Waters. Game point, Trickey.
The single closes with a 1:24 number "Guiding Star". Although clocking in like an early 90s hardcore punk finish, it's a wonderment of loneliness after locking eyes with a stranger at the bar. The lyrics literally scribbled on a bar napkin. No doubt a sum of all the brunch hour slots he procured at Atlanta's the Earl during his comeuppance. Having opened for borderline legends Jason Isbell, Richard Buckner and Damien Jurado, Trickey plans a regional tour in support and a couple one-off nights in NY. Pick up a copy of the single today and be on the lookout for The Long Box (releasing today too) also features comics based on Trickey's songs by artist Jordan Gum, it'll be released on Trickey's own Anthem Breath stamp. Enjoy the premiere below of Ben Trickey's Krisstofferson cover, "Shipwrecked in the 80's" exclusively for No Depression. +words: sz+
SSKTDA on Facebook | SSKTDA on Twitter | SSKTDA on Instagram
Check us out at Sad Songs Keep The Devil Away for more musings
Dig deeper, you deserve it...
submittals: sadsongskeepthedevilaway@gmail.com