Album Review
Benmont Tench - You Should Be So Lucky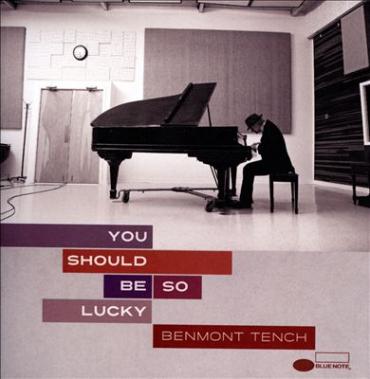 Here's a scenario for you. Picture this:
One of the premier keyboard players of the past 40 years sits down with one of the greatest producers in the history of modern music. The keyboard player's got a raft of original songs he wants to record, and a raft of interesting friends -- Don Was, Gillian Welch, Ringo Starr, and Tom Petty among them -- who want to play too. 
Oh hells yes. It's always fun when a dream scenario comes true.
Benmont Tench has been the source of that consistently gorgeous keyboard work you hear when you're listening to Tom Petty since Mudcrutch first signed with Shelter Records in 1974. After that, of course, we got the Heartbreakers, a band that just kept getting better and better over the years. (Having just seen them in San Jose earlier this month, I can say without hesitation that they're still getting better and better.)
I've got a personal fondness for both sidemen and piano players. Listening to the Heartbreakers over the years, I kept wishing that the guy responsible for that fantastic keyboard would do something on his own, outside the lines. I've been hearing magic in those fingers since the first Petty album was released, and seeing them live in London in 1980 nearly gave me whiplash, because my head kept jerking to the left, trying to see what was happening behind the piano. (It didn't work, worse luck. My seat was too far from the stage.)
Earlier this year, I finally got my wish. Benmont Tench came out with his first solo CD, You Should Be So Lucky. It had damned well better not be his last solo CD. I first learned that You Should Be So Lucky was happening when we cohosted a radio tribute to Nicky Hopkins, on what would have been his 69th birthday. Since then, I've been itching to sit down and just roll around in it. Here's what I took away from it:
First thing first: I love Tench's vocals. They're in the same style and class as Greg Brown or John Hiatt -- an earthy and occasionally breathy accompaniment that perfectly suits the songs. The leadoff track, "Today I Took Your Picture Down," is a reflective and wrenching acknowledgment that time moves forward and we have to do the same, unless we want to get stuck in the quicksand of our own memories. From there, I just settled in and rode the music until the end.
I've got favourites from this one: the perfect jazz infusion that is the instrumental "Ecor Rouge" just about kills me, it's so damned tasty. "Veronica Said," with its echoes of the best pre-Born To Run Springsteen, is a knockout. The title track, with its defiant "you should be so lucky that I should give a fuck" lyric, is kickass. "Corinna, Corinna" moves like a soft stream on a summer's day. The closer, "Duquesne Whistle", takes me down the Delta and into the bars, where all the piano is barrelhouse.
I absolutely love You Should Be So Lucky. I just hope we're lucky enough for a second solo CD.