Album Review
Beth Wimmer--- with The Mojo Monkeys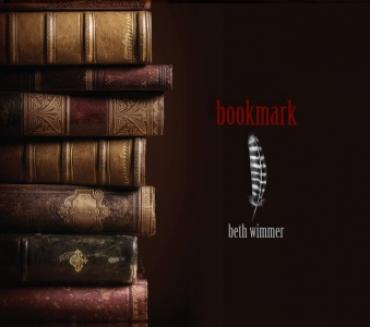 Taking quite a risk, I thought, when I saw that Beth Wimmer was doing a cover of David Bowie's "Starman" on her new album. Covers are always a risk, but Bowie? His fans can be brutal. Then again, Wimmer plays it with respect so I don't think there will be many detractors. And she does a damn fine job, to boot. Indeed, "Starman" fits right in with the nine originals, all good, some better than good. More about those in a bit.
Backing Wimmer on the project (and she went out of her way to make sure I took notes) is none other than The Mojo Monkeys (Monkeys' guitarist Billy Watts also co-produced). I call them The Monkeys, she calls them MM. I have been well aware of the trio for years, having written a review of what I considered then (2010), and still do, a monster of an album titled blessings & curses. The guys are professionals to the max but not so much they lose the feel of the music. Here is my respect, in words...
"What can they do? Anything and everything, evidently. From the cross between Modern Country and Tom Petty ("She'll Be Alright") to N'Orleans rock 'n roll ("Bodacious") to R&B hybrid ("Enough") to slinky and smooth ("Can't Say No") to off-the-edge acoustic dementia ("Monkeythumb"). You might think that would be a negative, these abrupt changes in style, but Mojo Monkeys are good enough to make it work. In fact, when they play, it seems effortless--- like it is instinct--- the rhythms and chords a cauldron of good (and sometimes eerie) vibes. Listening to them is like waiting for good barbeque."
Wimmer does her part by bringing a voice and a passel of songs beyond anything she has yet written, starting with the title track, "Bookmark", a perfect opener for the album.  As Wimmer puts it, "for me, 'Bookmark' is a joyous love song expressed through musical and literal metaphors. It felt so good writing it, and I love singing the words 'bookmark this page...' as my expression of declaring and treasuring an important memory forever."
The soul-edged "Louisiana" which could play as well on a country station as well as any. "Mexico", which doesn't sound Mexican at all outside of a few short riffs on acoustic guitar by Billy Watts. "Pretty Good", as good an upbeat folk/pop song as you could want, the title used exceptionally well in different contexts. "Simplicity of a Man", a tribute of sorts, something you don't hear that often in todays world. I have heard the chorus on "We Can Do This" somewhere else, but Danu Wisler, with just a few plucks of the mandolin, takes it into better territory.
My favorite track, though, and this is just me, is "The Last Part", a dirge-like almost-lounge song, thanks to the lagging rhythm and, again, Billy Watts' work on guitar. Slow, plodding-but-light, it is heartfelt and introspective, perfect for that 3 AM bringdown you need before floating into the Land of Nod.
A couple of things I found amusing that Wimmer passed along.
"At one point during the recording process," she wrote, "while making mix notes on the songs, I put them in alphabetical order. I soon realized they flowed really well that way (for my taste, anyway) for the order of the songs on the album too. So I kept it like that."
And... "The other thing is kind of a secret and i wonder who picks up on it... On the song 'Simplicity Of A Man', I kept wondering where I should put the harmony vocals but kept not really hearing any need for harmonies. I then remembered this thing Little (Konzett, of Little Big Beat Studios) had told me about a technique adding a whispered word-for-word vocal along with the lead vocal, so I tried that and we kept it. At one point the whispered vocal was louder than it is now, much louder I think, and it was creepy, intriguing, sort of hair-raising. Sometimes I think we should have kept it loud like it was, but we dialed it down in the mix, and after mastering it smoothed out even more. But if you listen closely, you will hear the whisper-beth along with the singing-beth, especially with headphones. hee hee"
Made me hee hee a little too, though I think it was a full-on laugh. The things you learn, eh?
This little project has no way of failing. In the first place, the Wimmer/Mojo Monkeys combination is pure gold. In the second, the songs are too good. Given the studio and the various people involved, it flows, beginning to end.
I will be writing a review of the new Mojo Monkeys album (Swerve On) next. If I didn't mention that, I am sure Beth would be sending me a note of admonishment. She loves those guys. Come to think of it, so do I.
By the way, Billy Watts just completed a session with John Mayall for Mayall's new album. Hot damn! Something more to look forward to! Life is good. So's this album.