Album Review
Big Daddy Gumbo's Last Meal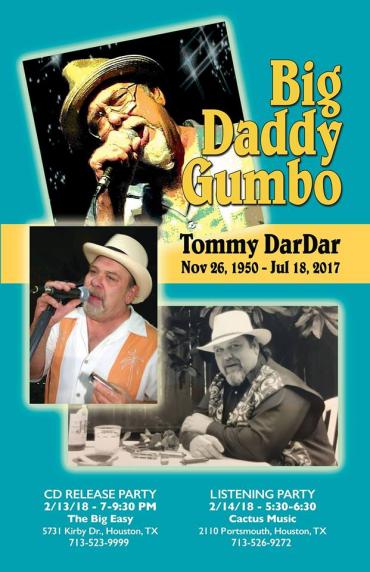 Big Daddy Gumbo is no more. But Tommy Dardar's rollicking spirit was too big to be shut off with his demise. Dardar started work on what would be his final record in 2001, but due to health and financial issues, he never got to complete it. Robert Cray band drummer Tony Braunagel oversaw the completion of the nine previously recorded tracks initially done with the help of Monster Gentleman Jon Cleary and guitarist Johnny Lee Schell along with Hutch Huthcinson on bass and Braunegel on drums. Rhythm Tramps frontlady Teresa
James is part of the soulful backing vocals choir on the reworked tracks with organists Mike Finnigan and Barry Seelen, Joe Sublett on sax and Jimmie Rose on percussion.
Dardar's Big Daddy Gumbo monicker was custom tailored, wrapped tightly around his large frame to contain the bubbling contents of his spicy Texas/Louisiana heritage. But despite being tightly wrapped, Louisiana hot sauce and swamp pop leaked out copiously, staining his soul with fiery splotches of red hot struttin' juice.
Johnny Lee Schell's boiling guitar kicks off "It's Good To Be King," Cleary pounding the keys like a man shot full of Carnival juice, Dardar's harp cutting a swath through the crowd to give celebrants room to stomp around and holler with the joy of being king for a day. "Heading Down to Houma" is mix of Zydeco and boogie-woogie, a return to Dardar's stomping grounds for a fais do-do throwdown.
Dardar was as deeply rooted in blues as in swamp pop, backing Lightnin' Hopkins and Jimmy Reed on tour sharing stages with Jimmy Reed, opening for John Lee Hooker.
Johnny Lee Schell wrote "Baby I Can Tell," but it could just as easily been broken off of a piece of Hooker's endless boogie chain, Dardar stomping through the mud with a bigfoot vocal, cutting a fiery path through the swampy surroudings with his harp.
Jon Cleary's "Lets Both Go Back to New Orleans" is vintgage swamp pop, sounding like a Fats Domino golden oldie. Dardar's own composition, "In My Mind," is a Percy Sledge-worthy vehicle that also upholds the swamp pop tradtion.
Teresa James lights up the the blue collar boogie of "Shake A Leg" with searing soul screams inserted willy-nilly around the throbbing backbeat and Dardar's big-bellied boogie shout outs.
"Big Daddy Gumbo" is Schell's swampy, hoo-doo tribute to Dardar, Sublett's sax wailing like a lost soul over the burbling organ roux.
It's a nice tribute that feels more like a thowdown than a wake, a lively celebration of life for a larger than life character who lives on through his music.