Album Review
Big Fun Bishop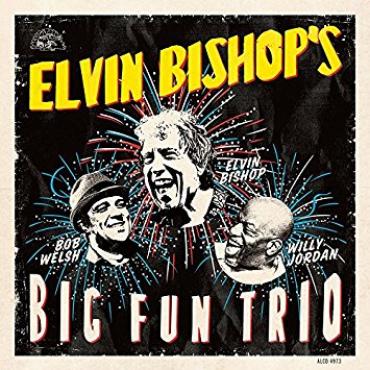 Elvin Bishop has always been big fun. Looking like he just stepped out of the cotton patch in his bib overalls, big loopy grin on his face, Bishop is the ringmaster in his own blues circus that features more down to earth performances than high wire acts. He had an aerialist once, vocalist Mickey Thomas flying high in the top of Bishop's circus tent with '75's "Fooled Around and Fell In Love" but the bulk of Bishop's work has been good time, down to earth blews'n'boogie. The former Paul Butterfield Blues Bandsman ('63-'68) took a more upbeat path after serving traditional blues for five years, taking Red Dog, his '59 Gibson ES-345, and injecting hefty doses of humor into his own compositions as well as adaptations of obscure ditties like Earley Drane's "Calling All Cows," from '75's Juke Joint Jump. Bishop is not afraid to mix styles and genres, mixing in reggae ,zydeco, gospel soul and whatever else he finds lying around that he thinks might fit.
Bishop doesn't waste any time breaking out the big fun on his latest. With Willy Jordan (Angela Strehli, John Lee Hooker, Joe Louis Walker) on vocals and Cajon, and Bob Welsh(James Cotton, Charlie Musselwhite) on guitar and piano, Bishop whomps out a trough fulla rattly boogie infused blues that makes you believe you're a member of the guitarist's herd with an additional set of legs to prance about on. Even though "Keep On Rollin'" is a party anthem,there's a pretty strong political message embedded in the lyrics. "People, we got a problem," Bishop says in his Okie drawl on the opening cut. "You know damn well the system ain't workin' when you can't tell the difference between your congress and the circus-just a bunch of clowns." But Bishop ain't one to sit and cry about it it. With the aid of Jordan's' muscular cajon plonking and Welsh's rollicking piano, Bishop offers a hands- on approach to bullying politicians : "When they wanna kick your ass/ put your foot on the gas ---keep on rollin'."
"Honey Babe" is a compete makeover of the version he did on '75's Let It Flow. This one's got a walkin' bass line that makes all the heifers in Bishop's barn wanna strut their stuff as the guitarist's wire lasso twirls shiny loops at their hooves for them to dance in and out of.
Big Fun Trios' version of Sunnyland Slim's "It's You Baby" owes more to Little Richard than Slim, a woooo-ed up houserocker goosed with Kim Wilson's harp.
Their retooling of of Bobby Womack's "Its All Over Now" sounds like it was slathered with Lonnie Mack's "Memphis" sauce then drug cross the killin' floor, pickin' up a snootfulla funk and fuzz along the way. Soaked in hawg juice, Jordan's soulful squeals drown out the silkier soul of Womack's original while Bishop pokes holes in his amp with his steely licks.
This one is advertised- big fun,and plenty of it.