Album Review
Big Mother Gig - Let's Make) Compelling Content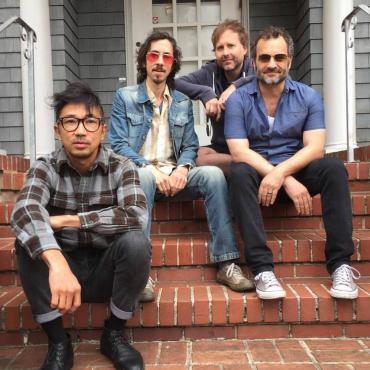 Big Mother Gig - Let's Make) Compelling Content
Stepping out of a time machine into high definition audio, Big Mother Gig have reunited after 20 years and are creating buzz amongst a whole new generation of rock fans. Their second single of 2018, "(Let's Make) Compelling Content" debuted on SiriusXM radio just this recently, but has already garnered the attention of hundreds of thousands of listeners after being added to fifteen major Spotify playlists. If you're of the opinion that rock n' roll died a few years ago when pitch-correcting software and sampled beats became the standard on the FM dial, Big Mother Gig has some hot riffs here that will change your mind.
"(Let's Make) Compelling Content" does just as advertised. Opening with rip-roaring vocals and an anthemic riff that is bound to inspire head banging, for a band that's been out of the game since 1996, you'd never know it from how in sync everyone is. Formed in 1992 in Milwaukee, if you were going to rock shows in the Midwest, you were at least familiar with Big Mother Gig's reputation, whose stellar live performances garnered them a cult following in the alternative music community. After singer Richard Jankovich moved to New York though, the group disbanded in 1996. 21 years later, at almost the perfect time in our current music climate, they reformed and dropped the Almost Primed EP, which immediately found success on indie radio, debuting at number 17 on the KKBB charts. Producers Dan Long and Jeff Hamilton were superb selections to take on the project, and the result was a sonic thunderbolt that would yield two singles and over 350,000 online streams.
An epic tour that included selling out Moroccan Lounge in Los Angeles followed, and one has to wonder if a brand new full length release is waiting on the horizon. As advertised, "Compelling Content" is just that; something truly fresh, not just for Big Mother Gig but for modern rock. A lot of what made people think rock was dead in the first place isn't that bands stopped making good music, or that tastes shifted away from strings that stir our soul and shake our floorboards, it's that real rock always has rejected the industry titans. Real rock music doesn't embrace the Billboard charts or the puppet-masters who stack the deck; it dwells and simmers beneath the surface, making a home in the underground and on the only pure airwaves that are left: college radio. It seems more and more that it's the blue collar musicians like Big Mother Gig that are the only remaining champions of a rebellious sound that started in the 50s, created a revolution in the 60s and 70s, got us through the turmoil of the 80s and 90s, and is still desperately needed now in the 21st century.
"(Let's Make) Compelling Content" and all of Big Mother Gig's awesome catalogue are available now for digital download and streaming online, and fans should keep an eye on the band's Facebook page and official website (bigmothergig.com) for upcoming releases and tour dates.
SPOTUFY: https://open.spotify.com/album/4Z8bQ8UHGNW9Yz0B1pCzsb
Mindy McCall