Album Review
Bill Abel's Celestial Train is a Full Throttle Lesson on Hill Country Blues and Faith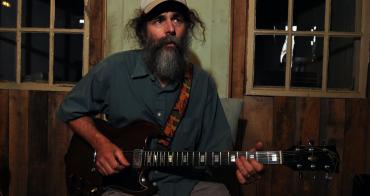 One of the best kept secrets of the Mississippi Delta is Bill Abel. His latest record, Celestial Train, is some of the most infectious and lustful Hill Country blues coming out of that landscape to date. There's traditional arrangements a'la peers and heroes Paul "Wine" Jones, Skip James, and the indelible Fred McDowell's "Kokomo" (a personal favorite). The heralding gems of Celestial Train are the heavenly, somewhat secular original songs explained best in the title track, set to pendulous morsels of swampy Delta slides and Abel's world-weary, old sage resonance he cultivates through his lyrics. This record commands respect. It will take all of 30 seconds before you're hooked.
The Belzoni, Mississippi, native is naturally well-versed in the blues. He grew up watching local bluesman pick and howl on the streets of his hometown and made trips to the local jailhouse to see an old inmate perform -- the very same prison in which Charley Patton wrote "High Sheriff Blues."
Abel also spent a great deal of time with the legend, T-Model Ford, and the magnificent "Cadillac" John Nolden, traveling and playing all across our great lands. He is not your average blues musician. Aside from the fact that he is very Caucasian, Abel is a renaissance man through and through. He holds a degree in French Impressionism and a sheer talent with clay and kiln. He's also a devout Christian and spends equal time ensconced in sacred gospel music as he does the blues.
Celestial Train is one of the purest offerings of hill country blues since R.L. Burnside, Fred McDowell, and Junior Kimbrough passed. It's a pure non-skipper, meaning you'll need not skip songs or stop the party. Just hit play and take the journey as Abel arranged it to be experienced. He'll make you a believer, not only in the longevity of the blues -- specifically the Mississippi hill country sound -- but also in his deep love for sacred music and all its beauty and praise.