Album Review
Bill Toms--- A Hard Rain's a-Gonna Fall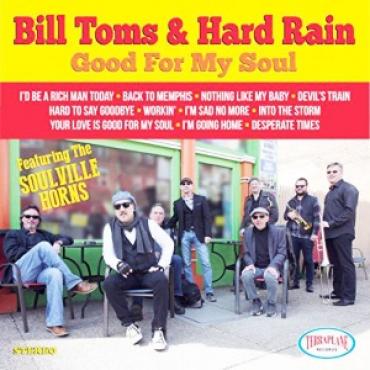 It's right on the cover--- "Featuring The Soulville Horns"--- no sticker for these guys. My hands shake every time I read some reference to horns, especially in relation to soul. I loved Motown, for sure, but I always thought they shorted the horn section in most of their offerings. Chicago leaned more toward the keyboard and guitar and slipped in the blues every chance they got. But Stax--- Stax was HORNS, man, and I dug them. I mean, they had Otis and Rufus and Sam (and even Dave) and so many who must have loved horns as much as I did because I cannot remember hardly any Stax releases without them. And you knew a Stax record when you heard it back in the glory days. Just by hearing it! So whenever something comes along that even emulates that sound, I'm on it.
Recently that something came in the form of Bill Toms & Hard Rain, who utilize horns as well as anyone of late, echoing that power of soul I loved so much in the late 60s and early 70s. They use it right out of the gate, in fact, "I'd Be a Rich Man Today" combining horns, pop, and that Stax guitar I heard so many times in my youth (Thank you, Steve Cropper--- your funk will live forever), not to mention spot-on background vocals, a gravelly-voice leading the way (that would be Toms), and a sax straight out of the old Stax studios. It is upbeat and guaranteed to make you high. The songs are not all as pop as that, the followup ("Back to Memphis") capturing that certain Blues Brothers sound, the next ("Nothing Like My Baby") a conjoining of Motown background vocals over a bedrock of Stax, and so on and so on and doobie doobie doo. God, it doesn't stop! One after another, the tunes pile atop one another and it is all good. All good.   
This song is not on the new album:
This one is:
When I got the CD, I noticed Will Kimbrough's name right off. I don't know how Will finds the time to do all that he does but he does. One of the hardest working musicians, producers and sidemen out there. Seriously. The name I did not recognize was that of Rick Witkowski who spent more than a few of his earlier years with rock band Crack The Sky. I LOVED Crack The Sky! Man, the things you learn if you pay attention.
Know what? You want to live in the past in the present, this is the one. If you love soul, this is the one. If you love it every time you hear Stax or Motown, this is the one. Good, good stuff. Enough soul (and Soulville) to go around. Plenty enough.
I need to see these guys live.