Album Review
Blind Boys' Homecoming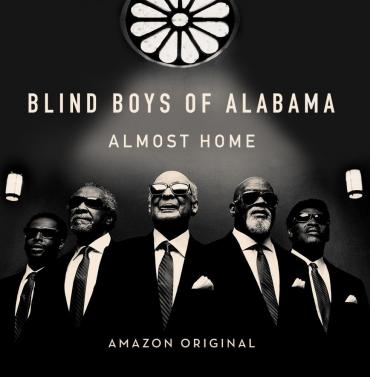 A Blind Boys Of Alabama concert is like sitting inside a pipe organ. It's not just surround sound, but a total immersion in the spirit, drenching you with a glorious gospel experience so intense you can feel your sternum throbbing as your body absorbs the offering. Capturing that spirit, intensity, and power on record is tricky, but year after year, in spite of age and infirmity, the Blind Boys pull it off.
Their latest, Almost Home, is a pure offering, undiluted Blind Boys with no guest stars to distract from the main attraction. Ben Harper, Robert Randolph,S olomon Burke, and Patty Griffin have dropped by on past efforts, but the Blind Boys really don't need any vocal support. They have been interpreting material from secular artists for a number of years, and do once again here, but the vocals are all their own, as magnificent as ever.
For this project, the band recorded with four different producers in four cities: John Leventhal (Rosanne Cash, William Bell) in New York City, Vance Powell (Chris Stapleton, Jack White) in Nashville, Chris Goldsmith (Charlie Musselwhite, Ben Harper) in Seattle, and Los Lobos' Steve Berlin (Faith No More, Buckwheat Zydeco) at FAME Studios in Muscle Shoals. Each producer contributed three tracks from artists including Bob Dylan, Billie Joe Shaver, Ruthie Foster, The North Mississippi Allstars, Phil Cook, and Valerie June.
They might not own the material, but there's no question of ownership of the performances. On Foster's "I Was Called," Jimmy Carter is out in front of the pipe organ, screaming like a scalded sinner dipped in the baptismal fount, testifying about being lifted up and carried his whole life on faith because he always knew he was called.
Former Gospel Keynotes' Paul Beasley's falsetto popping in and out of Dylan's "I Shall Be Released" lifts it to a higher rung on the ladder where the angels roost as the rest of the group surrounds it with down-to-earth rumblings that rattle your backbone.
Shaver's "Live Forever" rattles along country-honk style, as rough as the original, but the Blind Boys leave off the last verse, as dreaming of "rivers of red wine and orange peel blues" doesn't quite fit into their version of the hereafter.
"Stay on the Gospel Side" is the story of former Blind Boy frontman Clarence Fountain, who because of age and illness no longer tours with the band. Co-written by John Leventhal and Marc Cohn, the title was taken from Fountain's own words about his lifelong commitment to serving his Savior. The song recounts his journey from the School for the Blind in Talledega to sharing his gospel with the world, and his joy in his final reward. "My work is done and I'm going home to meet my maker," Fountain sings. "Nothing in this world scares me no more, not the devil, not the undertaker."
Current Blind Boys frontman Carter tells his story on the title cut, accompanied on his journey by his lifelong spiritual companion: "He's been with me all these years/ he's not about to leave me now," Carter professes with gravely decorum.
Phil Cook's "Singing Brings Us Closer" sounds like it came directly from Carter and Fountain's mouths, a fitting motto for the Blind Boys' mission of spreading the gospel through song.
At some point during every show, Fountain used to make it clear what he was packing on each trip: "I didn't come here looking for Jesus, I brought him with me." Since 1944, when he left the Talladega Institute for the Deaf and Blind with a group of inmates tired of making brooms, the Blind Boys have brought their Savior along for the journey. It's been a blessing to have shared the ride.