Album Review
Blue Eyes: Bob Dylan, "Shadows in the Night"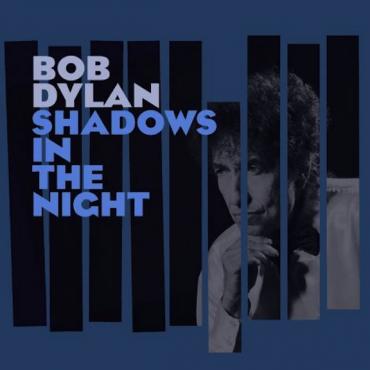 First Impressions of Bob Dylan's New Album
Swoony strings, the low scrape of a bow on a bass, and, most of all, a singer: his mouth opening; his breath as he inhales; his voice.  That's what you hear on Shadows in the Night, on every single track of these ten songs from Bob Dylan's life and times. 
As Dylan's longtime concert intro used to proclaim at the end, Bob Dylan, like Frank Sinatra, is a celebrated Columbia recording artist.  The songs on Shadows in the Night aren't Sinatra covers, though.  Dylan doesn't sing the songs like Sinatra did. Who could?  Wise men never try.  Most, too, are songs more closely associated with artists other than Frank. The first track, "I'm A Fool To Want You," is a song Sinatra co-wrote, but that was memorably sung by Billie Holiday.  Dylan's start is even like Billie's: low, self-deprecating, helpless in the wanting.
Critics have complained about Dylan's voice for decades, and, more recently, about not being able to hear it clearly or to make out the words he sings. This record puts an end to all the griping in a way Dylan's last few studio albums haven't done.  The sound of Shadows in the Night is clear as water.  Not only can you hear every word, every note that Dylan sings, but you can hear him draw breath before beginning to sing, and sighing out the end of a line.  The instrumentals – even the infrequent horns, and soft, subtle drums – don't ever drown him out.  You're as close as the microphone, making this record feel as intensely personal as, perhaps, it is to its maker.
Dylan sings these songs intimately, sometimes conversationally, with emotion and humor.  Sometimes he has on his big-band crooner voice, like Rudy Vallée.  Sometimes he's pure supper-club, lounge-bar stylist.  Sometimes he whispers, and sometimes he sings in exultation.  Sometimes he turns the tune into a hymn.  "Why Try To Change Me Now" feels like a theme song.  Dylan swallows the end of the word "sentimental" in the first line, not quite willing to admit to it, though sentimental, surely, this whole record is.  And no, no one's going to change him.  "Why can't I be more conventional? / People talk, people stare, so I try," he sings, and then, with an almost audible grin, he abjures the whole idea:  "But that's not for me."  The little sniff, and the intake of breath, during the instrumental as he prepares to start the last refrain put you right there in the studio, watching the man step back up to the mike.
"Some Enchanted Evening," that ringing carpe diem epic in the voice of Ezio Pinza or Rossano Brazzi, takes on a plangent purity in Dylan's simple rendition.  He doesn't skyrocket the "wise men never try" or "and make her you own" or "never let her go" –- he's not an opera singer.  The lines float off quietly and gently instead, enchanted indeed.  You imagine an eight-year-old boy in Minnesota putting the original Broadway cast recording (a Columbia release) on the record player during the summer of 1949, and listening to this one until the grooves wore away.
The songs Dylan has chosen for Shadows In The Night are reflective and self-reflexive, haunting and vital at once.  They're also entirely human.  We grope and we blunder, we're weak and we're wrong.  What makes us strong?  The very fact that we're creatures of feeling.  An old man singing of love and loss, of a life of traveling and hard work, is a leading character in so many ancient minstrel songs, ballads, blues, sacred-harp songs, and spirituals.  In Dylan's voice, it all becomes contemporary, and personal. 
As the record spins on, its affecting nature builds, to the final track, "Lucky Old Sun."  Frankies Sinatra and Laine both made this song a hit when Dylan was a boy, in 1949, and Dylan has performed it live in concert, though not since 2000.  Fifteen years later, he is 73, reviving "Lucky Old Sun" with a voice of force and surprising grace:  "Fuss with my woman, toil for my kids, / Sweat till I'm wrinkled and gray / While that lucky old sun has nothin' to do / But roll around Heaven all day."  He sings as if it is a spiritual from the earlier days of this country, a workingman's blues of toil, tiredness and redemption.  As Dylan gently comes to the prayer of the refrain, "Good Lord, up above," and then his voice rises loud and strong on "Lift me to Paradise," and tumbles into "Show me that river / Take me across / And wash all my troubles away," you can't help but cry.  This is an album to weep to if you're inclined, and, if you are not, it will incline you in that direction by the end.  The final phrases and jangled, comforting instrumentals of "Lucky Old Sun" conclude on a literal high note.  For all the record's being popular music, I felt as if I'd just walked out of church. 
Shadows In The Night is an early valentine to us all.  It's music to dance to in someone's arms, slowly, with half-forgotten steps in the formal patterns of long ago.  It's a record to remember to, to dream to, and -- most of all -- to feel to.
Shadows In The Night will be released February 3, 2015 (Columbia Records).  Produced by Jack Frost, a/k/a Bob Dylan.
Anne Margaret Daniel, January 26. 2015.
photographs of Bob Dylan at the Beacon Theatre, New York, NY; and at the Dolby Theater, Los Angeles, autumn 2014, © and courtesy of Andrea Orlandi