Album Review
Bluegrass and Beyond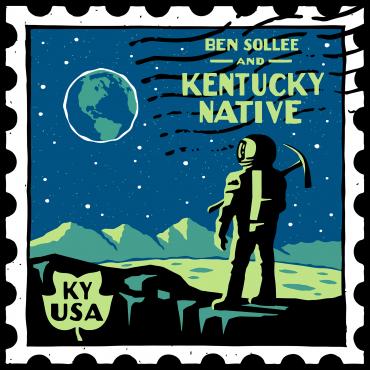 Cellist Ben Sollee traverses sonic geography with the eye of an intrepid explorer turning up every rock to find what sounds might be hidden under it. Always on the lookout for an innovative bowing here, an adventurous plucking there, he ably ambles through the thickets of bluegrass, jazz, classical, rock, and pop as he goes his own way leading a band of his fellow musicians on a revelatory journey through a forest of sound. On this new album, percussionist Jordan Ellis, banjo player Bennett Sullivan, fiddler Julian Pinelli, bassists Jonathan Estes and Josh Hari, and background vocalist Jonah Smith join Sollee on this sonic journey to the limits of bluegrass. The album's sound is pure and unvarnished, just as if we're sitting in the Kentucky hills listening to these musicians play. Sollee and his bandmates recorded 12 songs in a cabin at the Bernheim Arboretum and Research Forest in Clermont, Kentucky, and each song was captured live with very few overdubs.
The instrumental "Emily's Song" opens sparely with Sullivan's banjo almost plaintively echoing off the wall of sound thrown up by Sollee's cello and Pinelli's fiddle. Every instrument takes a turn playing off the song's theme, which the banjo has started plucking out to start the song, and the tune moves between joy, regret, hope, and love as it moves toward its close. The album's other instrumental, "The Holdout—Speed Breaker," belies its title, pursuing a methodical walk through "The Holdout" and breaking deliberately into a sprightly reel on "Speed Breaker," all the while building layer upon layer of sound; by the tune's close we find ourselves in a dense sound jungle, never wanting to leave. "Mechanical Advantage" musically captures, with musical style drawn from Central Mexico, the herky-jerky motions of a woman walking across the street, while at the same time channeling the uncertainties, ups and downs of a lost love. "Carrie Bell" resembles what might happen if Paul Simon's music met bluegrass via an African rhythm; the complex flavors of this tune reflect the savory character of Sollee's music. Maybe the most beautiful tune on the album is "Pieces of You," an elegiac look a love lost that refuses to descend into cheap melancholy; the cello both grounds and weaves the tune's theme around the other instruments in such a clean and clear tone that it transmits nostalgia and longing without losing itself in cheap regret.
The beauty of Ben Sollee and Kentucky Native's album lies in its adventurous musical spirit, always challenging us and carrying us on a sonic journey that awakens our curiosity, heightens our senses, and opens doors onto bright, undiscovered musical vistas.