Album Review
Bluegrass that Blurs the Lines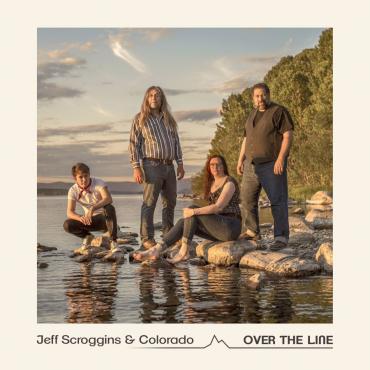 Even the strictest definers of hardcore bluegrass should be over the moon about the opening track of Jeff Scroggins & Colorado's new album Over the Line. "Big Train," a Ronnie Reno-penned classic, serves as the impetus for Scroggins (banjo) and his son Tristan (mandolin, vocals) to harmoniously blend their picking talents with those of bandmates Greg Blake (guitar, vocals), Ellie Hakanson (fiddle, vocals), and Mark Schatz (bass).
Yet as an album title borrowed from a Molly Tuttle co-write implies, this isn't just a journey back to Bean Blossom, Indiana, circa 1969, or to any other time and place. Instead, Over the Line earmarks five distinct talents' favorite pages in folk and country history without disregarding that all-important chapter about bluegrass.
Be it the result of members' individual tastes or a product of decades of music festival cross-pollinizing, the cover selection goes well beyond a blistering, banjo-driven take on "Over the Line." There's also a version of "Curse the Ohio" that turns Matt King's rockabilly-inspired murder ballad into a Hakanson-sung bluegrass interpretation that better resembles Gillian Welch's dark, regional story-songs.
Other tracks with Hakanson on lead vocals include a countrified recasting of Hazel Dickens' "A Few Old Memories" that's reminiscent of a different coal miner's daughter. She also shines as a singer on a bluegrass treatment of Canadian singer-songwriter Lynn Miles' "Hide Your Heart."
Blake, an equally gifted and expressive bluegrass vocalist, takes the reins on a quaint cover of Mickey Newbury train song "The Future's Not What It Used to Be." He also sings a rendition of soft rocker turned country songwriter Dan Seals' "Headin' West." Both selections should remind listeners that bluegrass rarely exists in a vacuum, insulated from popular country influences.
Other old favorites feted include the often-covered folk revival tune "Darcy Farrow" and Bill Staines' more recent "Piney River Girl," with the latter featuring the country-rock vibes newgrass pickers toyed with in the 1970s.
A solid bluegrass band is the sum of its parts, as proved when the tight harmonies of "Ashes to Ashes" elevate multiple talented vocalists. Likewise, the "Headin' West" cover and original instrumentals "Boardwalk" and "Zig Zag" all flaunt a freewheeling band that builds effectively off the Scroggins' impeccable banjo and mandolin interplay.
By looking beyond bluegrass standards and the red-back hymnal for material, the band honors all its folk heroes, not just Don Reno, Earl Scruggs, and other clear influences on its banjo-picking namesake.
*            *            *            *            *            *      
Your subscription helps keep independent roots music coverage alive! Subscribe to No Depression now and join a community of roots music fans from around the world.