Album Review
Bluegrass Songs About Stepping Out On One's Own Is Explored In This Personal Journey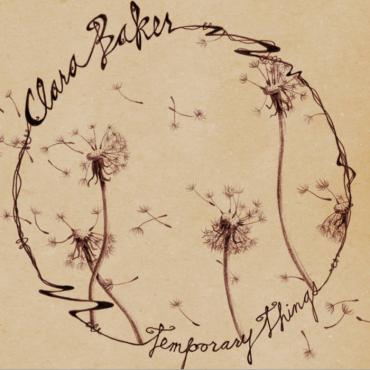 I have the belief that in some small way whenever a person is depressed, blue, or indecisive the best cure, or at least a tonic for happiness, can be found in bluegrass music. Country can be too superfluous and conceived. Rock can be too hard-edged and today's commercial rock offers nothing in seriousness. Much is a rehash of the same old subjects, approaches and solos. It follows a menu and never really pushes the outer edges. That is of course, unless you like experimental stuff which can be "out there." 
But, bluegrass, ah bluegrass – it seems to always be bright, polished, optimistic and smile inducing. But this young lady mixes it all up quite nicely and has produced quite a diversfied collection of fine singing, writing and showcase -- it all goes down easily like a spoonful of honey.  
Clara Baker is a purveyor of such a prescription -- and she carves out some seriously upbeat Pacific Northwest bluegrass tunes on her debut album "Temporary Things."
The first track "Big Spoon,"  kicks off with a happy feeling and though you may live in a city tenement that has a window that looks down into an alley of garbage cans, cats and empty bottles – Clara Baker's music will make you feel like you're in a field of flowers and butterflies. On this album Clara sings and writes all the songs and plays rhythm guitar. Dale Adkins provides the banjo and Martin Stevens is the fiddler. This is medicine for the heart, mind and psyche -- no sugar, no salt, no carbs. 
"January," continues in this uplifting manner. Clara's bluegrass is not bogged down in traditional manuevers. This is poppish where it has to be, poignant where it needs to be and everything is well arranged. To the untrained ear these songs may not immediately resonate as bluegrass but the map Clara follows is true. There's a beautiful acoustic guitar accompanied by mandolin and Clara's voice -- while not deep or even too high and trilling is exceptional. She is not a June Tabor, Sandy Denny, Patsy Cline or Brenda Lee but -- she does have that same warm tone that Fleetwood Mac's Christine McVie possesses.
"Temporary Things," -- the title track is lyrically clever with nice flourishes. It maintains an appealling melodic path. There are moments when Clara reminds me of the young, early Joni Mitchell. The folkish sensibility, the instantly comforting vocal inflections on important words. While the band plays with vigor the scope of subjects in Clara's repertoire is impressive. She is mature in her poetic lyrical presentation and wise beyond her years musically (cliche yes, but applicable). "Quiet Spring," is rich in beautiful acoustics. The guitars, mandolins – all adding to a tapestry of musical colors and an earful of delights. It's like when rowers in a boat are in sync and you can hardly hear the splash of water – yet their oars speed through, slicing through the water with benevolence.
"Don't Wait for Goodbye," – opens with a fiery fiddle and Clara's vocal is full-throttle. This is filled with her dynamic voice decorated by some graceful mandolin. The entire arrangement bounces. Alison Krauss would have to surrender some envy but -- Clara, her band and Alison would be a wonderful pair together. This song's approach reminds me of  Michigan-based singer-songwriter Carrie Newcomer as well -- and that's a compliment.
"In the Dark,"  is an acoustic guitar driven tune with fiddle just under the surface. Clara's vocal is savory as she unfolds a meticulous lyrical tale. Her voice is commanding even during the softer passages. Confident and warm. "Let Me Drive,"  while also acoustic guitar dominant provides Clara's voice with maturity and despite her bluegrass stylings she is an adept folky. The harmony vocals are enchanting and Clara is pure and distinctive. Singing in the tradition of veteran folk singers Cris Williamson, Wendy Waldman, Nicolette Larson and maybe even the late, and wonderful Judee Sill ("Jesus Was a Crossmaker"). This would be ideal even for a late-career Joan Baez if Joan is listening. Not everything has to be about protesting Joan. 
With the song "Roots," a mournful fiddle (Martin Stevens) opens to Clara's wonderfully ambitious vocal. Notes are high, clear, precise and riveting. Even memorable at times for me as it reminds me of the work of folk singer Ruthann Friedman (writer of the classic 1960's Association hit "Windy") and Native American folk singer Norma Tanega – who had her songs covered by the late Dusty Springfield. Clara's song is short but, it leaves footprints on the mind.
"Lay Right Here," continues in Clara's winning style. She takes sadness and adds many sweet notes. It then becomes a song that can offer insight and strenght to a listener. Nice acoustic guitar frames the tune and nothing is heavy handed. It's a balanced ode, instrumentally sharp.
"The Distance,"  begins with a strong acoustic guitar intro and it's one of Clara's best vocals on this collection.
This song is masterful and more so than bluegrass, Clara's showcase is unified and smooth like the constant flow of stream water over stones. If this were simply a folk song it would be resonating. Overall, it's like a spiritual. With "Here We Are," Clara remains in folkish gear as her voice is mesmerizing the way Susan Osborne's voice made the song "Lay Down Your Burden,"  from the album with Paul Winter's Consort – "Common Ground." Available on YouTube to sample.
Music has a way of moving a listener – it's a perfect marriage of melody, lyric and mood. Clara succeeds on these levels with the majority of her presentation. ".....will you hold my fear in your hands..."  Words of this potency prove that Clara knows how to penetrate a heart the way most commercially written songs never approach.
"Lost In My Mind,"  closes out this showcase in the respectful tradition of Susan Osborne. The acoustic guitars compliment Clara's voice as they've done throughout this album and at every turn. The harmony vocals are rich, heartfelt and unified as well. Clara's PR states accurately how the feeling of the album is summed up in a Rainer Rilke poem:
"Go to the limits of your longing....Let everything happen to you: beauty and terror. Just keep going. No feeling is final."   Exactly. 
Executive Producers: Greg Baker, Rebecca Bauer, Brian Benavidez, Andre Boyens, Lisa Henner & Jim Zielinski.
The project was recorded in Oregon at Big Owl Studios.
Website: http://www.clarabakermusic.com/about/
FaceBook: https://www.facebook.com/clarabakermusic?_rdr=p
Music: http://clarabaker.bandcamp.com/
Disclaimer: The opinions expressed in this review / commentary are those of the author and do not necessarily reflect the official position of No Depression. All photography is owned by the respective photographers and is their copyrighted image; credited where photographer's name was known & being used here solely as reference and will be removed on request.
John Apice / No Depression / January 2016