Album Review
Blues From the Piedmont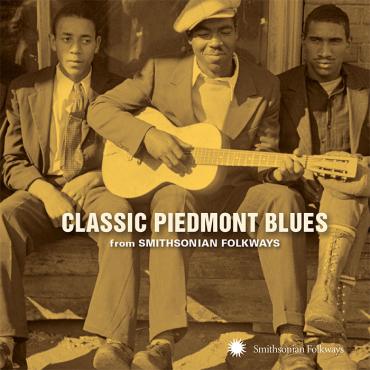 The difference between regular blues and piedmont blues is "them pretty little chords," says '88 National Heritage Fellowship and '94 N.C. Folk Heritage Award winner John Dee Holeman. The Durham N.C. guitarist is one of the last living practitioners of the art who picked it up from originators like Brownie McGhee and Sonny Terry, whom Holeman opened shows for. The mellow piedmont blues style incorporates swing and ragtime licks in the melody and is much smoother than the regular variety. Piedmont blues also involves intricate fingerpicking, as evidenced by some of its practitioners like the Rev. Gary Davis, Blind Boy Fuller, and John Cephas.
This Smithsonian collection has some interesting cuts, but it's really only a small sampling of the genre. Holeman and Fuller don't appear on the disc, which is dominated by Brownie and Sonny cuts. Rev Gary Davis, who also worked out of Durham for years with Fuller, has the prettiest chords, influencing a plethora of musicians from Jorma Kaukonen to Eric Bibb.
Davis' instrumental take on"Mountain Jack" meanders along smoothly with just a few ripples till it hits some boulders midway and backwallops, shooting up gouts of spray before settling back down and trickling placidly down the streambed.
Brownie McGhee tosses in some pretty intricate pickin on "Daisy," winding his guitar sinuously around the melody then making the strings chime and moan as he runs the fretboard.
Elizabeth Cotten's fluid fingerpicking on "Going Down The Road Feeling Bad" is in sharp contrast to her homespun, gruff vocal, but instead of being distracting, it gives it an authenticity that makes it all the more endearing.
Pink Anderson's "I Got A Woman Cross Town" is far cry from Ray Charles' urban r&b version, Anderson's stark and plodding, more of a sheepish confession than Charles in-your-face proclamation.
John Cephas was a pretty picker as well as a smooth singer, and Phil Wiggins' soulful harp accompaniment was a perfect fit. The duo weave in and out of each others orbits seamlessly on "Mamie," giving a master class in Piedmont bluesology.
Brownie and Sonny get down and dirty on "Dirty Mistreater," a tune infamous for its filthy lyrics, recorded by artists including Memphis Minnie and Roosevelt Sykes as "Dirty Mother For You," incorporating most of the philosophy and a chunk of the lyrics from Butterbeans and Susie's '27 hokum smut classic "I Want A Hot Dog For My Roll."
But B&S concentrate more on the delivery than what's in the cart they're pulling, trading licks, punching and counter punching their way through a rollicking, cleaned-up version.
Taj Mahal put his huge imprint on "If I Could Holler Like A Mountain Jack," but Baby Tate's is an unlikely blend of bigfoot stomp and fleet fingerpicking that keeps you wobbling back and forth in ecstasy.
It a good place to start for beginners, and a handy reminder to longtime fans to drag out the old stuff and light up the room with it once again.