Album Review
A Bond of Sisters and Singers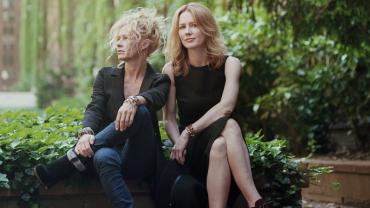 The bond between sisters can be deeply complicated and layered, but when you're Shelby Lynne and Allison Moorer, it is especially so. The two are both renowned musicians and artists in their own right, and they share a tragic past in which their father killed their mother and then shot himself. Though they were young when it occurred, it has, of course, tied them together even as they've gone their separate ways musically. And while it may seem like a no-brainer, given their similarly soulful, smooth vocals, the two have never done a record together, until now. Not Dark Yet is a collection of mostly cover songs that draws on their experiences as sisters, moving through the world with the weight of what they've been through, both together and apart. The songs are thoughtfully chosen and lovingly performed.
From Nirvana to Jason Isbell to Nick Cave, the duo cover songs that deal with loss, healing, death, longing, and, of course, love. They harmonize beautifully, their voices sounding so natural together, you can't always decipher who's who. And they share vocal credit on every single track, neither overshadowing the other. Not Dark Yet feels like a true collaborative effort between two people who have an innate sense of each other. The album title comes from Bob Dylan's song, which, when sung by Lynne and Moorer, is one of the album's standout tracks. Jessi Colter's '70s country tune "I'm Looking for Blue Eyes" is all the more heart-wrenching in their hands. And Townes Van Zandt's "Lungs" takes on a Thelma and Louise, dark desert adventure vibe at the hands of the sisters.
Still, it may be the album's sole original tune, "Is It Too Much," that leaves the most lasting impression. It's a slow burning ballad of sisterhood and togetherness that feels deeply personal and fragile. "No one else bears this heavy load/Is it too much to carry in your heart?" they sing, as if to each other. Not Dark Yet may be a sonically stunning record, but the story behind it makes it so much sweeter.