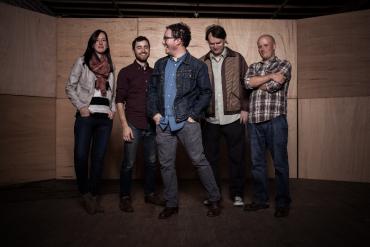 Atlanta's less-is-more, indie-folk septet, Book Club is currently putting its finishing touches on their second full-length album, One-Way Moon, due out February 17, 2014 on the Cottage Recording Co. (Small Houses) & Bear Kids Recordings. A harrowing collection of decimal songs with a conglomerate of roots and stylings held together by melodious yet old-timey lyrical delivery, spotlighting the unorthodox harmonic meld between frontman/singer/songwriter, Robbie Horlick, and songstress Rachel Buckley. Formed in 2011, Book Club has procured a lush touring docket, having honed their stage skills with the likes of Roadkill Ghost Choir, Richard Buckner, and Deep Dark Woods, amassing the attention of Grammy nominated producer Matt Goldman somewhere along the way. Goldman was tagged to produce and record One-Way Moon at his Atlanta based, Glow in the Dark Studios. A definite breath of fresh air for Goldman who has gained his stripes primarily producing Christian hardcore acts the likes of Underoath and As Cities Burn.
Sometimes opposites attract and a beautiful bi-product can be birthed. Book Club's debut record, 2011's Ghost, was contrived a complete 180 degrees, about face from the tactics employed by Goldman. Book Club gelled with Goldman and his seemingly old-school recording tactics. He gathered the band facing each other in a circle and recorded everything live, as it should be. No bells and whistles, just artists and instruments. A set-up not unfamiliar to the band as this is the typical lay out for a Book Club rehearsal gathered in Horlick's living room. What's left is a "warts and all" finished product with imperfections quite possible being the perfection. "Each of us was positioned so that we had a direct line of sight to every other band member—we could see and hear exactly what was happening at all times. You play differently in that setting. I'd always been about layering track after track, but this time, myself and Will Raines (Mastodon, West End Motel) were a live, two-piece string ensemble. It was beautiful, Bill Callahan-style—sinister and simple", adds cellist and Book Club co-founder Matt Jarrard (Royal Thunder, Oryx & Crake).
A five piece consisting of cello, upright bass, guitar, minimalist drums, some keys and other stringed instruments, accompanied by riveting, harmony driven lyrics will always be lumped into the folk ranks. They are "more folk than most folk", but tread lightly on that pigeon-hole with Book Club -- every bit as country as folk, and every bit as rural pop as it is raw American music. No pork pie hats or corny Great Gatsby get-ups, just well-written and infectious melodies coupled with honest songwriting. We have the luxury of premiering one of my favorite songs from One-Way Moon, "Boomerangs and Bedroom Eyes". A toe-tapping, straight-tack country diddy, accompanied by glorious Hammond B3 organ fills and the Buckley/Horlick amalgamation of high and low harmonies, slithering in, out, and around each other like two garter snakes on a chain link fence.  Pre-orders for vinyl are available now at Book Club's website.
+Words: Scott Zuppardo+
***Check us out at
 Sad Songs Keep The Devil Away
 for more musings and such. Dig Deeper, you deserve it***
SSKTDA on Facebook | SSKTDA on Twitter
music submittals: sadsongskeepthedevilaway@gmail.com