Album Review
Boubacar Traore's Malian Blues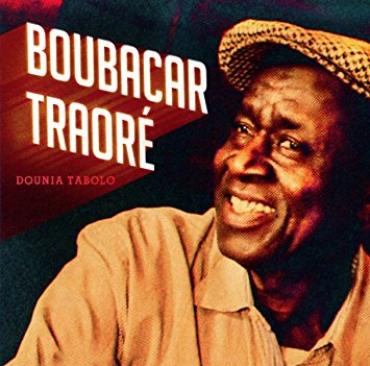 In 2003, Corey Harris mixed Malian and Mississippi culture for a brilliant blend of Delta blues and West African music. The field recordings from those sessions in Mississippi to Mali featured Ali Farke Toure and Boubacar Traore, Africa's greatest blues artists. Toure passed on in '06, leaving Traore as Mali's sole blues representative of his generation.
But in Traore's hands, blues translates into something a bit different than most Western ears are accustomed to hearing. The music has a Mississippi hill country feel to some of it, but as you listen, those hills get steeper and farther away, surrouned by sounds you won't find 'round these parts.
Harris is involved once again, but on only one cut, playing guitar and contributing second voice on "Ben De Cadi," which translates as "Nothing Matters Like Peace." The guitar figure is sinister and repetitive as Traore sings about unity being strength, but confessing that "we aint got no unity/What went wrong?" The song is a prayer for peace, but Traore has a chilling warning for those who would overcome by violence: "When you dig a pit/Always dig two/Dig a hole for your brother/Same is waiting for you."
Athough recorded in Lafayette, you won't hear any Zydeco. Closest you'll come is some Cajun seasoning scattered throughout the mix, including Leyla McCalla's mournful cello and English vocals on "Je Chanterai Pour Toi," which translates as "Tell Them I Love Them Like My Country," a song of hope for his nation, a plea to the children of Africa to stand up and build up the land.
Violinist Cedric Watson is featured on "Askia Mohamed," stirring in some Creole with a Middle Eastern accent, Vincent Bucher's harmonica fluttering like a hummingbird caught in an electric fence, Alassane Samaké's castanets clattering like a donkey on roller skates.
The title cut, translated as "So The World Goes," shows Traore still trying to come to grips with wife Pierrette's death in 1989 while giving birth. "Some leave, others arrive in this world/Some die, some are born in this world/So the world goes, so life goes/There is nothing truer than death in this world/My Pierrette left this world/My Pierrette came into this world." Watson tries to cheer up the proceedings with some lively fiddle, but the piece still comes off as more of a dirge than a celebration of life.
This isn't back porch, foot pattin' blues. You hafta sit down and ponder this stuff. But as it creeps deeper into your ear canals, there's no doubt that Boubacar Traore and the blues are old acquaintances, bound together for life.