Album Review
Bow Thayer – Sundowser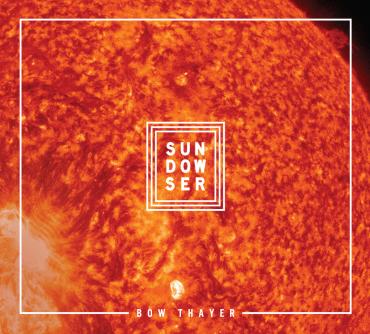 It's something to admire when a listener familiar with a particular singer-songwriter can hear the development of that artist. Many performers try to change their signature sound, direction and image and fail, but Bow Thayer – who hasn't really changed his signature sound or approach – has refined, experimented and ingeniously sharpened its appeal. In the early days I thought Bow was the heir apparent to The Band – he even had the late Levon Helm play on some tracks on his earlier album – "Spend It All."
But, Bow is not someone to get tangled up in his influences or swayed by a successful mix made famous by someone else. Instead he takes his influences and embellishes it all with his musical proclivity, personality and patience. The result? Songs that are on the precipice of a more fresh interpretation and definitely not your run of the mill, garden variety type. 
There is nothing stale here either. No real resurrection of old ways and cruising at a safe speed. I always expect good music from Bow but I was surprised when I actually "heard" something -- not new, but newer. This music doesn't actually sound like anyone despite some of the familiar flavors that are apparent. And therein lies the talent of Bow Thayer.  This is like progressive-Americana music. It has a 21st century sound but it doesn't compromise or devolve the roots of the music. This time, Bow Thayer has dug deeper into the earth. He's not so much interested in the "roots" of the music as he is in the soil that it was planted in. 
On this album there his is also his application of his patented Airline Bojotar that alone is a tantalizing treat. Played by Levon Helm's former engineer – and three-time Grammy Award winner Justin Guip. The instrument was invented by Bow and it combines the sound of a resonator guitar with a banjo and electric guitar. You want inventiveness....I offer Bow Thayer. 
First out of the oven is a hot biscuit called "Burning Miles,"  with crystal clear production values. The notes are clean and immediately what is established is a mood. Mood...there's a concept. 
Musicians, even great musicians, are concerned with the song, the melody, lyrics, vocals and the message. Yet, the one simple thing that is the vitamin in all music and it's often dismissed – is the mood...and that in a nutshell is the essence...the spirit. Bow has this running through the veins of the body of his work. There are no clichés here, the song is spare lyrically but the picture painted is with vivid, sparkling colors. Nice Jeff Berlin (not the bassist) rolling thunder type drums, imaginative acoustics and the song is delightfully hypnotic. Worth putting on repeat. 
Bow Thayer's new album "Sundowser," continues with this mystical approach as he plays "Dinner Warnings."  The drums are heavy on the beat and reminiscent of the late Howie Weyth on Bob Dylan's "Desire," album.  The guitars whine, and interlock nicely creating musical threads that weave into a colorful afghan blanket of sound. The song builds with enthusiasm and while this isn't 100% Americana type music in a Woody Guthrie type of way it has its folky texture with its myriad of different harmonics.
"So We Build,"  has a jazz percussive feel and plays out with intricate progressive rock guitar wizardry. Had Bow consulted Robert Fripp of King Crimson on how to create a rootsy album with King Crimson sparks – this would be the song. It's got muscle, it flexes its bass, and then those acoustic guitar strums ala vintage King Crimson it all works perfectly because it's just a taste of that Frippertronic excitement without being too bombastic. This is actually so well balanced in this style maybe Bow can teach Fripp something. The old -- less is more lesson. The drums are wonderful, way beyond your basic rock beat and on the surface are those shimmering waves of guitars. Bow sings with energy, a new voice, that is still faithful to the tradition...but like a frisky woman -- bites in all the right places.
Steady drums, and what sounds like a Hammond organ starts "The Funeral Crasher."  Bow sings with some nice gospel-spiritual backup vocals over a winding guitar, faithful, soulful voices and again – the mood is established. It's not all flash and fire but it is white coals and embers. I like the retro sound of the organ – churchy feel saturated in heavy percussion and deep bass. This is quite soulful. "Some people don't know...some people don't care..."  resounds in the lyric and is a powerful and striking song.
Though a slow song, "Horus"  has that old style rock rapture. Part Iron Butterfly, part Leslie West's Mountain and Bruce Springsteen and it's effective as all hell. The trudging along on guitar chords, heavy and aggressive with hollow drums accentuating effectively with tight hi-high work by Jeff Berlin. Exceptional drums. This one reminds me of the brilliance of Procol Harum's B.J. Wilson who was so inventive on the drums he was often compared to jazz drummers. This is a penetrating song that just proves the old rock style can still be invigorating if performed with gusto and discipline and not just volume and verve. 
"Tug of War," showcases excellent acoustic guitars, pleasant female vocals and it's a melody that is catchy. Bow's subject matter in his songs continues to have potency and can be challenging if you don't pay attention. However, what will grab your ear is the melodic guitar flourishes that seem to be bottomless. There's compassion in the music and its fluid. Nothing ever comes across as boring or even dated. It's a well-thought out collection.
Splendid sounds continue as "Downtrodden,"  delivers that King Crimson style of mysterious sound that seems to be the glue for the entire song. Crimson, of course, used a Mellotron in many of their extended pieces but while there is a synthesizer in Bow's band there is no Mellotron. This song seems to be rooted more in a progressive rock-jazz school. The drums are driven steady and fiery. Bow's vocals are higher than usual but he has that perfect rock intonation. The instruments used are roots-Americana oriented as it progresses and this is where Bow Thayer is set apart from the crowd. Between the progressive-rock overtones and jazzy drums the roots music swims upstream furiously like salmon to their place of birth. The other songs have mood, but this one is more about a presence. Some songs have a woolen feel, a silky feel, a linen or cottony feel. This one is denim. Tough and soft at the same time.
"Druglust,"  is a shot of adrenalin. This has that rough-hewn vocal style of Billy Falcon ("Heaven's Highest Hill") and the sound is magical throughout. The finger-picking is exquisite and the background vocals are ghostly. "I'm over exposed, I'm over exposed, Like a delicate rose stripped of its thorns."  The build of instruments and melodies -- meticulous.
"Lympus," starts with banjo picking over a sound similar to when Australian singer Rolf Harris took a piece of cardboard on "Tie Me Kangaroo Down Sport," way back in the early 60's and flopped it up and down to create an ingenious organic sound effect. Today, that sound for a few seconds at the start was evident here. This song, with its heavyweight steady one, two beat with banjo, and a variety of instruments creates a cauldron. The song is aggressive, creative and propels a listener to a place that's filled with fantasy. Yet, as it's put together, arranged and played – it's roots-Americana with a dose of steroids. Sounds like a song that will be a showstopper in a live concert.  
After having listened to nine of the twelve tracks on "Sundowser,"  I come away with the impression that has been a labor of love and an ambitious undertaking. If you listen carefully, you can hear the underpinnings of originality that were inserted here and there to insure that each song had its own identity. Too much of what I was decribing and the album could have been bombastic, over blown, far-reaching and loaded with too many intricacies and eccentricities. But, Bow Thayer is a professional. He knew what he wanted and produced this collection carefully. Never under-estimating the formality that he wanted, the sophistication that he needed and most importantly, the traditional music preservation his performance represented. I believe he succeeded and took a brave leap in doing so.
A big switcheroo occurs with the song "Borrow a Bus,"  where Bow relinquishes the lead to Boston singer-songwriter Tracy Bonham – who has released five of her own albums. Bow sings with Tracy on this track – and it's a creative duet with another dip into creative drumming, with crisp acoustic guitars, soaring lead guitar and a searing arrangement. Probably the most commercial song on the album. It's energetic, never lets up and considering the percussion – not something every artist even attempts.
"Snow Goose," closes out the collection. This is transforming music and nothing sounds like the song before. Each track stands alone as a coherent piece. Will you like each of them? Probably not. That would be asking too much. But there are things here that are hot, cool, bright, punctuated with moments that make listening to new music worth the time and investment.
Jeff Berlin once again lays down some wonderfully inventive beats on "Snow Goose."  All the musicians involved were above board and I didn't hear anything that didn't absolutely belong.  And by the end, all the puzzle pieces fit and the picture that "Sundowser" revealed was one of imagination, effort and satisfaction. I always try to listen for something different. This was one of those albums that offered something delightfully unexpected. Bow Thayer broke loose of the constraints of the old traditional Americana-Roots music and he modernized it with grit and renewed purity. What does that mean? It means that some 16 year old kid caught up with technology won't consider this kind of music corny and maybe he will put his iPhone down and pick up a guitar.
Bow Thayer's band includes: Jeff Berlin – Drums-Percussion // Alex Abraham – Bass and vocals // JD Tolstoi – Fender Rhodes // Marco Benevento – All keyboards unless otherwise indicated // RLee Adams – Organ on seven tracks // Tracy Bonham – Lead and background vocals // Justin Guip – Bojotar, studio effects // River Thayer, Juniper Duggan, Fiona Guip, Angus Guip – Backing vocals
The CD package is a beautiful colorful 4 panel die-cut package with pictures of Bow in his solar powered home studio – makes me envious. A stitched lyric book additional images full credits is included.
Produced by Bow Thayer and Justin Guip // Recorded in Stockbridge, Vermont, Red Hook, NY and Mastered in Nashville, TN
More information on the Airline Bojotar is in the lyric book. Musicians interested in this instrument -- an introduction is below: 
Photography in review: Outdoor pic with Bojotar by Tom McNeill // Live photo with Bojotar by Nancy Nutile-McMenemy
Website:  http://bowthayer.com/
FaceBook:  https://www.facebook.com/bowthayermusic
Album: http://music.bowthayer.com/album/sundowser
Disclaimer: The opinions expressed in this review / commentary are those of the author and do not necessarily reflect the official position of No Depression. All photography is owned by the respective photographers and is their copyrighted image; credited where photographer's name was known & being used here solely as reference and will be removed on request.
John Apice / No Depression / August 2015