Album Review
Box Set Duo Trio - One Night Live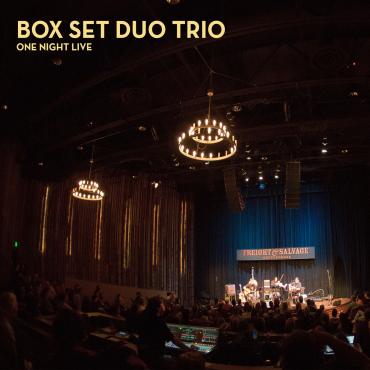 I first got to see Box Set live a couple of years ago, and I was properly wowed. The acoustic duo of Jeff Pehrson and Jim Brunberg presented a tasty mix of harmonies, the songs (all of them, which is rare) caught and held my attention, and the onstage banter was lighthearted and funny. I've been waiting for a new album from these two for awhile now.
I finally got one, in the brand new 17-song CD, "One Night Live". It was recorded at one of NorCal's local venues, the storied Freight & Salvage in Berkeley, a place with possibly the best acoustics of any room within fifty miles in any direction. And the band, on this one at least, is called the Box Set Duo Trio.
Wait, what? Trio...?
Headscratching ensued, at least until I hit the first track, a nifty thing called "If Dreams". Halfway through my second listen, I was nodding furiously: yes this needs to be a trio because holy WHOA those harmonies.
"One Night Live" offers a splendid set of seventeen songs, and, with the addition of Ben Landsverk, I call that a full feast. Some of the songs are old familiar friends, happily remembered from Pehrson's Fall Risk shows and CD; some of them I haven't heard before. If I have to pick one that exemplifies why a live show from Box Set is such fun and works so well, I'd pick "Cincinnati". It covers all of it: beautiful fingerpicking, matched harmonies, natter within the body of the song that leaves the audience cackling, and a classic taste of American modern up-tempo folk from edge to edge. Then again, maybe "Starlet Story", with its exquisite touches of early Paul Simon in the guitar work, and lyrics and vocals to match. There are echoes of both "The Boxer" and "America" in the way this one's structured. Lyrically, I was also brought back to Richard Thompson's "Beeswing". As compliments go, it would be hard to get higher. "No One Thinks I'm Crazy Anymore" is a taste of the 1970s, update and refreshed for the 21st century.
The addition of Landsverk to the mix was a brilliant idea. A multi-instrumentalist with an international pedigree, he adds an entirely new layer of both depth and sweetness to a matched pair of vocal harmonies that were already warm and listener-friendly. He also expands the instrumental palette of possibilities to an incredibly wide range. Listening to "One Night Live", it becomes clear that taking Box Set from duo to trio looks to be one of the smartest moves they could have made.
"One Night Live" is available through itunes, cdbaby and from www.boxsetduo.com.
--Deborah Grabien