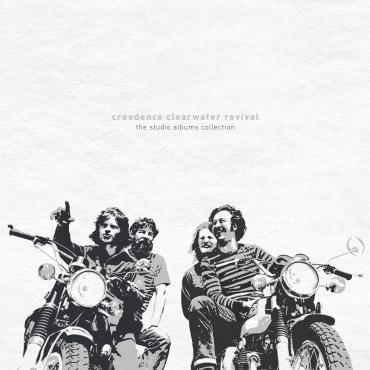 Once upon a time, a bunch of California musicians decided to go snipe hunting in the swamp. Since nobody is sure just what kind of critter a snipe is, they had a lot of leeway to trap their critter, stuff it, and mount it to their own unique specs before displaying it in public.
Doug Clifford, Stu Cook, and John Fogerty met in junior high in 1959, forming the instrumental the Blue Velvets. Fogerty's older brother Tom was recruited as lead singer for the group, then called Tommy Fogerty and the Blue Velvets. Signed to Fantasy in 1964, the band became the Golliwogs. The band was idle from 1966 to 1968 when Fogerty was drafted into the Army Reserve and Clifford into the Coast Guard Reserve.
The band became Creedence Clearwater Revival in 1968, a combination of name choices from Tom and John. Creedence Nuball was a custodian who worked in a friend's apartment complex, and Clearwater came from John's mishearing an Olympia beer commercial that touted clean water used in the brewing process. The revival part apparently referred to the group's desire to resurrect American rock and roll.
Remastered at half speed for greater clarity, the seven piece box set of all their studio albums on Fantasy is as much a chronicle of the breakup of a band as it is an overview of their work. Fogerty maintains to this day that it was the other members' jealousy of him that broke up the band, but the other members always claimed it was Fogerty's controlling demeanor and exclusion of their creative efforts that ended their relationship.
Fogerty and company were still searching for their swamp creature on their eponymous '68 debut, Fogerty channeling Screamin' Jay Hawkins on Hawkins' signature tune, "I Put A Spell On You." He's in the neighborhood, yowling like a swamp thang ensnared by a bunch of Californians who don't quite have the net all the way over him yet, Fogarty's guitar sounding like he'd be more at home in a Chicago club than a Delta juke joint.
He proves he's got brass balls covering Wilson Pickett's "Ninety-Nine and a Half (Won't Do)," emulating Pickett's panther yowl perfectly. Fogerty is already showing that he's the one in control, with his runaway guitar getting ahead of himself and his drummer, rushing every time he gets on the strings.
 But by the time "Suzie Q" drops in, it's clear that he's got the critter in his sights on the eight-and-a-half minute rendition of Dale Hawkins' rockabilly classic with both vocals and wobbly, distorted, swamp fuzz guitar stunning the beast, driving it towards the Creedence cage.
The band's sophomore effort, 1969's Bayou Country, showed that the band had conquered the swamp and captured the critter. Fogerty's take on Little Richard's "Good Golly Miss Molly" has the caged critter howling like a swampy demon, Fogerty's guitar prodding him with barbed electric jolts. Even though "Born on the Bayou" was a fictitious bio, Fogerty sold it so well many believed he embodied the swamp thing, Louisiana born and bred. The record revealed the iconic Creedence signature tune "Proud Mary" to the world as well. But as Roy Trakin's excellent liner notes point out, there was already dissension in the band. Fogerty would insist on doing overdubs and remixes himself in the studio, not allowing the other members to participate in the final cut. And except for covers, the material was all his.
1969's Green River brought a passel of hits, including the title cut, as well as "Bad Moon Rising" and "Lodi." With its aura of impending doom, "Bad Moon" was used by Vietnam-era soldiers as a battle cry before engaging the Viet Cong, but "Tombstone Shadow" was just as menacing and creepy, Fogerty's guitar slashing at you as he regales you with the foreboding prophecy of shadow on his back he actually received from a fortune teller before a show.
The band's cover of Ray Charles' "Night Time is the Right Time" is bad as hell, Fogerty's vocal raw and soulful, the band backing him like a juke-joint sinner's choir, Fogerty's guitar clanging away on a shimmery interlude before he takes 'em home to the the crossroads with swampy graveyard yowls.
Willie And the Poorboys, also released in '69, bolstered the image of an itinerant bunch of bayou boys busking for a living on the streets, but the idea for the band in the song "Down On The Corner" came from Fogerty observing his band by the pool from a California hotel room. The band sold it well, adding some political bite with "Fortunate Son," which was aimed at no specific politicians but would fit most, and "Effigy," directed at Richard Nixon.
But one often overlooked cut is Fogerty's re-arrangement of "The Midnight Special." It's been around since the early 1900s. Lead Belly's 1940 version is stark but sweetened by a prison choir moaning churchily behind him. The Louvin Brothers did it bluegrass style in A Tribute To the Delmore Brothers in 1960, Johnny Rivers cut an upbeat, poppy '64 version, Hank Jr. laid down a slick country version in '71, and in 1977 Brownie and Sonny cut a fast-paced, Piedmont blues version.
But Fogerty puts a starkness into his version that puts you in that miserable cell, painfully aware of the hopelessness of the situation. With only shimmery guitar and Doug Clifford's tom-tom pounding like like a fevered pulse behind Fogerty's agonized howls, it's lonely, creepy, and weird, but gorgeous as it fades out with the band harmonizing like a doomed choir pleading for redemption, or just for a shimmer of light in the pitch black darkness.
At least one CCR band member got a shout-out on 1970's Cosmo's Factory. Cosmo was Clifford's nickname, and the factory reference a sarcastic reference to a Berkeley warehouse where the band used to rehearse. "Who'll Stop The Rain" and "Run Through the Jungle" became associated with the Vietnam War, although Fogerty says "Jungle" was written about American firearms problems. Robert Stone's Dog Soldiers was remade as the film "Who''ll Stop the Rain," about the dire consequences resulting from a naive Vietnam War-era correspondent smuggling heroin into the states. But Fogerty touched on lighter subjects with the upbeat road anthem "Travelin' Band:" "Luggage gone? Oh well." The band's cover of "I Heard It Through the Grapevine" is much more sinister than Gladys Knight's, like a stalker creeping up on his faithless former beloved while retaining the soul of Marvin Gaye's take with a swampier accent. "As Long As I Can See the Light" is one of CCR's best treasures, Fogerty moaning soulfully about the light at the end of the tunnel.
By the time Pendulum came out in 1970, the light was dimming, and even Fogerty could see the tunnel was about to collapse. He says "Have You Ever Seen The Rain" was about watching the band fall apart. By this time the band was demanding more input in the production and composition, but Fogarty held them off for one more record. The album is pretty lackluster, with only "Rain" and "Hey Tonight" as standouts.
1972's Mardi Gras signaled the end of the band. Brother Tom had quit, leaving the band to carry on as a trio. The other members finally got some input, but it was too little, too late. "Door To Door," written and sung by Stu Cook, is solid, upbeat rockabilly, but sounds nothing like CCR. Clifford's Waylon-leaning "Tearin' Up The Country" is pretty good honky-tonk jukebox filler, but once again, there's no trace of Creedence in it. Cook's "Sail Away" has a CCR feel, but the vocal and guitar are an uncomfortable fit, Bakersfield guitar backing crusty country soul vocals, again with no Clearwater in sight to irrigate it. Fogerty torpedoed it himself, going on record as calling the release "horse manure, baloney," despite the inclusion of his composition "Sweet Hitch-Hiker" and "Someday Never Comes" and a rather lackluster cover, except for one lively jolt of prickly guitar, of Gene Pitney's "Hello Mary Lou," covered by Ricky Nelson in 1971. The dream and the band were over soon afterward, CCR playing their last show in May 1972, calling it quits in October of that year.
Like many a band, even though the inner workings were askew, the product still stands up. Putting the politics aside, the bulk of it still sounds good, a somewhat tainted treasure that still satisfies.